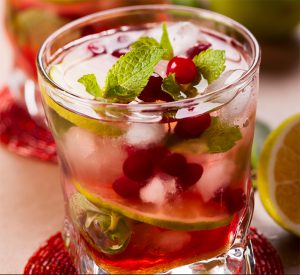 Ingredients:
1 1/2 parts Cruzan® Aged Dark Rum
5 Cranberries
3/4 tsp Pumpkin Spice
1 tsp Agave Syrup
Handful Mint, Fresh
Splash Club Soda
Directions:
Muddle the cranberries, mint, pumpkin spice, and agave. Add rum and shake well. Strain over ice into a highball glass. Top with club soda. Garnish with a mint sprig and three cranberries.
Courtesy of Cruzan Rum.