Yelp has introduced a new Popular Drinks feature on Yelp business pages to help take the guesswork out of what drinks to order, as well as unveiling some of the most uniquely popular cocktails across the U.S.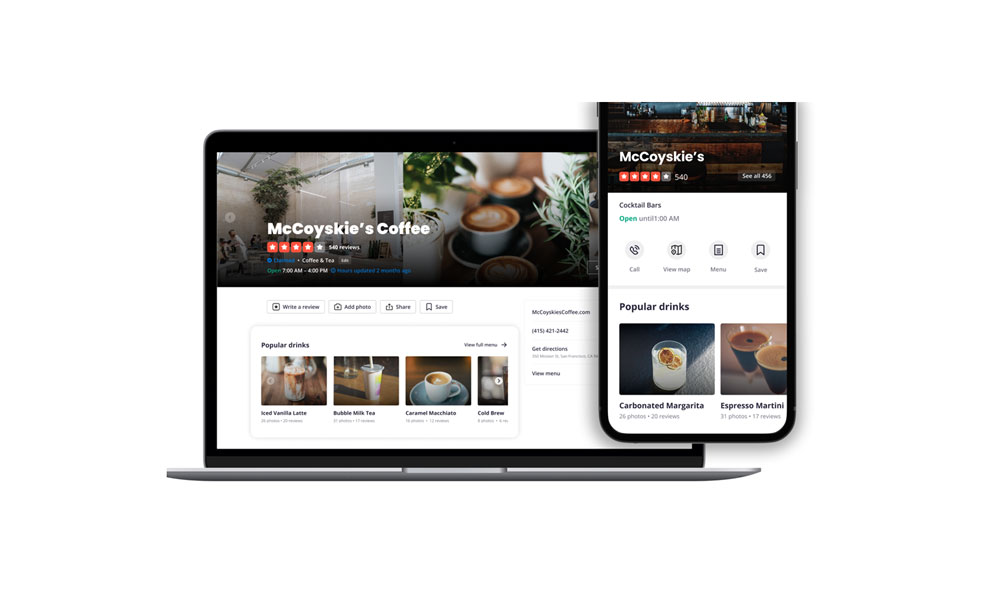 Building on Yelp's Popular Dishes feature, which has helped millions of people decide what to eat thanks to recommendations from the community of reviewers, Popular Drinks similarly features the most highly recommended beverages by other reviewers. Yelp users can now easily discover the most popular drinks at coffee shops, boba shops, bars, breweries, wineries and more, along with photos and reviews featuring these drinks.
Popular Dishes or Popular Drinks are displayed based on there being enough review and photo content available on the business page to inform the carousel. If a business already qualifies for Popular Dishes this feature will remain on their business page, but for more drink-centric businesses like bars and cafes Popular Drinks will appear to showcase the must-try beverages on their menu.
Popular Drinks will be featured on business pages in the U.S. and Canada across Yelp platforms on iOS, Android and desktop. Download the latest version of the Yelp app or browse online to discover popular drinks near you.
Most Uniquely Popular Cocktails Across the U.S.
New York, NY: Mezcal Mule
Los Angeles, CA: Vesper Martini
Miami, FL: Mango Mojito
Dallas, TX: Martinez
San Francisco, CA: Pisco Punch
Chicago, IL: Brandy Alexander
Houston, TX: Clover Club
Washington, D.C.: Bramble
San Diego, CA: Cadillac Margarita
Atlanta, GA: Sparkling Rose Cocktail
Phoenix, AZ: Paloma Spritz
Las Vegas, NV: Watermelon Mai Tai
Seattle, WA: CBD-infused Cocktail
Boston, MA: Tequila Spritz
Orlando, FL: CBD-infused Cocktail
Riverside, CA: Cadillac Margarita
Tampa, FL: Mary Pickford
Austin, TX: El Diablo
Philadelphia: Fish House Punch
Denver, CO: Corpse Reviver
San Antonio, TX: Martinez
New Orleans, LA: Pimms Cup
San Jose, CA: Mango Mojito
Baltimore, MD: Rum Swizzle
Portland, WA: Hemingway Daiquiri
Sacramento, CA: French Connection
Honolulu, HI: Coconut Mojito
Jacksonville, FL: Mango Mojito
Indianapolis, IN: Elderflower Cocktail
Detroit, MI: Bourbon Negroni