Belvedere, the world's first super-premium vodka, is introducing a line of new, 100% organic flavored vodkas: Belvedere Organic Infusions.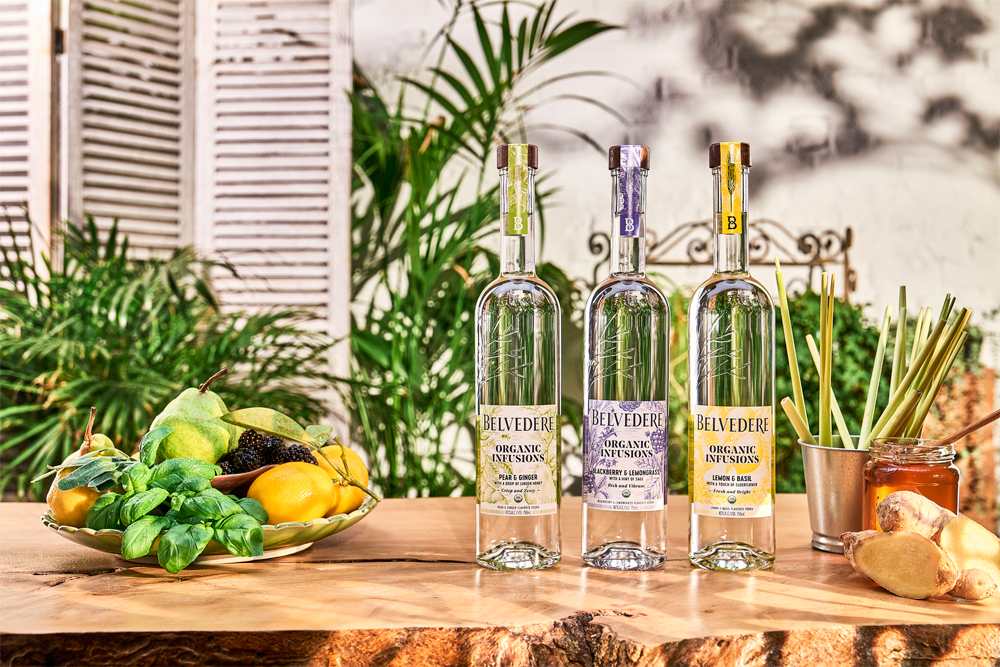 Proudly made with nature, the range includes three intriguing expressions: Lemon
& Basil with a touch of elderflower, Pear & Ginger with a drop of Linden Honey, and
Blackberry & Lemongrass with a hint of sage. All expressions are made with 100% organic real fruits and botanicals.
Belvedere's organic Polish rye is 100% traceable, which ensures only the most premier quality rye is ultimately utilized. Similarly, for Belvedere Organic Infusions, Belvedere sought out the finest 100%-certified organic fruits, spices and botanicals for flavor extraction, relying on the beauty of the natural flavors and condemning any additives or synthetic flavors. Master Distillers' fused their technical expertise with new processes to achieve three intriguing flavored vodkas with exceptional balance, each providing a completely unique experience for imbibers.
BLACKBERRY, LEMONGRASS WITH AN HINT OF SAGE: a rich texture of ripe blackberries and fragrant sage with notes of peppery lemongrass and vanilla.
LEMON, BASIL WITH A TOUCH OF ELDERFLOWER: a succulent texture with lemon tart and herbaceous basil, followed by floral elderflower and juicy
Muscat grapes.
PEAR, GINGER WITH A DROP OF LINDEN HONEY: a luscious mouthfeel of juicy pear, warm spiced ginger, and rich set honey.
Price: $35.99 (750mL), $14.99 (200mL)