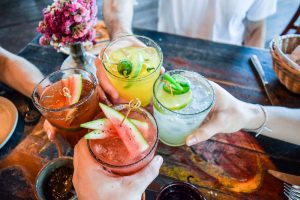 The first time I watched a cocktail being poured on draught, like a beer, I was in awe; what's more, I was watching from my seat in a craft cocktail lounge. Draught cocktails are a concept that is fairly new to most people today, even though it has been used for over ten years now in bars. Today there are even establishments in NYC and Hong Kong, for example, that pour draught cocktails exclusively. And while there are purists out there who see this as nothing more than a fad, I believe that serving your guests cocktails on draught is the future for myriad businesses.
Here's a few reasons why I see this as a mainstay in the restaurant and bar community: consistency in every drink; controlled liquor costs; ease of service; and the ability to engage with guests during the busiest of days and nights.
And while I completely back up these statements, having a draught cocktail program will not work unless you get the variables right. I have witnessed first-hand bars and restaurants that have batched up cocktails that were not palatable.
A quick YouTube search of "draft cocktails" will produce a small selection of videos where bartenders explain how to set everything up to get the ball rolling; there's also a few promo videos from the past decade where big name brands (that I won't mention) attempt to sell the concept.
Let's not get it twisted: it's a fantastic concept! In under ten seconds, your bartender can have a cocktail ready to go for your clientele. This means your server will be happy because he/she knows that the cocktail will be waiting for them right after putting the order in; the cocktail will taste exactly the same as it did the other night when a different bartender was behind the stick; and in return, the guests are happy. Having that speed of service also helps your bartender with his or her interactions with the bar guests.
When preparing cocktails, especially those with five or more ingredients, your bartenders need to be able to concentrate amid the chaos that ensues on a busy night. There are many bartenders that can keep conversation going with bar guests while preparing multiple drinks at the same time. And there are also many that cannot.
As I said earlier, it's a fantastic concept, but only if the cocktail that is coming out tastes delicious. The problem with those promo videos that I mentioned earlier, and with many bartenders today, is all about the execution. If you think that using mixto tequila with margarita mix is going to save the day and make your profit margins explode when you're offering it on draught, then you're going to be sadly mistaken. Just like with any cocktail, it's all about ingredients. There's no point in a lightning-fast cocktail program if your guests get a drink in 30 seconds, but it tastes like hot garbage. Though your guests may only see your bartender adding ice to a glass and pulling the draught handle, it's what goes on behind the scenes that is going to make or break your cocktail.
Let's go over the obvious: Yes, you want to use fresh juices. You want to use quality spirits (remember, that doesn't have to mean "expensive"). Made-from-scratch syrups? Check. And most importantly, how about balance? Why the hell not? You do want this to sell, don't you?
If you're going to attack it from this angle (let's say you're making a keg of margaritas with blanco tequila, fresh lime, and sugar), there are still a few hurdles. Even though you've batched the cocktail in a five-gallon keg, you only have a small window of opportunity before this bad boy starts to go rancid—and that will most definitely get your guests sick.
There's also this thing called separation that happens. Yep, that means that someone who's somewhat strong will have to shake the keg every so often. If they don't, your guests will be sipping what's hitting the bottom of the keg. And this is after copious filtering that is done while this kegged margarita was being batched.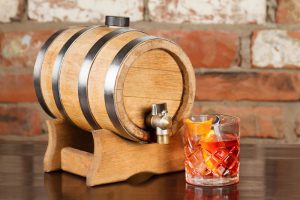 Some bartenders will clarify their kegged juices, which removes particles and residues like pulp and helps the juices keep longer. (Note: Please read Dave Arnold's Liquid Intelligence for ways to achieve this method.) But clarifying takes time. There are other ways to enhance shelf life and mimic flavors with different types of food-grade acids as well, and if this is done correctly, you won't have to worry about shaking that keg. If this is a drink that was meant to be shaken, would you also like to carbonate this cocktail? I'd recommend it, and again, read Arnold's book for tips on carbonation.
You can also batch and keg cocktails like Manhattan's and Negroni's, which will have a much longer shelf life, and the ingredients will be able to intertwine like a good stew as it marinates (also, no shaking).
If you're just starting out, I'd recommend using a handle-held iSi Soda Siphon and/or N2O syphon to dispense cocktails and test ideas. Please make sure your specs are on point before you fill up 600-plus ounces of cocktails only to find out that you added too much lime juice. If you want to test out that margarita with your guests, small Cornelius Kegs (2.5 gallons) are available online and will make it easier if selling before the expiration date is a fear.
Yes, creating cocktails on draught is a process, and it can be quite different than mixing them up when you're live, but the outcome is very much worth it for everyone if your team gets a system down pat. Not only will your new program turn heads, but it will also fill your pockets.
Tony Cross runs cocktail catering company, Reverie Cocktails, which distributes kegs of carbonated cocktails to bars, restaurants, and other venues. For more information on his company or his TONYC, email him at [email protected] or visit reveriecocktails.com.