At a time when imbibing from your couch is the new normal, getting ingredients to make a high-end cocktail for your virtual happy hour may seem out of the question and out of reach. Cocktail aficionados across the country are getting creative, using simple pantry items that everyone is sure to have in their homes.
Three bartenders from Boston to San Francisco have created cocktails using Uncle Nearest Premium Whiskey (available for delivery) and made with everyday staples like tarragon, apple cider vinegar, and black tea that are sure to impress on your next Zoom get together.
Here are three recipes to get your creativity flowing!
Black Maple Old Fashioned
Created by San Francisco mixologist Adam Chapman (The Gibson)
Ingredients:
(yields 4 cocktails)
8 oz (1 cup) Uncle Nearest 1856 Premium Aged Whiskey
2 oz (4 Tbsp) maple syrup (or honey)
1 black tea bag (or other flavor tea)
Lemon peel
Directions:
Place black tea bag in 8 oz of whiskey and let sit for 30 minutes. The black tea will over steep and become bitter and take the place of adding bitters. Pull out tea bag and add 2 oz of maple syrup. Add more if you like your drinks on the sweeter side. Stir 2.5 oz (5 Tbsp) of whiskey mix with ice. Put new ice in a rocks glass. Strain stirred mix over the fresh ice. Express a lemon peel over the drink and drop peel in. Enjoy!
Oratory & Whiskey
Created by Boston Mixologist Kitty Amann (co-author of Drinking Like Ladies)
Ingredients:
2 oz (4 Tbsp) Uncle Nearest 1884 Small Batch Whiskey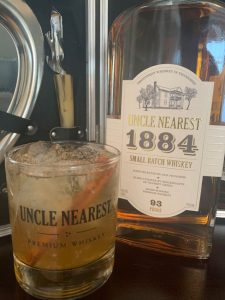 1 oz (2 Tbsp) apple cider vinegar
1 oz (2 Tbsp) maple syrup
1 bar spoon grated ginger, to taste (powdered ginger also works)
Club soda
Grated nutmeg and cinnamon stick for garnish
Directions:
Combine whiskey, apple cider vinegar, maple syrup and ginger in a cocktail shaker with ice. GIve the mixture a few short, strong shakes. Double strain over new ice. Top with a splash of club soda. Swirl with cinnamon stick and leave it in the glass. Top with grated nutmeg.
Tarragon Whiskey Sour
Created by Atlanta Mixologist Cody Brown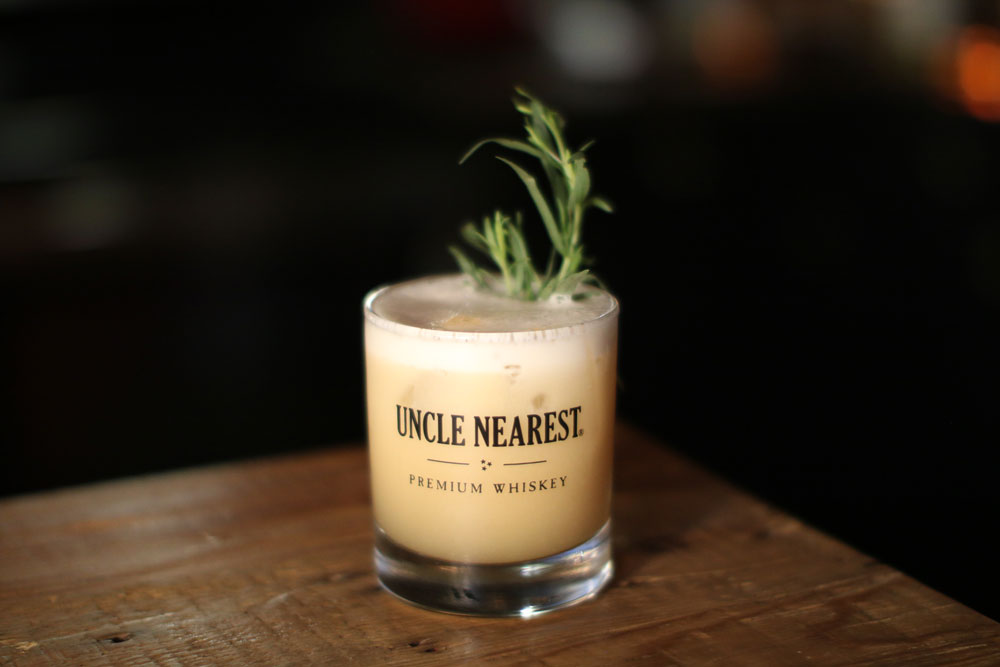 Ingredients:
2 oz (4 Tbsp) Uncle Nearest 1856 Premium Aged Whiskey
1oz (2 Tbsp) Lemon Juice
1oz (2 Tbsp) Tarragon Syrup*
1 Egg White
3 Dashes Orange Bitters
Tarragon sprig for garnish
Directions:
Combine all ingredients in a cocktail shaker with ice and shake until well chilled. Strain the liquid into a new shaker without ice. Shake once more in a circular fashion and pour over ice in an Old Fashioned glass. Garnish with a sprig of Tarragon.
*For Tarragon Syrup: Remove the leaves of 3 sprigs of tarragon. Bring to boil 1 cup of raw cane sugar, 1 cup of water and tarragon sprigs. Turn down heat and let simmer for 20 minutes, stirring often. Strain syrup and leaves into a container and let sit overnight in the fridge — will last 2 weeks in the refrigerator.