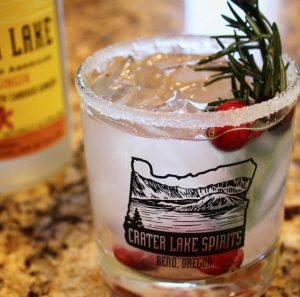 Ingredients:
1.5 oz. Crater Lake Sweet Ginger Vodka
1/2 tsp. Fresh Lime Juice
1/2 tsp. Honey
Club Soda
3 mint leaves
5 cranberries (3 for garnish)
1 sprig of Rosemary
white sugar for garnish
Directions:
Muddle 2 cranberries, mint leaves, honey, and lime juice in sugar rimmed glass, then fill with ice and add vodka. Top with club soda and garnish with 3 cranberries and rosemary sprig.
Recipe courtesy of Crater Lake Spirits.