St. Patrick's Day is Wednesday, March 17. Forget the green beer this year, and add one (or a few) of the cocktail recipes below to your holiday menu.
Recuerdo Mezcal Banshee
Ingredients: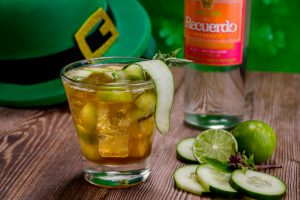 1.5oz Recuerdo Mezcal Joven
4 peeled pieces of cucumber (2 inch section, quartered), reserving the peel for garnish
5 basil leaves
2 tablespoons brown sugar
1oz lime juice
Club soda
Directions:
Muddle the cucumber, basil, brown sugar, and lime juice in a shaker before adding the Recuerdo Mezcal and ice and shaking. Strain into an old fashioned glass over fresh ice, top with club soda, and garnish with a cucumber peel.
The Coffee Mule
Ingredients: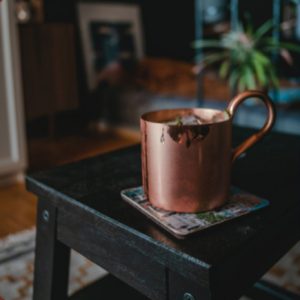 2.5 oz First Light Coffee Whiskey
1/4 oz Lime Juice
El Guapo Chicory Pecan Bitters
Basil leaf
Trader Joe's Ginger Beer
Directions:
Short shake all the ingredients (except the ginger beer) with two ice cubes, then strain into a mule cup filled with ice or a highball glass. Top with 4 to 6 ounces of ginger beer. Garnis with basil leaf. Serve with a paper straw.
Broken Sour
Ingredients: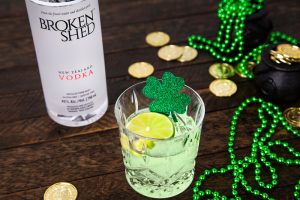 2 oz Broken Shed Vodka
1 oz McGuinness Melon
3 oz Club Soda
Lime slice
Directions:
Shake all the ingredients with ice. Strain into a rocks glass. Garnish with a slice of lime.
Nothing Com-pears to Ro
Ingredients: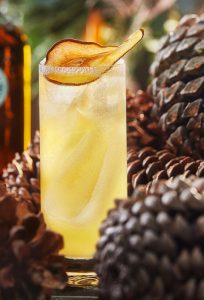 60mL Roe & Co
30mL Spiced Pear & Fig Oleo Saccharum
20mL Lemon Juice
Directions:
Add all ingredients to a cocktail shaker and fill with ice. Shake hard and double strain over ice in a tall glass. Top with Fever Tree Ginger Ale.
Recipe courtesy of Roe & Co.
Irish Coffee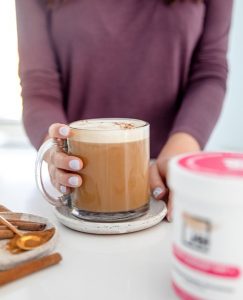 Ingredients:
1 teaspoon of brown sugar (depending on how sweet you want it)
4 oz freshly brewed coffee
1 ½ ounces of Irish Whiskey of your choice
1 oz of frothed Cashew Hazelnut Oat Creamer
Directions:
Begin by brewing your favorite coffee. Pour coffee into mug. Add in the Irish Whiskey. Add brown sugar to taste and stir until sugar is completely dissolved. Use a frother to make Cashew Hazelnut Oat Creamer whipped and light. To make creamer: Add 1-2 tablespoons of Cashew Hazelnut Oat Creamer concentrate to every 1 cup of water. Want it creamier? Add more JOI! Top Irish coffee with Cashew Hazelnut Oat Creamer – don't mix and enJOI!
Photo and recipe courtesy of JOI.
Green Crush
Ingredients: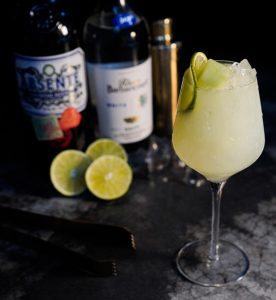 1oz Absente Refined
1 ¼ oz Rhum Barbancourt White Rhum
¾ Vanilla syrup
½ oz Lime Juice
2 Dash Bitters
Dash of lemon-lime soda
Directions:
Shake ingredients except for soda with ice. Strain and serve in a highball glass over crushed ice. Top with lemon-lime soda and garnish with a lime wheel.
Recipe courtesy of Absente. Photo courtesy of Raoul Beltrame.
EFFEN Pepino
Ingredients: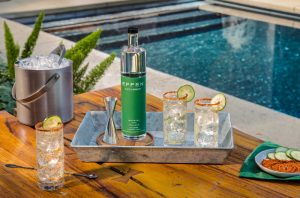 1 parts EFFEN® Cucumber Vodka
1 splash of Lime Juice
2 parts Lemon Lime Soda
Tajin® Clasico seasoning
Directions:
Rim a glass with Tajin® Clasico seasoning. Build over fresh ice, garnish with a cucumber wheel.
Recipe courtesy of EFFEN.
Jameson Irish Breakfast Tea Hot Toddy

Ingredients: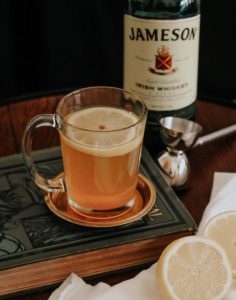 4 ounces of hot water
1 1/2 Jameson Irish Whiskey, infused with Chado's Irish Breakfast tea
1 bar spoon honey
1/2 ounce fresh lemon juice
Directions:
Steep your Irish Breakfast tea in the Jameson Whiskey for 30 minutes, then strain. Add the tea infused Jameson, honey, lemon slice and fresh lemon juice to a glass. Pour hot water over the top, stir. And voila….enjoy!
Recipe courtesy of Chado Tea.
Paddy's Gold
Ingredients: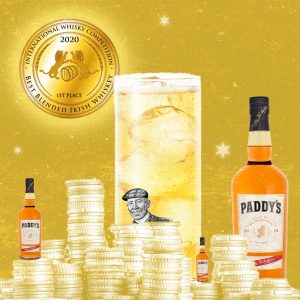 1.5 oz Paddy's Irish Whiskey
0.25 oz peach liqueur
0.25 oz lime juice
0.25 oz orange juice
3 oz ginger beer
Lime wheel (garnish)
Directions:
Add the Paddy's Irish Whiskey, peach liqueur, lime juice and orange juice to a Collins glass filled with ice. Top with ginger ale and stir. Garnish with a lime wheel and enjoy!
Whiskey Ginger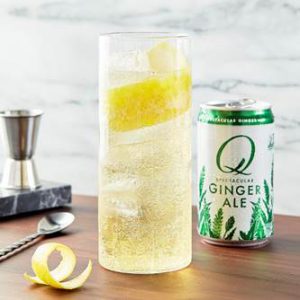 Ingredients:
5 oz Q Mixers Ginger Ale
1.5 oz Premium Bourbon (Anthony Pullen, former bartender and team member at Q Mixers, recommends: The Busker
Slane, Bushmills, Jameson)
Lemon Peel
Directions:
Build the drink over ice in a highball glass, garnish with a lemon peel.
Recipe courtesy of Q Mixers.
Green-Eyed Toddy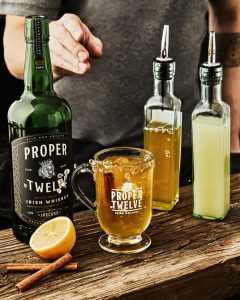 Ingredients:
1.5 oz Proper No. Twelve
.5 oz Lemon Juice
.5 oz Honey Syrup (1:1)
Top w/ Hot Green Tea
Directions:
Build in hot toddy glass or mug. Top with hot green tea. Garnish with cinnamon stick.
The Irish Aitail
Ingredients: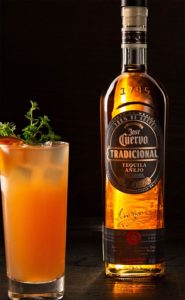 4 sprigs of thyme, leaves only
2 oz Jose Cuervo Tradicional Añejo
3 ⁄4 oz caraway-fennel simple syrup
Soda Water
Splash of fresh grapefruit juice
Directions:
Muddle the thyme. Add the Cuervo Tradicional Añejo and simple syrup and fill shaker with ice. Shake well. Strain into a glass filled with ice. Top with soda water and squeeze of grapefruit juice. Garnish with thyme sprigs and dehydrated grapefruit.
San Patricio with Desert Door Sotol and Twang-A-Rita Unwind Lime
Ingredients: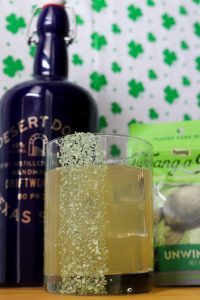 Twang-A-Rita Unwind Lime
2 oz. Desert Door Texas Sotol
.5 oz. Agave nectar
1 oz. Lime juice
1 oz. Pineapple juice
Ice
Pineapple wedge for garnish
Directions:
Rim glass with Twang-A-Rita Unwind Lime. In a shaker with ice, combine Desert Door Texas Sotol, agave nectar, lime juice, and pineapple juice. Shake and strain over ice, garnish with pineapple wedge.
Recipe courtesy of Twang.
Orchid of the South
Ingredients: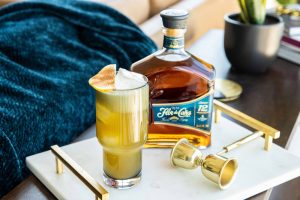 2 Parts Flor de Caña 12
1 Part Ancho Verde liqueur
4 Parts fresh pear juice (use juicer & fresh pears)
Glass: Highball
Directions:
Shake & Strain then pour into Highball. Garnish with a dehydrated apple with cinnamon powder.
Recipe courtesy by Sebastien Derbomez, William Grant & Sons Brand Advocacy Manager.