Spa Girl Cocktails presents a cocktail that bleeds into the glass to keep your spooky vibes going throughout all your Halloween festivities!
Vampire Kiss
Ingredients: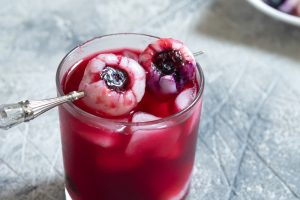 3 oz. Spa Girl Cocktails Cucumber Vodka
1 oz. Domaine de Canton Liqueur (or ginger simple syrup)
Juice of 1 lemon
Raspberry puree
1 Lychee
1 Blackberry
Directions:
Pour Spa Girl Cocktails Cucumber Vodka, Domaine de Cantone Liqueur, and juice of one lemon into a glass and stir. Add raspberry puree to the inside edge of the glass with a spoon or syringe. Place a blackberry inside a lychee (cut the blackberry in half if needed) for the eyeball and garnish.