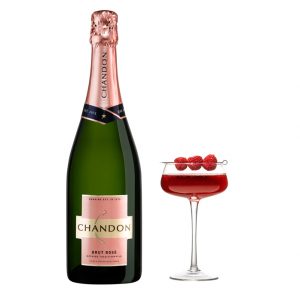 Ingredients:
1 tbsp Raspberry Jam
½ oz Simply Syrup
1 oz Hibiscus Tea, steeped and cooled
4oz Chandon Rosé
Directions:
Add jam, tea and simple syrup to a cocktail shaker and shake. Strain mixture into a flute, coupe or wine glass. Top with Chandon Rosé. Garnish with fresh raspberries for an extra treat!
Recipe by Mixologist Lynette Marrer.
Photo courtesy of Chandon.