Ingredients: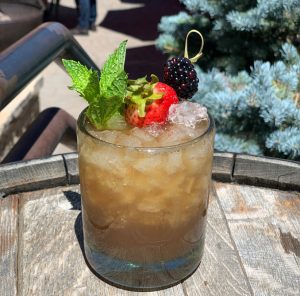 0.5 oz High West Double Rye
1.5 oz Mixed Berry-infused Oloroso
0.5 oz Amaro Ciociaro
0.5 oz Cinnamon syrup
0.5 oz Lemon Juice
0.25 oz Smith & Cross
Directions:
For the Mixed Berry-infused Oloroso, fill a quart container with mixed berries (raspberries, cherries, blackberries), cover with oloroso, allow to infuse for 72 hrs at room temperature, strain off. Use within two weeks. For recipe, short shake, strain over crushed ice into cobbler glass, garnish with berries and mint.
Recipe courtesy of High West.