The Oscars are on this Sunday, and in celebration of Hollywood's biggest night, Tequila Don Julio is partnering with the Governors Ball, the Academy of Motion Picture Arts and Sciences' official party following the 94th 4th Oscars® ceremony on March 27, 2022, to serve up a superstar bar experience curated by globally acclaimed mixologist Charles Joly. For the first time this year, Governors Ball attendees will also be able to enjoy a custom, imaginative food/drink pairing served up by Joly in collaboration with Bronx-based culinary collective Ghetto Gastro.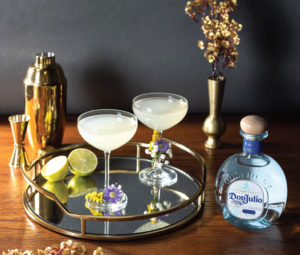 Joly and his team of experts have worked to prepare over 6,000 specialty cocktails for the special evening including the Limelight Margarita, Picture Perfect Paloma, A Bronx Cocktale, Old Hollywood Fashioned, and The Class Act. These distinctive cocktails will require approximately 12,000 picked mint leaves, 2,000 sherry-poached mushroom slices, 10,000 edible flowers to garnish, and 5,000 mists of orange flower water for an elegant essence. Hollywood's elite will also be able to toast to the moment before they reach their seats with Tequila Don Julio mini cocktails.
If your bar is hosting a watch party, you'll want cocktails as flashy as the star-studded celebrities walking the red carpet. Check out a few suggestions below from Tequila Don Julio for an award-winning cocktail menu on Oscars night.
Old Hollywood Fashioned
Ingredients: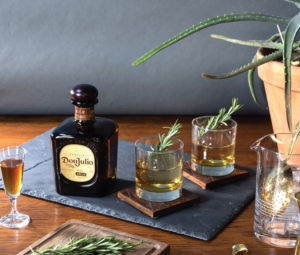 1⅓ oz Tequila Don Julio Añejo
¼ oz Dry Oloroso Sherry
¼ oz Barrel-Aged Truffled Maple Syrup (cut 3:1 syrup:water)
3 Dashes Truffle Bitters
Directions:
Combine Tequila Don Julio Añejo, dry oloroso sherry, truffled maple syrup and truffle bitters over ice in a mixing glass. Stir well to chill and dilute. Strain over a large ice cube in a rocks glass. Garnish with fresh rosemary sprig.
A Bronx Cocktale
Ingredients:
1¼ oz Tequila Don Julio Reposado
¼ oz Rhum Vieux
¾ oz Fresh Lime Juice
½ oz Mango Juice
½ oz Coconut Milk
½ – ¾ oz Honey Syrup (2:1 ratio)
Directions:
Combine all ingredients in a shaker with ice. Shake well and pour into a small tasting glass
Garnish with a small edible flower and gold dust.