Name a more iconic duo than gin & tonic! While this tried-and-true cocktail is perfect as is, we offer a few riffs on a classic in honor of Gin & Tonic Day on April 9. Check out some of the unique gin and tonic recipes below.
NOLET'S Silver Gin + Tonic
Ingredients: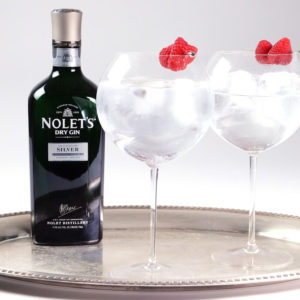 1.25 oz. NOLET'S Silver Gin
4 oz. Tonic Water
Raspberries
Directions:
Pour NOLET'S Silver Gin and tonic water into an ice-filled balloon glass. Stir well. Garnish with two fresh raspberries.
Citrus Bomb Gin & Tonic at Sweet Liberty
Ingredients: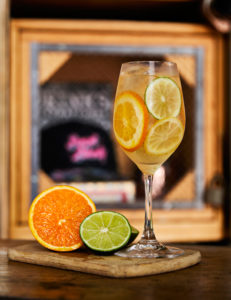 1.5 oz. Fords
¼ oz. Italicus
Barspoon Suze
Barspoon grapefruit oleo saccharum
Barspoon lemon juice
2 dash lemon bitters
Directions:
Fill wine glass with ice, then add all ingredients. Top with Q tonic and stir. Garnish with one lemon wheel, one lime wheel, and one orange wheel.
Recipe by Naren Young at Sweet Liberty. Photo by Michael Pisarri.
Gunpowder Chili Serve
Ingredients:
1.5 oz Drumshanbo Gunpowder Irish Gin
Top off with Chilled Premium Tonic
Whole Fresh Red Chili Pepper
Thick Slice of Fresh Mango
Directions:
Stir and serve ingredients over ice. Top with premium Tonic Water. Garnish with red chili pepper and a slice of fresh mango.
Ingredients: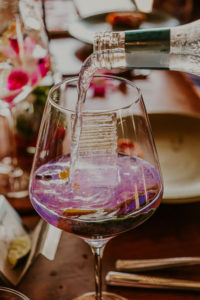 2 oz of Premium Catalan dry Gin
1 oz Butterfly pea flower tea
20 oz Mediterranean Premium Tonic
1 Pinch of edible Silver dust
3 Juniper berries
1 Makrut lime leaf
1 Fresh orange zest Twist
1 Edible Orchid petal
1 Hand cut ice block
Directions:
Infuse hot water with Butterfly Pea Flowers to have a dark blue color. Add one block of hand-cut ice to cold red wine glass. Measure and add 1 oz of the Ibiza Tea and 2 oz of the Catalan Premium dry Gin to the glass. Add three juniper berries, 1 Makrut lime leaf and 1 edible orchid petal. Do an orange zest twist on the glass and add the peel into the drink. Add 1 pinch of edible silver dust to your Mediterranean Premium Tonic bottle, stir it a bit, and serve the Tonic Water through a bar spoon into the drink while you see it magically change color. Toast and enjoy your incredible Ibiza G&T!
Recipe by Telefèric Barcelona.