DoorDash announced it is rolling out new industry-leading safety features for alcohol delivery in the United States. The enhanced two-step or dual ID verification has already been successfully piloted in several areas across the country.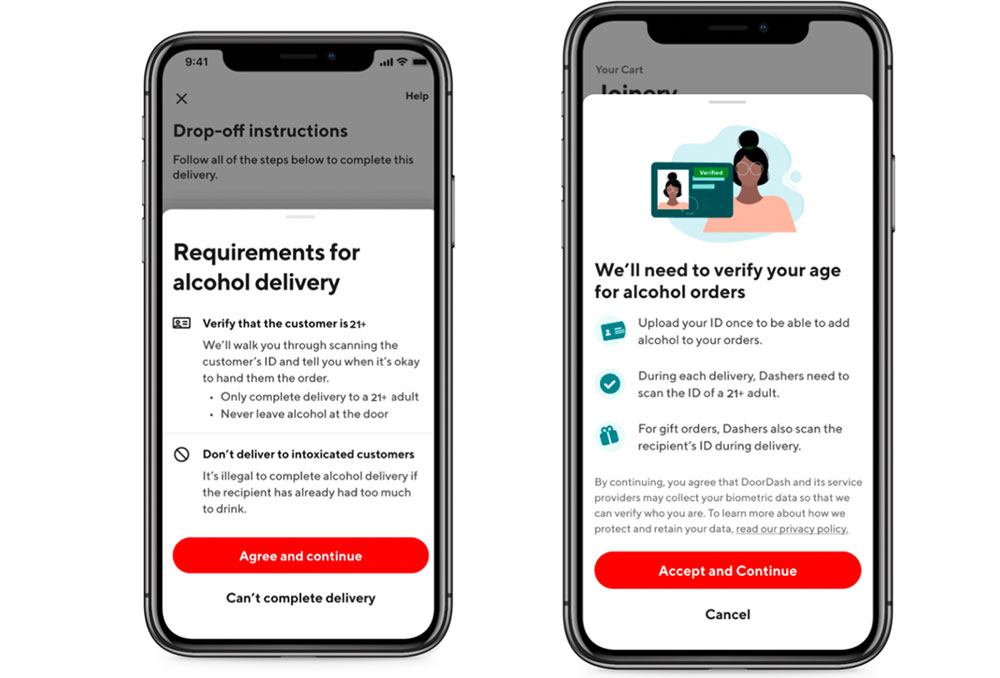 Since expanding alcohol delivery last year, DoorDash has seen tremendous demand from consumers, merchants, and Dashers. By facilitating alcohol delivery, DoorDash helps merchants grow their businesses, enables customers to purchase alcohol safely and conveniently from home, and provides Dashers with additional earning opportunities.
DoorDash estimates that adding alcohol may increase restaurants' and grocers' average customer order values by up to 30% and convenience stores by over 50%. In Q4 2021, U.S. Dashers earned, on average, almost 30% more on deliveries with alcohol than on non-alcohol deliveries.*
The new safety features announced will further enhance how IDs are checked before alcohol is delivered. In addition to existing safeguards, Dashers will now be required to scan the front of a customer's ID with the DoorDash app to verify their identity prior to handing off and completing the delivery. After verifying the customers identity and checking for any signs of intoxication, the delivery may be completed. Customers will also be reminded that they must be at the door with a valid ID when the delivery is being made.
The enhanced two-step or dual ID verification was first piloted in Dallas, Detroit, Miami, Phoenix, Portland, Oregon, Seattle and Northern Virginia, and has already made it easier for Dashers to verify the customer's identity and age before completing the alcohol delivery.
"At DoorDash, safety is a top priority and our goal is to deliver alcohol in the safest and most responsible way possible," said Erik Ragotte, DoorDash's General Manager of Alcohol. "With today's announcement of two-step or dual ID verification, we're setting a new industry standard for responsible alcohol delivery. The new safety measures will help ensure alcohol is delivered to people over the age of 21. We will continue to innovate and find even more ways to promote responsible alcohol delivery."
"NAWLEE applauds DoorDash's commitment to safety and strongly supports their ongoing efforts to promote the safe, responsible delivery of alcohol," said Kym Craven, Executive Director for the National Association of Women Law Enforcement Executives. "Not only do the new features make it even harder for minors to get their hands on alcohol and help prevent underage drinking, the service can help keep impaired drivers off the road."
The enhanced dual ID verification builds on the existing steps DoorDash takes to ensure alcohol is purchased and delivered in a safe and responsible way. This includes rigorous ID verification, offering customers the choice to opt-out or self-exclude themselves from alcohol delivery, providing alcohol safety resources for Dashers, and working with groups like Responsibility.org, the National Association of Women Law Enforcement Executives (NAWLEE), and Students Against Destructive Decisions (SADD).
*Based on average Dasher payouts nationwide while on a delivery. Actual earnings may differ and depend on factors like number of deliveries completed, time of day, location, and expenses.