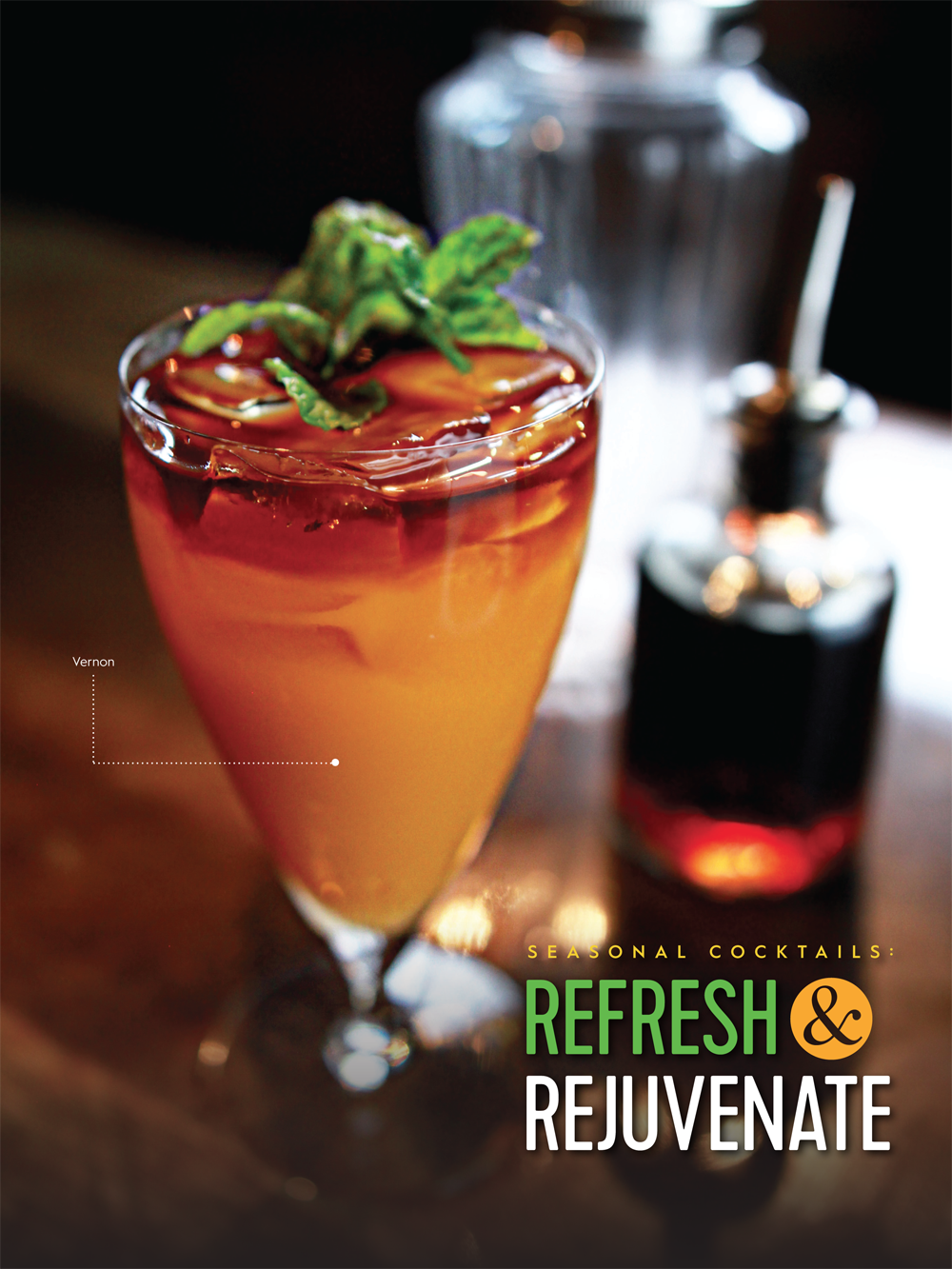 Cocktail recipes that focus on what's fresh and seasonal.
Lisamarie Joyce
The transition from winter to spring is one of the most anticipated times of the year—and with good reason!
The ground is coming back to life, parkas are being tucked into closets, patios are opening up, and I don't know about you, but after the tax season, I could use a drink!
Get ready for cocktails to usher in warmer weather with fresh produce, bright colors, and leafy herbs.
The long, cold winter had us building our cocktails around warm, brown spirits, but springtime is the best time to think produce first, spirit second.
Focus on what's truly in season and use it to your advantage. Spring is all about using fresh, raw ingredients while they are in season.
Get out your blender. Rhubarb, which is quite fibrous, can be blended with a little water, sugar, and lemon and then strained. It makes for a fantastic mixer.
With bartenders getting in the kitchen, you are going to discover we will try to juice just about anything we can. Yes, even snap peas. Don't worry, we'll shake it with booze.
April showers bring May flowers!
Flowers are taking over as the finishing touch for not only their beauty, but the floral fragrance it adds to the cocktail. Folks will take pictures first and taste second, so you cannot skimp on that garnish! This is the season for big, bright, bold garnishes. It's got to be Instagram worthy, right?
Many people ask me how they can make "that cocktail" at home. Since there is an abundance of local fruits and herbs this time of year, it makes it easier to get crafty at home. I like to call these "Couch Cocktails." They are achievable for even the most novice bartenders.
You can be steps away from a delicious cocktail with a few strawberries, lemon, sugar, and vodka! Or go to your garden and grab some cucumber, ginger, and mint and mix it with gin.
Refreshing cocktails share characteristics of being cold, light, and hydrating. Topping your cocktail with sparkling water adds a delightful effervescent experience. Don't worry, I've included the recipes for all of these cocktails as well.
Behind the scenes of the best bars in the springtime is somewhat magical. The world around us feels rejuvenated, and your menu should celebrate its awakening.
Make your grocery lists, shop local markets for fresh fruits and herbs, measure and muddle, shake and taste—it's all part of the creation of the spring cocktail menu.
Read on for my spring cocktail recipes as well as creations from my Union Kitchen & Tap colleague Jessica Beusan.
---
Lisamarie Joyce is the Owner of LMJ Consulting LLC where she serves as a bar and hospitality consultant to her clients. You can also find her behind the bar
at Union Kitchen & Tap in Encinitas, California. For more information on LMJ Consulting or to contact Lisamarie, email [email protected] or follow her on Facebook & Instagram @lisamariejoyce.