Perlick is known for manufacturing products that last for years and keep businesses productive, efficient and profitable. In the rare instance a product does break down,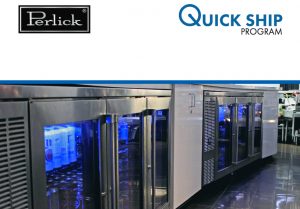 chances are it will happen just before the weekend or during the evening rush, proving that in the hospitality industry, there isn't a convenient time to have a product fail. To keep our customers profitable, Perlick now offers Quick Ship – a stock program that offers next day shipment to help bars and restaurants stay up and running seven days a week.
Perlick is committed to staying ahead of market trends when it comes to customer service, shipping and convenience. Quick Ship is just one way to make sure bar and restaurant owners feel at ease, no matter the circumstances. "Perlick values our customers, and we believe the new Quick Ship program will continue to solidify the commitment to quality and reliable service we've shown to our customers for the past 102 years," said Jim Koebel, Perlick Vice President, Commercial Sales.
The Quick Ship program is available for select products. A downloadable brochure, that provides a detailed list of all included products, is available on the Perlick website. All listed products are in stock and ready to ship.