Perlick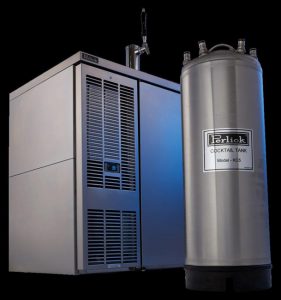 , a leader in total package bar equipment and beverage dispensing systems, introduces the first draft system that consistently produces high-quality cocktails from kegs. Through custom agitation of kegs, the Tobin Ellis Signature Draft Cocktail System corrects the common problem caused when ingredients settle.
"Everyone who knows high-volume cocktails knows the one problem with cocktails on tap is proper and consistent agitation," explains bar design and operations expert Tobin Ellis. "You have to serve force-carbonated cocktails or send a barback to physically shake the keg hoping for some degree of proper agitation. Now, those days are over thanks to my new Signature Series Draft Cocktail System by Perlick."
The game-changing Draft Cocktail System circulates cocktails in a proprietary 4-port Corny keg with mechanical NSF-approved pump. Perlick's "Craft on Draft" technology allows operators to confidently serve high-volume signature drinks and samples in a few seconds with the pull of a tap handle. Faster service, longer shelf life, and the ability to create popular drinks in keg quantities all add up to increased profits for operators.
The Draft Cocktail System can be fitted to any existing or new bar or integrated with the Tobin Ellis Signature Cocktail Station, Perlick's revolutionary bartender cockpit ergonomically designed to increase beverage production in high-volume environments. Moscow Mules, Manhattans, Margaritas and Negronis, in addition to many other carbonated and non-carbonated drinks, are just some of the crowd-pleasers that bartenders can serve instantly.
"Kegged cocktails will not replace all handmade cocktails, but we are pleased to offer our Draft Cocktail System because it speeds service significantly for cocktails that are heavy favorites without sacrificing taste," says Jim Koelbl, Vice President of Commercial Sales for Perlick.
Key components that make the Draft Cocktail System reliable include:
NSF-approved circulating pump with inline filter
Availability as a direct, long-draw or custom system
Proprietary 5- or 10-gallon stainless steel Corny kegs with four connect ports for gas pressure, pump connections, and tube to draft tower
Fine mesh strainer to catch pulp and solid particles
Programmable electric timer for customized agitation cycles for different cocktails
Straight CO2 or NO2 to push cocktails to tap.