Florida-based Bar Maid Corporation releases the new GP-3 Mini Glass Polisher for wine glasses, champagne flutes and other types of glassware and its space-saving design makes it the perfect size for use in hotel and restaurant bars, wine bars, wine tasting rooms or other "bar top" applications where space is at a premium or where portability is a must.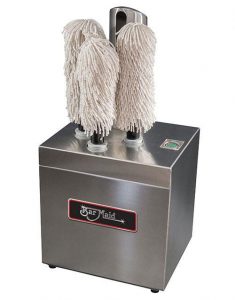 Bar Maid's new GP-3 Mini Glass Polisher delivers sparkling results with a significantly smaller footprint than the company's popular GP-100 model. It features a durable stainless steel body and high output blower with three spinning microfiber heads that, with a simple twist of the glass, dry and polish glassware inside and out simultaneously, at least four times faster than hand polishing.
"We listened to operators in the hospitality industry," says George Shepherd, president of Bar Maid Corporation. "Many loved the performance of the GP-100 Glass Polisher but needed a smaller footprint to fit in tight bar spaces."
The GP-3 Mini Glass Polisher:
Dries while polishing… warm air blower dries glassware and polishing heads
Polish up to 290 glasses per hour… save time and labor
More sanitary than hand polishing… reduce potential for contamination by unhygienic hands and towels
Virtually eliminate glass breakage… reduce glassware costs and hand injuries & claims
Use anywhere… small footprint, lightweight and completely portable
Removable, washable polishing heads… replacement heads and champagne flute polishing head available
This commercial duty glassware polisher is built to last and for continuous use. It is safer for both staff and customers than hand polishing and an investment that quickly pays for itself by saving labor cost, glassware and potential worker's comp claims. Patent Pending.
HANDS OFF FOR HYGIENE
Eliminate "hand on rag" polishing and touch points to reduce potential for contamination by unhygienic hands and towels. Customers expect increased sanitation measures and Bar Maid is committed to helping businesses meet those expectations and reinforce customer confidence in cleanliness.