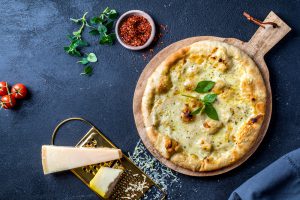 In response to foodservice industry demand, Donna Italia, creator of the turn-key, three-minute pizza solution for chefs and foodservice operators, providing them with an authentic, Italian-made pizza experience, is expanding its U.S. product line with the addition of its all-new DONNA BIANCA.
Rolling out exclusively in the U.S. starting in April after almost a year of development, Donna Italia's "white pizza" concept is making its debut at the 2018 International Pizza Expo in Las Vegas on March 19 (booth #2562).
Developed in response to demand from the company's foodservice customers, Donna Bianca joins the Donna Italia Pizza Margherita and Donna Italia Pizza Focaccia, as part of the innovative Donna Italia Pizza Solution, which guarantees an artisanal Italian-made pizza of optimal quality and taste served in just three minutes by combining both a great-tasting pizza, together with a specially-designed, plug-and-play stone oven small enough to sit on a counter.
"Ultimately, Donna Italia is a solutions-provider to our customers," said Gilad Shalom, president and CEO, Donna Italia, "so when foodservice operators and chefs saw an increase in demand for white pizza, which is growing in popularity once again in the U.S., and wanted to add it to their menu offerings, we responded, giving them a great-tasting, high quality product that is as quick and easy to prepare as our other pizza products."
With Donna Bianca, the company developed and tested a variety of options before coming up with the right blend of flavors and textures to create a light and flavorful version of this alternative pizza option. Using strictly Italian-made cheeses, Donna Bianca is prepared with Mozzarella, Provolone, the naturally crumbly, artisan Grana Padano, and a light dusting of Pecorino. Together, these four cheeses complement one another flawlessly and behave ideally in the baking process to yield the perfect white pizza when combined with Donna Italia's signature airy crust brushed with a light garlic-infused extra virgin olive oil instead of the traditional tomato sauce.
Since launching the Donna Italia Pizza Solution in the U.S. last year, the fast-growing company has found a strong following among restaurants, hotels, bars and other hospitality and foodservice providers with hundreds of outlets nationwide now featuring Donna Italia as part of their menu offerings. Key markets include Florida, Nevada and California.
The Donna Italia Pizza Solution was developed to help foodservice operators prepare and serve a high-quality, Italian-made pizza – one of the world's best loved and most frequently ordered foods – quickly and easily without investing in large, expensive equipment, staff time or training. In addition to the product itself, the Donna Italia Pizza Solution also includes the company's cost-effective business model and flexible contract terms. Restaurants and food and beverage operators receive the equipment (including oven of choice, pizza prep tools, and ongoing service and support) at no cost, paying only for the pizzas much like a month to month food club subscription, creating an efficient stream of revenue with zero depreciation.
Donna Italia pizzas are made in Italy with 100% natural ingredients, including fresh Italian mozzarella cheese, a special blend of Italian flours, olive oil, and tomato polpa (crushed tomatoes), with no added sugar, baking enhancers or preservatives. For optimum freshness, the pizzas are partially baked in a wood-fire oven, fast-frozen, and packaged individually in a specially-designed, flow-pack wrapper. The result: Donna Italia's plug-and-play counter-top stone oven – exclusively designed to perfectly prepare the Donna Italia pizzas quickly, easily and with consistent quality – allows for a hot and delicious pizza to be served in only three minutes from freezer to table.