By Raymond Rangel and Patty Caradonna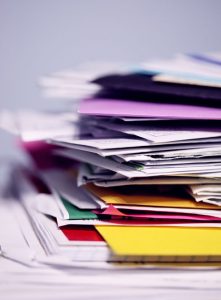 The preservation of business records should be a concern for any bar owner. Correctly storing your documents is important because if you store them incorrectly, then damage like foxing (a process of deterioration that causes spots and browning on paper documents) can occur. Bar owners should take care of their business documents like insurance papers, invoices, contracts, and employee documentation because you never know when you will end up needing them. There are many ways to store paper documents and here are a few things you should consider when storing your important papers.
How to store your documents
Paper documents need special care when you place them in storage, whether that is in a filing system or in an off-site storage facility. Documents need to be stored flat in a cool, dark, and dry area. Placing files in standing folders can cause them to curl and wrinkle over long periods of time. Exposure to light, extreme heat, and moisture can also damage the paper material. It is recommended that paper documents should be stored in acid-free alkaline containers for long-term preservation.
You should try avoiding keeping paper documents in areas with high humidity like basements, attics, or near the kitchen in bars. Grease can fill the air in kitchens and cause premature damage to your documents. Storing your documents in basements and attics can cause mold growth and foxing.
You always want to store your important documents in a room with an average temperature of 72 degrees with a consistent humidity level of 35%. This can be achieved by using a secure room and using a humidifier to regulate the humidity.
Storing records in the office
When going through your documents and deciding what you want to store, you will find some records that need to be kept close at hand. Business documents from the previous year should be kept close with easy access.
Paperwork going back three to five years and longer can be stored in a record storage facility or in an air-conditioned self-storage unit. Other documents including tax documents and pay stubs can also be put in offsite storage.
Keeping your documents secure when storing off-site
If you find you don't have room to store your documents at your office, you may want to consider using an off-site storage facility like a self-storage unit.
The first thing you want to check when deciding on a storage facility is the level of security provided. Will you need to provide your own lock? Does the company provide security guards overnight? Who will have access to your storage unit? These are the questions you need to ask the management at the facility before you put down any money.
Lastly, if you do decide to purchase a self-storage unit, then you will want to purchase insurance to protect your documents in case of fire or water damage.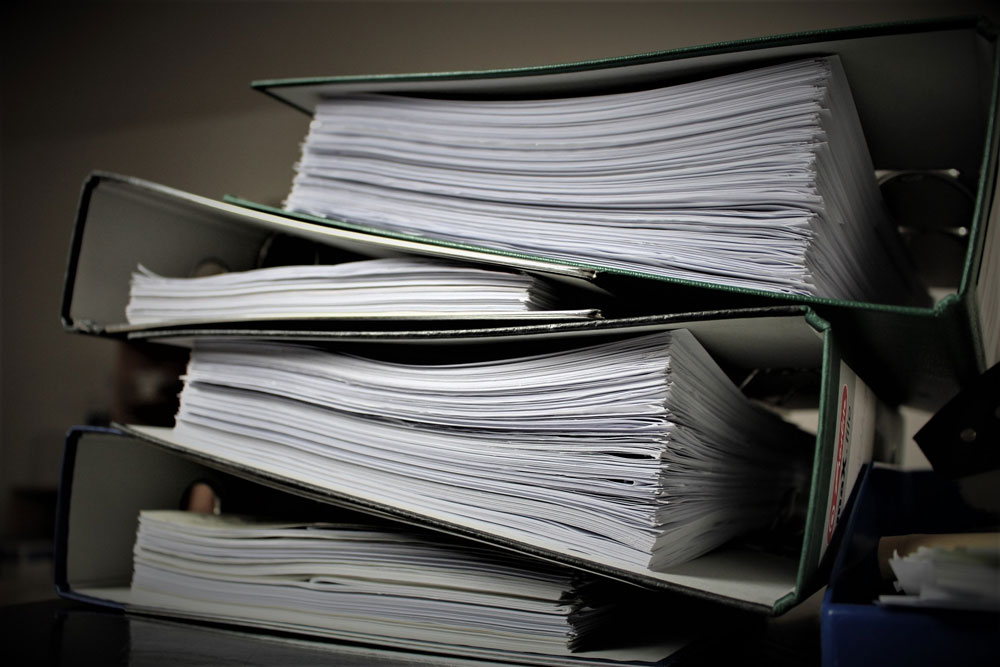 While self-storage units are relatively safe and secure, I would suggest using a document storage facility. These storage spaces are specialized for the storing of paper documents. Document storage facilities are more secure and provide temperature and humidity regulation to protect your documents from environmental damage.
Safe and secure destruction of documents
Documents that are old, out of date, or not needed anymore can be destroyed. The safest way to do this is by outsourcing your document shredding to a professional company. Shredding companies will safely and securely destroy your documents. This will help you with your security of sensitive information.
Shredding documents yourself can be a security risk as you are placing the bags of shredded paper into your dumpster where potential thieves can access them. Just because your paper is shredded doesn't mean sensitive information cannot be found. Use a professional on-site shredding company to ensure your documents are destroyed correctly and immediately sent to a recycling plant. On-site shredding is the most secure way to destroy your documents because you can witness the process happening from beginning to end. Always use an on-site shredding company.
Storing your old documents is important for any bar owner because you never know when you may need access to them. Damaged documents won't be helpful in case you have a situation arise and need a particular tax paper or business contract.
Choosing how to store documents and following these guidelines will help you keep those important papers safe.
Raymond Rangel is the Sales Manager of 

Data Storage Centers

 in Phoenix, Arizona. Data Storage Centers are experts in the storage and organization of physical media and sensitive records for commercial enterprises.
Patty Caradonna is the owner of PROSHRED Arizona located in Tempe, Arizona. PROSHRED Arizona are experts in document shredding for businesses and individuals.