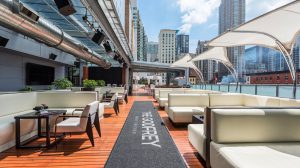 Although bars make their names with the quality of their cocktails and bartenders, no picture is complete without a backdrop tying the whole experience together. Period-inspired décor in recent years have provided solid starting points for bar owners and their designers, from the Tiki Bar look of the post-World War II era, to the groovy fern bar decor of the 1970s, to the refined elegance of Belle Époque Europe and the Roaring 20s, to the "Hollywood Regency" revival that ushered in a new "cocktail generation."
However, architects, interior designers, and other hospitality industry consultants stress there's more to the process than just picking out "on trend" furniture and wallpaper. Little or unseen details are as significant as big, obvious ones like couches and bar surfaces. It's not just about being "in fashion" but also "relatable" to prospective customers.
Grant Gedemer, Food and Beverage Director at The Godfrey Hotel Chicago and I|O Godfrey (Nightclub and Bar's 2017 "Lounge of the Year") has a few opinions on what's in and out for 2018.
"What is going away? Definitely Edison bulbs, subway tile, and industrial chic vibes in general," says Gedemer. "What I see trending is mid-century but blended with more modern touches, like glass, gold metallics, and geometric shapes. Lighter colors, especially in woods, are popular and will probably continue to be. I also see a lot of variety in furniture. For example, a venue may have different styles of chairs at the same table or different banquettes and tables throughout a space. The intent is to suggest the items are unique or even antique and have been 'found,' as opposed to bought in bulk."
Gedemer also predicts more owners will opt for brighter and better lit spaces with chandeliers, lamps fixed to bar tops, and other overhead lights and floor lamps. He says there will be less "nightclub-esque" and LED lighting. He also predicts dining height table settings will overtake booths or banquettes in popularity. Outdoor settings, on both patios and rooftops, will continue their dominance, and if climate does not allow for that, he advises bar owners look into incorporating large windows that can open wide into the design.
"In terms of design styles, staying away from curved bars, tables, chairs, or even rugs is a good idea," he says. "Straight lines always stand the test of time where ovals and circles flash in and out of style quickly. Small profile furniture is always going to be timeless. Bulky chairs and banquettes are rarely in fashion, so bars should avoid using them even when they are because the space will look old very quickly."
San Francisco restaurant and hospitality consulting firm af&co.'s assessment of what will be big in the bar scene reinforces Gedemer's points on authenticity and carefully curated nostalgia. Andrew Freeman, founder and "Master Trendologist," says "retro"
is still a thing with the look of the 50s, 60s, and 70s executed in a fun way.
"[Bars] are prioritizing the need to offer unique, branded trinkets guests can take home, such as coasters and swizzle sticks. And take them home, they do!" says Freeman. "Guests are known to take home stacks of coasters from Mikkeller Bar (LA). Vintage glasses and shakers are also in—all the better to Instagram—and are showing up at cocktail programs in Marianne's and Pacific Cocktail Haven in San Francisco. As more venues are being seen as social spaces, [they are] being designed to emulate the feeling that you are in someone's home. Areas that were once separated are now blended. The choice of stools and chairs with different seating heights may act as the only separation between the bar and the dining room, or there may be simple design divisions such as plants, or, in the case of Citizen in Beverly Hills, macramé."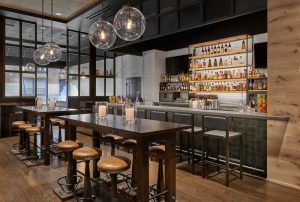 Gedemer, however, warns owners to really think about the theme they choose; how it will mix in (or not) with a region; and most importantly, why he or she has chosen the theme.
"To use the Rat Pack example, why do you want to go that route? If it's just that you like that kind of music or think it would be cool if everyone wore suits to your place, you need to give it a lot more thought," cautions Gedemer. "Bar owners should cater to people who don't always like the same things they do.
In many markets, there is not a large enough segment of the population of any city that is wishing there was a Rat Pack bar or a 70s bar or an Agatha Christie-themed bar to sustain you. Instead, focus on something unique in the food and drinks, and then go with
a clear goal in mind of presenting what you offer. Too many people do it the other way around, and that's a recipe for a short run."
An example of a successful theme is in the repeating tropical motifs at The Happiest Hour by Acme's Jon Neidich and veteran New York Bartender Jim Kearns. The breezy space is adorned with cartoon palm trees, pineapples, and artifacts that set the mood for elevated diner-style fare and non-judgmental cocktails.
Certain thematic aspects can also work to pull together an establishment. For example, the Roman and Williams-designed Greydon House in Nantucket features a mural depicting scenes from the 18th century tea trade with China around the hotel bar. The mural enhances a signature cocktail menu by Boston's acclaimed Jackson Cannon drawing inspiration from Nantucket and its storied past.
At Slowly Shirley in New York City, murals informed by Hollywood's "Golden Age" detail the life of the bar's fictional namesake—from would-be starlet to sophisticated world traveler.
Also consider whether a space feels private or public. Freeman says that while a "living room" vibe works for some, other guests' needs for privacy is being addressed with semi-transparent, semi-private barriers, which give guests a choice about whether to enjoy a quiet moment or be out in the open.
While the sky appears to be the limit in terms of design ideas and options, the wrong mix can cause a bar to crash after takeoff or mid-flight. According to Kansas City, MO-based Architect/Designer Kraig Kalashian and Co-Founder of the Sage Restaurant Group in Denver Peter Karpinski, only the right designer or consultant will effectively co-pilot his client towards a design that will have staying power as well as relevance to guests now and in the future.
"For the Hotel Phillips' speakeasy, we chose groupings of furniture that accommodated two or three people," says Kalashian about this recent project. "These elegant curved banquettes with channel tufting accommodate couples or maybe three max. We also curated original letters that dated to the 1930s when the hotel was built in Kansas City. The idea of being intimate informed our choices in lighting and fabric selections.
"I suggest that if you want to avoid being cliché, you need to avoid making decisions that are arbitrary. If something is not tied in somehow to the concept or the space, its not going to work, or it will look chosen because it was popular."
To achieve the perfect regional look for the speakeasy bar at Hotel Phillips, Kalashian and his team turned to residential magazines documenting Kansas City homes for inspiration and to find items made by KC manufacturers and vendors. He says the strategy provided a meaningful way to visually connect customers to the community where the hotel bar is located. Like Gedemer's examples, his approach was intended to evoke social media exposure, as well as prompt, "How do I get my house to look like this?" reactions from customers.
"The client wanted to create something fresh without eradicating the important historical context of the building," says Kalashian. "We were challenged to create something special that celebrated the history of the building and made it better by continuing the design flow of what the original designers intended…the result was making the building even better."
As Kalashian primarily works with independent bars and restaurants, he insists that no matter what time period inspires the clients' concept, an owner should understand certain aspects of the property will take precedence over whatever happens to be in fashion. This includes the area's geography and architecture, the target customer base, and physical constraints of the space. For example, if a bar specializes in craft cocktails, it does not need a space for 50 types of scotch as a whiskey-specific bar would. Owners and their designers should also work within the context of the present day even if a look from 50 years ago provides inspiration, and they should grasp that no bar should be all things to all people.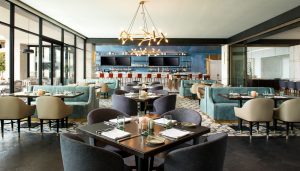 Kalashian points out such "unseen" considerations still gaining popularity with his clients include LED light fixtures, outlets and chargers for smartphones and tablets (especially as he notes more of his clients are using iPad menus), environmental lighting controls that can adapt to different natural light throughout the day, as well as energy-efficient appliances.
Peter Karpinski, meanwhile, advises many of his clients to apply technological influences judiciously to bring back the bar's original mission—to be a social environment bringing people together. "We've kept restraint on our television placement in our spaces to one or two sets to appease a few customers," says Karpinski. "However, we wanted to encourage more customers to get away from technology and engage them in conversation with the people they are with, the people outside of their group, and the bar staff for an environment that recreates a feel similar to back in the day when people actively talked to each other and the bartenders.
"When technology comes up, we [inform clients] about things like the best quality glass washers, water filtration systems, and behind-the-bar innovations, as time spent cleaning or maintaining the bar takes away from the time bar staff spends with the customers and making drinks."
While Karpinski's team focuses on creating spaces for larger markets across the U.S., he says his biggest challenge is to create appealing settings that are "modern and sophisticated" but also have a casual sensibility that "most people in middle America would feel comfortable in." With the increased popularity of craft cocktails made with fresh juices and garnishes, he also needs to conceive front bars that accommodate the ingredients but don't create barriers between the bartender and customer.
"We are working to create a hybrid of speed, productivity, and efficiency, which is not just important from a business perspective, but is what customers are looking for—they want craft and high-end, but they want to receive their drink in a reasonable amount of time," says Karpinski, reflecting on his most recent project, the 1950s-inspired Poka Lola in Denver.
"When we design for a client whose concept is replicated [a chain], we pay attention to not only what's important for the concept to work, but also what is unique and indigenous to the market at that given location—not just the city, but also the neighborhood where menus and offerings can be very different," says Karpinski. "We also want our clients to be busy and relevant five, 10, or 20 years from now."
On that score, reconciling durability, style, and maintenance is one of Gedemer's biggest challenges, especially if his client is likely to move furniture around for different events and nights and have a lively client base on top of that. And then there is figuring out how to place furniture so every guest feels they've got a good seat.
"Stand at every spot at the bar and sit at every high-top table, dining table, booth, and patio seat," he says. "Make notes of the best and worst spots at each place. Is it a great view of the TVs, or a good spot for people watching? Is it too close to the kitchen?
"Doing this in the design process is tough, especially without the furniture, but bars need to be creative. Leaders of the bar team should visit the site if it's under construction and bring a tall stool and a normal chair. The closer to 100% satisfaction you get with every customer location, the more money you will make."
By Elyse Glickman
Photos (top to bottom): Kailley Lindman, Hotel Phillips, Nick Domitrovich, Studio Director