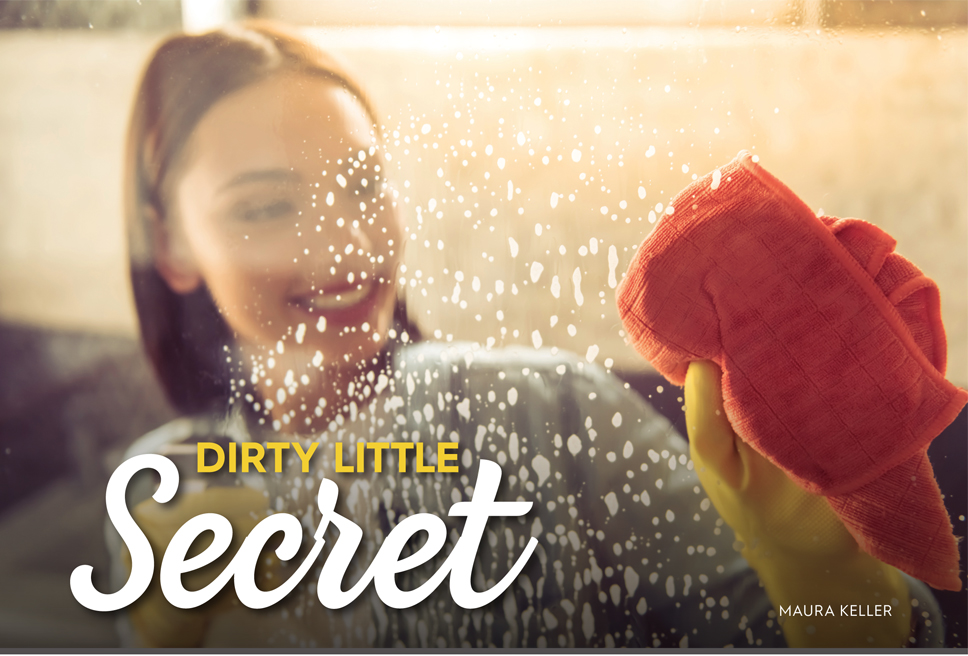 How to create an inviting, sanitary bathroom experience.
As part of the foodservice industry, you know how critical cleanliness is to
the health of your business. Unswept floors, soiled tables, and employees with poor hygiene can affect your bottom line. The same can be said for the cleanliness of your bathrooms. While cleaning your bathroom is a far-from-glamorous job, it's critical to the success of every bar business.
Is Your Restroom
Really Clean?
Jamie Poff, Owner of Enviro-Master of Connecticut, part of the franchised system of Enviro-Master International, says that it is important to differentiate between cleaning and sanitizing/disinfecting. Enviro-Master is a North American commercial health and safety company specializing in preventing the spread of disease and controlling odors predominantly in public restroom spaces.
Not surprising, restrooms are breeding grounds for bacteria, viruses, molds, and mildew, all of which can cause not only unpleasant odors, but also can present health and safety concerns in every public restroom.
"While generally most owners and managers do a pretty good job of 'cleaning' their restrooms from what they can see, they are still infested with many potential hazards that can cause negative impacts on patrons and employees," says Poff. Cross-contamination is a real problem that can lead to illnesses and potentially create problems for the overall brand.
As Poff explains, if people knew about the build-up hidden in toilets and urinals, they'd probably never visit those venues again. That's why having a comprehensive disease prevention and odor control program that includes not only cleaning, but also sanitizing and disinfecting restroom surfaces, can help eliminate these concerns and keep customers and employees happy and healthy.
"Once you understand the importance of killing all of these germs and bacteria, the biggest headache for bar owners is that few, if any, have the proper tools to effectively do these things," says Poff. "While all bar owners can set mouse traps, most prefer to hire professionals to eliminate these problems in their facilities."
The same could be said for the restroom, where every time a toilet or urinal is flushed, it emits thousands of dirty water particles that literally cover
a public restroom in bacteria and other contaminants. A program of systematic cleanliness, sanitizing, and disinfecting will not only help keep people happy and safe, it will also reduce the overall maintenance costs in a bar restroom as "cleaning" protocols can be altered to be shorter in between professional sanitizing visits—saving money.
"Also, by removing contaminant build-up and uric scale, the incidents of plumbing repairs of toilets and urinals should decrease the incidents of plumber visits resulting from poor water flow issues and odor problems that can come from not having the proper programs in place to eliminate these things before they become issues," says Poff.
Another major area of concern is
the bar restroom floor. As Poff explains, what happens when urine and feces
are ground into the floor? Besides an unsightly restroom and customer complaints over odor, the tile or grout can be eaten away by the urine and feces, causing a large capital expenditure.
"In addition, whatever is on your restroom floor will be carried on the shoes of your employees and customers throughout the bar," says Poff. "Nobody wants to think about a woman's purse that walks to the restroom, ends up on the floor because there's no hook to put it on, and ultimately ends up on the bar or table. It's gross for sure, but it happens."
Having a regularly scheduled floor scrub program in place can help alleviate many of these concerns.
Poff recommends either monthly or quarterly depending on foot traffic.
While cleaning tools and chemicals are constantly evolving, what can be a challenge is having the proper "manpower" available in keeping a bar restroom clean. Also key is correctly sanitizing and disinfecting the surfaces so no cross-contamination occurs within the bar and kitchen areas.
"Bar owners need to kill the restroom germs that could kill their business," says Poff. "This requires a mix of powerful products with a specific delivery system for the long-term residual germ kill effect."
For example, there are powerful EPA-approved, hospital-grade disinfectants that can be delivered in a sprayer system to combat the spread of germs. As mentioned earlier, a flushed toilet emits thousands of dirty water particles each time it's flushed.
"This can happen more times in one hour of a busy bar than it would in the typical home of a family of four for over a three- or four-month period, which is just mind blowing when you think about it," says Poff. "For a short-term impact, there are over-the-counter retail products available that will suffice to kill germs for a very short period, such as Quat or Lysol."
The other trend is the movement away from bleach for a bar's cleaning needs. Here's why: most owners expose themselves to potential liability issues by not providing proper training and/or proper personal protective equipment needed to use with products such as bleach. There are many alternatives that offer the same level of cleanliness, sanitization, and disinfecting properties without the potentially harmful side effects to both employees and the environment.
With varying levels of patron traffic and use each week, how can bar owners ensure their bathrooms are truly clean and sanitary? First, be sure the company you hire is doing a thorough job. "If the bar owner decides to go with a contractor, insist the contractor demonstrate their process for cleaning, sanitizing, and disinfecting the restrooms on a weekly basis," says Poff, who explains that most processes will only last seven to nine days.
Poff also says delivering a disinfectant in a sprayer system is very effective, and a strong air care system should be part of any program. Air care, different than a typical air freshener that simply masks agents, not only emits fragrance into the air, but also will eliminate the odor causing malodors through proprietary chemical processes.   
"Your employees and customers care about using a restroom that is clean, safe, and smells good," says Poff. "Let's avoid the mistake of having an outbreak in your bar of germs and odors that can shut you down and drive customers away. Get started on a health and safety program. Professionals are available in most markets."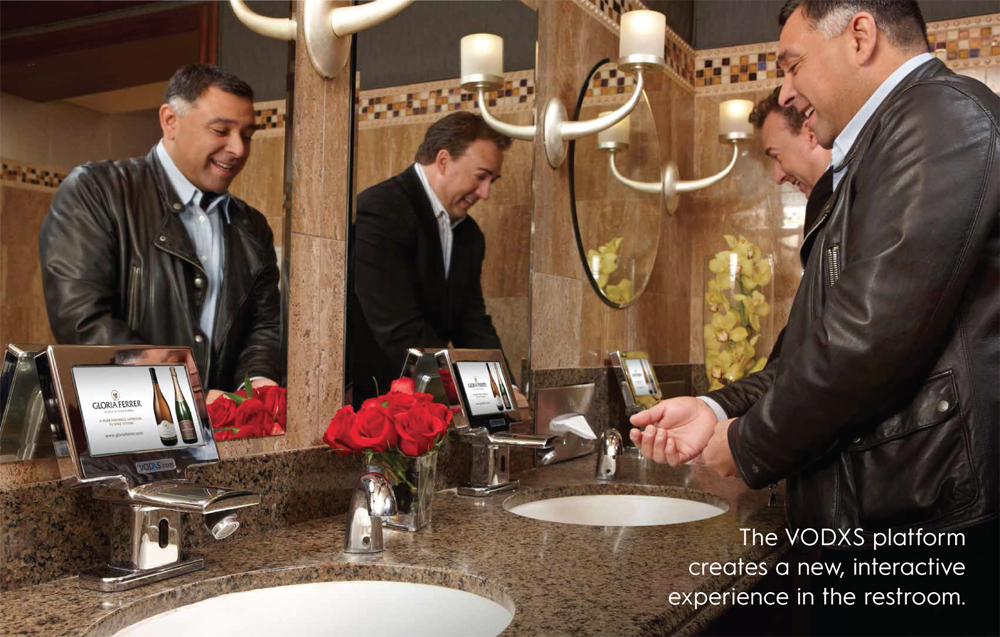 ---
Innovative Products
While most bar bathrooms offer hooks on which patrons can hang purses, many bars don't offer any sort of mechanism where bar patrons can place their drink. And with the increased awareness of patrons' drinks being susceptible to date-rape drugs being added when drinks are left unattended, more patrons want to take their drinks with them to the restroom.
To meet this need, Cherie Henderson, Inventor and President of the CCUP Holder, is making an impact by providing patrons with a multi-use amenity that provides a place for guests to store their drinks, phones, purses, and jackets while utilizing the restroom facilities. The CCUP Holder keeps patrons' belongings secure in a sanitary unit away from the floor, toilet paper holder, and back of the toilet.
"We do offer units with an anti-microbial additive as well that can reduce bacterial odors, eliminate odors, and inhibit bacterial growth in the product," says Henderson. "The CCUP Holder is [also] fitted with an advertising sleeve that can be used by the venue to promote events internally, or sold to vendors or other businesses creating residual income for the venue."
The CCUP Holder is a polycarbonate plastic material that can be cleaned by simply wiping it with a sanitary cloth. The bottom of the CCUP Holder is outfitted with holes under both the cup and phone holder sides allowing for automatic drainage of any liquid.
"The CCUP Holder is an easy install, requires simple maintenance, and secures belongings all while providing a marketing tool for residual income," says Henderson.
How have bar owners and patrons responded to CCUP Holders in bar bathrooms? "We have had follow-up conversations with venues that have installed our units in their venues, and they love them," says Henderson. "We have even seen posts from patrons on some of the clubs' websites praising the CCUP Holder they used in the venues' facilities."
Bathroom Interactivity
While cleanliness is vital to ensure a healthy bathroom environment, more and more bar and restaurant washrooms are going smarter, greener, and more interactive. Enter Visual On Demand Experience (VODXS), which was started by Scott Brown.   
In the U.S., there are more than 80 million faucets distributed across nearly 10 million public bathrooms. People wash their hands, on average, six to 10 times per day, amounting to billions of hand-washing sessions annually. This creates an intriguing opportunity to monetize the practice.
The VODXS rich media faucets connect users and advertisers by providing a secure and verifiable advertising ecosystem via the VODXS platform. Advertising partners can interact with consumers via optimized and personalized characteristics of the user, ensuring a high-value interaction.
"VODXS has created an experience in the washroom that has never been witnessed before," says Scott Brown, Chairman & CEO at VODXS. "When someone walks into a washroom area, they are entering an experience zone, with a VODXS medium that enhances any washroom area with a digital, audio, and scent experience like no other that is just right for the location."
In addition, VODXS offers a RFID solution to keep track of employee hand-washing habits to assure that employees are washing their hands regularly to prevent people from getting sick.
"Time will tell as to what the future holds for innovative media in the bathroom," says Brown. "But the interaction in a washroom will be much more of an experience in the future."
---
Want to stay up to date between issues? Subscribe to our newsletter.