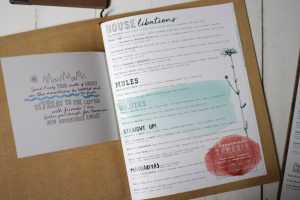 There are times when simplicity fits the bill, but if your bar is known for drinks and décor with intriguing bells and whistles, then simply printing out a list with prices may fall a little flat. For this reason, bars and restaurants around the globe are pushing the envelope with multi-dimensional menu formats.
In music-driven Bogota, Columbia, Café Gaira and Andrès Carne de Res DC have inserted their cocktails and snacks into theater program formats. UNICO, a Pan-Latin American venue in Shanghai, adapts album covers with permanent selections arranged like songs, and a removable "record" listing temporary drink specials.
Mr. & Mrs. Bund, also in Shanghai, offers a mix-and-match cocktail menu where customers can see how much it costs to have a specialty drink made with their favorite spirit, and an iPad wine list that educates as well as spells out the vintages in stock. Peter B. at the Peninsula in Tokyo uses an iPod cocktail menu to further enliven their drink selection. In Montreal, La Distillerie puts its cocktail options into a magazine format, which is augmented with profiles on staff members, bartender tips, and handy charts that help customers decide whether a certain cocktail selection fits their preferred flavor profile of "boozy," "sweet," or "refreshing."
The Public School on Tap bars by Los Angeles' Grill Concepts also have a concept that lends itself to non-traditional print presentations.
"As soon as someone walks into a Public School on Tap location, they know that a scholastic theme is at the forefront of both our food and beverage programs," says Michael Kaplan, Grill Concepts' Area Director of Operations & Corporate Beverage Director. "The 'school' theme is important to the brand's uniqueness and playfulness and has been a big part of the buzz about Public School."
Good on Paper?
Tim Garso, Designer and Manager of Smallman Galley's bar programs (restaurants include Iron Born, Colonia, Bahnmilicious, and Brunoise), notes that "normal" bar menus (one-sheet lists or a list fit in to a larger menu) won't be going away anytime soon. However, his bar program and business model (a "restaurant incubator") present an opportunity to go off the beaten path.
"People walk into our building expecting a dining experience unlike what they're used to," says Garso. "Their willingness to explore the unknown extends to the bar, where they've come to expect ingredients, packaging, and an experience outside the norm. Our biggest thought in designing a new menu is how it will resonate with customers. If you're going with an unusual menu design, whether in theme or packaging, it takes more than just amazing cocktails to be successful. Not every menu theme or packaging will resonate with every guest. But over time, we've found ways to appeal to a vast majority of our guests."
Garso cites their themed menu based on the movie The Sandlot, which is presented on a VHS case complete with a recreated movie poster cover starring the restaurant's bartenders. "For many of our peers, there's a sentimental attachment to The Sandlot movie itself," he says. "For others, they might not be familiar with the movie, but the VHS clamshell harkens back to their childhood. If we don't hook a guest with one aspect, there's another element that might draw them in."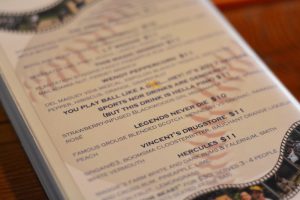 He also admires the menus of London's Beaufort Bar's for their pop-up book style, which perfectly fit its whimsical-but-posh image. In that vein, Garso says Smallman Galley created a menu on a custom-printed record jacket.
While there are many ways his venue can go with menu design (such as a sports-themed "trading cards" menu he may do at a later date), he acknowledges clever menus can end up failing if the design is out of sync with the customers' perception of the bar or the staff.
"As bar customers become more educated on what's in their glass, they're able to spot what drinks or menus are just bland recreations of a dozen other bars around town," he says. "There's a bit of an arms race to constantly beat each other to the punch. On the flip side, though, some ideas feel forced or not fully thought out. We've found our best success when we've worked on menu themes that the entire staff is passionate about."
Genese DeBeaux, executive mixologist of New York City's Addison Hospitality Group, acknowledges ambitious ideas may work in some bars but be a misfire for others. "Before doing final menus, there is or should be prototypes and testing involved," says DeBeaux. "You don't want to go so far out of left field that it puts off the customer.
"Timing is also important so you need to be sure the changes are true to the restaurant's DNA and the guest understands why you are making changes. You need to create something that clarifies and reinforces who you are as a bar or restaurant."
Rebecca Simms, Creative Director of Huntington Beach, California-based Lazy Dog restaurants, says menu design provides customers with their first impression. It makes sense to invest in a menu that is both up to date and reflects the care put into the menu items.
"We used to have booklet-style menus of six to nine pages with plastic jackets," explains Simms. "We updated things with a hand-crafted looking menu with a leather cover (check) that feels very hand-crafted and personal. Because we pride ourselves on hand-crafted food and drink, we needed something that reinforced our message. With increasing competition, it is important to catch the customers' eye and keep it.
"We have a space in our format for a pull-out piece listing seasonal specials so it feels cohesive overall."
The Long and Short of It
Garso notes that there are no one-size-fits-all answers regarding how to go about temporary menus. Like longer-term menus, each bar or restaurant needs to consider audience, budget, and long-term access to seasonal ingredients.
"Our shortest menu had a three-month run (with most menus being designed to last at least four months)," he says. "We found that that time frame gave us enough time for our guests to fall in love with the concept but not too long that it became stale. [The time frame also] allows the cost to be offset by not constantly reprinting."
He adds that materials should also fit with the restaurant as well as be durable so they can be used over several nights. At one point, his team considered a certain craft paper for one-page menus when craft papers were coming into fashion but realized it was not durable for daily wear and tear and too big of a change for customers to warm up to based on customer feedback.
"We change our menu twice a year at Monarch," says DeBeaux. "Our process involves coming up with a theme, and we build off of that. Our goal is to have our menu be a conversation starter because we know Monarch customers are always looking for something different, as well as have a story, which starts conversations. While we have a standard menu booklet format we consistently work with, it's all about photography and design. We also have table tents that change monthly to keep our program moving forward and right in the customer's face."
This summer, Monarch's menu was built around vacation destinations. The team picked places from all over the world known for their unique characteristics and flavor profiles. "People love the idea of going around the world through a variety of cocktails," says DeBeaux. "For the London-themed Royal G&T, we took it outside and shot it on a rainy day so people could get that made-in-London feel. Our Captain Cocoanut, representing Hawaii, was shot with pineapples and other tropical fruits. Jamaican Java was photographed with an avalanche of coffee beans."
Kaplan says when planning menus for the long term or for short-term promotions, it should be done well in advance and incorporate staff training on how to introduce the concept to customers. "We strive for getting the recipe and items out to our management and bar teams at least two or more weeks in advance whenever possible," he says.
An "i" for an "i"
"From an eco-standpoint, [technology] does make an impact as it's reducing the paper usage in restaurants. [However], the feedback is very mixed," says Kaplan. "As a diner, I personally do not like the iPad usage as it takes away from the tactile dining experience, and in a dimly lit dining room, it causes a luminous glow that can be rather disruptive to me, my guests, and the tables around us."
The Hooch app, a possible "middle-ground solution" that's been out for about a year, was designed as a marketing platform for a now 100,000-plus user base of bars in nine U.S. cities and Hong Kong. Tech industry expert and CEO Lin Dai, who co-founded the expansive platform with nightlife industry veteran Aleksey Kernes (Hotel Chantelle) and digital marketing entrepreneur Jared Christopherson, argues that technology-based menus not only dazzle customers on the short term, but can make them regulars.
"I may be a little biased, but I think everything is eventually going to move towards digital," Dai says. "Therefore, moving towards a digital cocktail menu in your bar program is going to have a lot of big advantages. The genesis of this app and how and why we designed it relates to the fact that many customers want to discover craft cocktails and bars selling them, but extensive print menus can be overwhelming."
Hooch provides customers with a photo of each cocktail at a given bar. Users of the app can click on the visuals that appeal most to them and see a list of the ingredients and the description one would find on a paper menu. This allows the customer to narrow down his choices based on his preferred spirits and flavor profiles while being assured there will be no ordering mistakes.
"Visually representing a drink cuts down on disappointed customers because everything they need to know about it and the rest of a given menu is there in three dimensions," says Dai.
According to Dai, bars interested in appearing on the Hooch app must meet certain quality criteria, but it's free to be a part of Hooch's encyclopedic list once they pass this criteria. Customer members, meanwhile, can go to the bar to enjoy the featured "hooch" cocktail and purchase additional cocktails. The design of digital menus can also be customized on this platform.
Regardless of whether or not your bar goes high tech, Dai emphasizes that menu are an important component of the engagement process between bartenders and customers.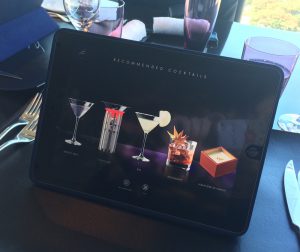 "You either go expensive with good materials for your menus, or you go communal with a blackboard, which allows for creativity and adaptability to menu changes on a budget," says Dai. "No matter what, you owe it to yourself and customers to do something unique that's an extension of the experience."
Although unconventional menus keep things interesting, Grill Concepts' Kaplan concludes that balance is important. "Quality surpasses originality every day of the week in its importance to our guests," he says. "If you are super creative and create a 'wow' factor when a guest reads your cocktail list, [but] the recipe is just off, it's not worth the menu paper it's printed on."
By Elyse Glickman
Photos (top to bottom): Lazy Dog, Smallman Galley, Peninsula.