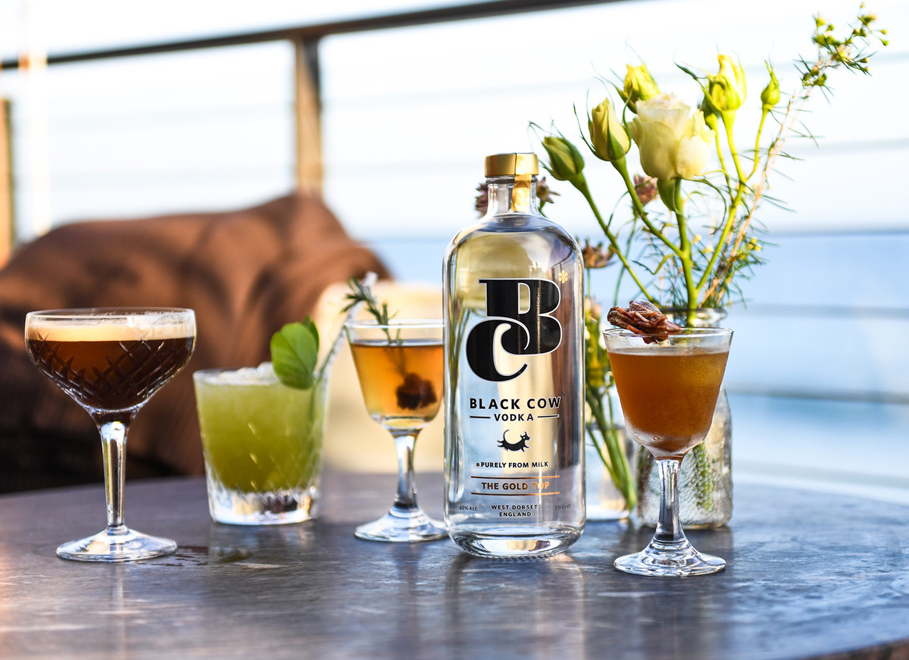 Black Cow – the world's smoothest vodka – is holding the 2018 Gold Top Cup cocktail competition at their Distillery, Bar + Kitchen in beautiful West Dorset, UK. Entrants compete in regional heats around the world, with the winners from each final invited to the Gold Top Cup.
2018 marks the third year of the competition and the theme is "zero-waste cocktails, a food + drink pairing." The zero-waste cocktails, food + drink pairing theme reflects the ethos of Black Cow and their sustainability credentials. Whey has always been the waste dilemma within the dairy industry and with excess volumes produced in the cheese making process. Black Cow takes this undervalued by-product and transforms it into a truly superior vodka.
The Gold Top Cup Competition Prize
Finalists will stay at Mangerton House, nestled in a beautiful valley just outside the Dorset seaside town of Bridport. Here they will have a chance to experience a fishing trip along Dorset's Jurassic Coast, learn about sustainable fishing and enjoy the stunning Dorset seascape.
How To Enter The Gold Top Cup Competition
To enter successfully, each bartender must develop a food dish and cocktail pairing with the cocktail using the by-product of the dish. The winner of this challenge will be championed as the Black Cow Gold Top Cup Winner, awarded with this year's hand-made Gold Top Cup and presented with $1,000.00 in prize money.
Deadline for entries is July 31, 2018.