BOMBAY SAPPHIRE® Gin, in partnership with Tales of the Cocktail Foundation, has decided not to move forward with the traditional format of the Most Imaginative Bartender (MIB) Competition in what would have been the 14th year of the program. As part of our larger and ongoing commitment to enabling and inspiring creativity, we will instead be redirecting our efforts to supporting the bartending community in this time of need. This October, MIB will be launching 'The Canvas Project', a content series featuring the creative passions of last year's 12 finalists. From photography and videography, to home gardening tips and mindfulness tutorials, the webinars are designed to spark inspiration and discovery, and foster connection by sharing bartenders' personal passions in times of hardship.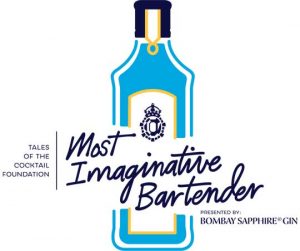 "Considering the huge number of people who are facing so much adversity in the wake of the pandemic, it didn't feel right for us to move forward with a competition," says Tom Spaven, North American Brand Director for BOMBAY SAPPHIRE gin. "But in times of crisis, we want to remain true to our mission to empower bartenders and creatives to embrace self-expression, both behind and beyond the bar."
Year after year, Most Imaginative Bartender has set the bar for creativity and innovation in the cocktail industry, providing a platform to highlight the craft of talented bartenders across the country. Last year's iteration introduced the Canvas Challenge, a $25,000 grant awarded to a finalist to turn their creative vision into reality. This ambitious test further heightened the imagination component of the competition to a new level and served as a reinforcement of Bombay Sapphire's belief in the innate creativity of bartenders, which often translates outside the glass as much as it does inside of it.
The first 12 episodes of the new content series are designed around the Canvas Challenge submissions of the 12 finalists, who hail from Portland to Atlanta, Toronto to Miami, giving viewers a peek inside the inner workings of the program.
"One of the most profound outcomes of MIB is the relationships we make through this unique, yearlong journey," says Ryan Wainwright, Bombay Sapphire Ambassador. "There is no community more dynamic, vibrant, or full of heart as this one. It may not feel like there's a lot to celebrate in this moment, but there's never been a more important time to come together and lift each other up."
'The Canvas Project' from Most Imaginative Bartender follows on #RaiseYourSpirits, the ongoing initiative from the Bacardi family of brands to support those in the bar and restaurant industry impacted through financial aid and other support. The 12-part series goes live on October 1 and will be published weekly at mostimaginativebartender.punchdrink.com.