Fresh Vine Wine, Inc., the premier producer of lower carb, lower sugar, and lower calorie premium wines in the United States, announced the release of its Brut Rosé Sparkling Wine, the seventh varietal in its expanding line up of premium wines.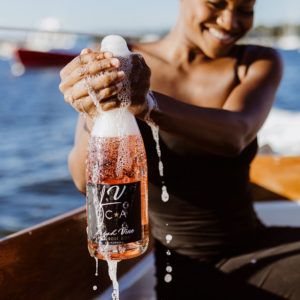 Rick Nechio, Interim Chief Executive Officer of Fresh Vine Wine, Inc., said, "I am very pleased to introduce our latest varietal, Brut Rosé Sparkling Wine. This delightful, sparkling wine is at the intersection of two of the food & beverage industry's strongest trends. We chose to introduce Brut Rosé now to capitalize on the popularity of the Sparkling Wine varietal not only in the remaining months of summer but also extending into the Fall and the high-volume Holiday season, especially for New Year's toasting moments. With seven varietals in the most popular wine categories, we continue to add to our portfolio to appeal to a broader market of emerging affluent consumers.
Fresh Vine Wine's Brut Rosé is now available at select retailers and expanding to nationwide distribution. You can also purchase Fresh Vine Wine Brut Rosé Sparkling today online at www.freshvinewine.com or at participating wine e-commerce retailers for $24.99 per bottle.

Fresh Vine Wine's Brut Rosé Sparkling Wine is characterized by its gorgeous shade of pink and fruitful color. It has a fresh nose full of wild strawberries, green apples, and raspberries. Long-lasting bubbles sparkle on the tongue. Bright flavors of wild strawberry and peach linger across the palate. Long, luscious finish with hints of red fruits. Brut Rosé has just 94 calories, 1.0 grams of sugar, 3.8 carbs, and an ABV of 11.5% (all average per 5oz glass).
Fresh Vine Wine's vision is to be the leading "Better For You" premium wine in this emerging category, capitalizing on the trend toward healthy living that is sweeping the food and beverage industry across all categories. Fresh Vine Wine's strategy is to accelerate growth by expanding its product offerings, actively growing distribution, educating consumers and retailers on our product line, and focusing on in-market retail execution. Fresh Vine Wine will continue to position its core brand lineup as an affordable luxury, between $14.99-$24.99.
Over the last 120 days, Fresh Vine Wine has added nearly 2,500 new Points of Distribution (PODs) for its premium wines as the brand continues to draw critical acclaim. As retailers and online channels add Brut Rosé to their inventory this holiday season, we expect to see PODs correspondingly increase.