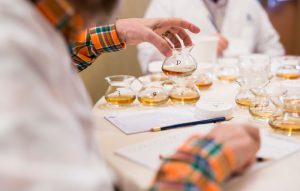 The New York World Wine & Spirits Competition (NYWSC) announces full results from the prestigious blind judging held on August 22 + 23 at the New York Academy of Medicine.
This marks the event's first year with full ownership by James Beard Award-winning Anthony Dias Blue, who recently announced its acquisition alongside the formation of the Tasting Alliance, which also includes the internationally-respected San Francisco World Spirits Competition (SFWSC) and San Francisco International Wine Competition (SFIWC).
"With the Tasting Alliance, we are now able to standardize our rigorous methods for operation across all our competitions. The New York World Wine & Spirits Competition is special because it combines this standard of excellence with the discernment of uniquely East Coast palates from our New York-based panel of judges," says Blue.
The esteemed panel of spirits judges, including Will Elliott (Bar Director of James Beard award-winning Maison Premiere and Sauvage), Josimar Souza (Spirit Sommelier at the Brandy Library) and freelance journalist Alicia Kennedy blind tasted more than 395 entries across 60 categories. This is a 22% increase in entries from 2017, with a 25% increase in sugar cane-based spirits and 16% increase in whisk(e)y entries.
Of NYWSC, spirits judge Leslie Merinoff (Founder of Matchbook Distilling Co.) says:
"Today, we are seeing a real 'hero's welcome' for the tried and true producers who have been honing their craft for generations beside a wave of under-celebrated spirits making traditions being pulled into vogue for the first time in the U.S. It is a privilege to get to taste and review these efforts side by side. I suspect there has never been such an exciting time to be in this industry or judging such a competition."
Selections for 2018 Best in Class medals in spirits are as follows:
Best in Show Whisky and Best Single Malt Scotch: Laphroaig, Lore Single Malt Scotch
Best in Show Aged White and Best Rum: Parce, 12-Year-Old Rum
Best in Show Brandy and Best Cognac: Richard Delisle Club Cigare XO Grande Champagne Cognac
Best in Show Un-Aged White and Best Mezcal: Noble Coyote, Mezcal Capon
Best Blended Scotch: Dewar's, The Signature 25-Year-Old Scotch
Best Bourbon and Best Small Batch Bourbon: Pappy Van Winkle, Family Reserve 20-Year-Old Kentucky Straight Bourbon
Best Canadian Whisky: Pike Creek, Canadian
Best Flavored Whiskey: Skrewball, Peanut Butter Whiskey
Best Other Single Malt Whisky: Teerenpeli, Kasaki Single Malt Whisky
Best Rye Whiskey: Old Pepper, Finest Kentucky Oak Straight Rye Whiskey
Best Single Barrel Bourbon: Blanton's Straight from the Barrel Bourbon
Best Straight Bourbon: W.L. Weller 12-Year-Old Kentucky Straight Bourbon
Best Gin: The Revivalist Botanical Gins, Equinox Expression
Best Vodka: Monkey In Paradise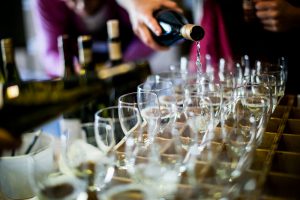 The panel of wine judges blind tasted over 470 entries across 78 categories, with a 21% increase in overall entries, 33% increase in sparkling wine entries and 33% increase in Pinot Noir entries from 2017. Wine judges (full list + bios here) included such respected names as Jonathan Eicholz (Head Sommelier at Aquavit), Jim Trezise (President of WineAmerica) and senior Grape Collective editors Dorothy Gaiter and John Brecher, who awarded 2018 Best in Class Medals to the following:
Best in Show Red and Best Italian Blend: Fattoria La Vialla – 2015 Rosso, Barriccato
Best in Show Sparkling: Domaine Carneros – 2014 Brut
Best in Show White and Best Spanish/Portuguese/Argentine White Varietal: Maggie Malick Wine Caves – 2017 Albarino
Best Cabernet Sauvignon: Rodney Strong Vineyards – 2016 Cabernet Sauvignon, Estate
Best Chardonnay: Westwood Estate Wine – 2016 Chardonnay, Sangiacomo
Best Dessert Wine and Best Port: Mazuran's Old Tawny Port, NV
Best Late Harvest: Cellardoor Winery – 2017 Frontenac Gris, Late Harvest
Best Merlot: Columbia – 2016 Merlot
Best Petite Sirah: J. Lohr – 2015 Petite Sirah, Tower Road
Best Pinot Noir: Invivo Wines – 2016 Pinot Noir
Best Syrah: Westwood Estate Wine – 2016 Syrah, Annadel Gap
Judge interviews and full results for this 2018 NYWSC Bronze, Silver, Gold and Double Gold medal winners in wine and spirits available upon request.
The Tasting Alliance's next event, the San Francisco International Wine Competition, will take place November 17-19 and is now accepting entries.