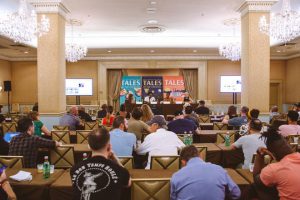 The Tales of the Cocktail Foundation is pleased to share that its brand-new Education Committees, under the leadership of Director of Education Philip Duff, proposed this year's seminar slate to Tales' Board of Directors.
The Foundation's newly formed committees were given the incredibly hard task of curating this year's Tales of the Cocktail seminars across three streams of education: Business, Culture, and Beyond the Bar. These global teams have assembled in New Orleans to review all of the impressive entries submitted this year and worked collectively (and tirelessly!) to ensure this year's lineup supports Tales of the Cocktail Foundation's core mission to Educate, Advance, and Support the global spirits community. After reviewing hundreds of proposals submitted from thought leaders in our industry across all parts of the globe, 77 seminars will be presented at Tales of the Cocktail 2019.
Our inaugural Education Committees were recruited by The Foundation's Board of Directors and Philip Duff, who has served as Tales of The Cocktail's Director of Education for the past six years. The Foundation and Philip collectively decided that democratizing and diversifying the way in which we approach education at Tales will position it for future growth and success. To empower the new committees still further, Philip has decided to step down as Director of Education.
"When Gary Solomon, Jr. and Neal Bodenheimer took over Tales in February 2018, I promised them I would deliver the seminars for at least two more editions of Tales of the Cocktail and Tales on Tour, so that they could get it back on an even keel. With the slate of seminars for 2019 approved by the Board today, that promise is fulfilled, so I am stepping down to spend more time on my burgeoning Old Duff Genever brand, on my Liquid Solutions on-trade education agency, and not least with my wife and step-daughter. Even I am lost for words to express the honor it has been to help our community support one another, educate one another and advance one another, personally and professionally, since I became the first Director of Education. With the long-term view of making myself replaceable, and with the support of Neal, Gary, and Caroline, I spent the last year establishing Education Committees led by strong co-chairs that I know will ensure Tales' continuing excellence in seminars, diversity of perspective, and inclusivity of demographic for years to come. It is their time now. I look forward to continuing to attend Tales, and since now it will be as a presenter, as a sponsor, and as a cocktail lover, when you see me in New Orleans in July I will have no excuse not to meet up with you for a cocktail!" said Philip Duff.
"Philip Duff has served as Tales of the Cocktail's first ever Director of Education for the past six years and has been instrumental in bringing 500+ Tales seminars to life over his tenure," added Gary Solomon Jr., Co-Chair of Tales of the Cocktail Foundation's Board of Directors. "The Foundation is incredibly grateful for all of Philip's contributions. He has advanced the way Tales' approaches education and has set the bar incredibly high. We look forward to formally honoring him at The Spirited Awards during Tales in July."
Following a final review from the Board, we'll unveil this year's brand new seminar lineup in April. Save the date! Tickets for Tales of the Cocktail 2019 in New Orleans will go on sale April 15th.