NEFT Vodka, a premium vodka hand-crafted in the Austrian Alps, announced that it is expanding into New York, New Jersey and Texas, partnering with Johnson Bros. and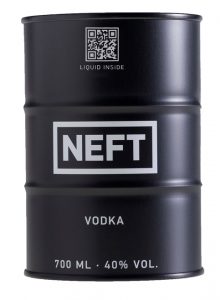 Specs respectively, and adding to its existing presence in California, Utah and Wyoming. This growth in distribution follows a substantial increase in funding to pursue the company's aggressive growth and strategic branding initiatives.
"By partnering with Johnson Bros. in the New York/New Jersey areas, and Spec's in Houston, Texas, we are dramatically broadening our reach to the discerning consumers we are targeting," said Jeff Mahony, CEO of NEFT Vodka U.S.A. "As NEFT gains increasingly widespread recognition and traction in the premium spirits community, we will continue to accelerate investment in sales, marketing and inventory to meet the growing demand for what we believe is the finest vodka in the world."
Distilled and "barreled" at the small, family-run Freihof Distillery in Austria (awarded Distillery of the Year by the World Spirits Awards), NEFT Vodka is made using the pristine, oxygen-rich Alpine spring water sourced underground from the Rätikon Massif mountain range and incorporates four different strains of non-GMO rye grain – Rapidly, Amato, Pollino, and Askari – delivering a distinct flavor profile with a natural, slightly sweet finish. This grain selection, combined with NEFT's triple-distillation process, and activated carbon-layer filtration results in an unmistakable vodka of exceptional purity and a smooth, refined taste that consumers everywhere can enjoy.
NEFT (Russian for "oil") is available in a unique "oil barrel" vessel, harkening back to its heritage and honoring the Siberian oil pioneers of the 1970's. Under new direction, NEFT Vodka has gained a level of investment and innovative thinking needed to catapult the brand to the top of the ultra-premium vodka category. And, with the development of a new sleek glass bottle, NEFT is steadfastly moving to solidify this position, targeting high-end on-premise accounts, as well as "nighttime" consumer consumption as they focus on increasing distribution and developing rapid growth in states across the region.
NEFT Vodka is available in New York and New Jersey through Johnson Bros. and Spec's in the Houston, Texas area. NEFT is also widely available throughout California at large retailers such as Bristol Farms, Cost Plus World Market and K&L Wine Merchants. Young's Market Co. services select accounts in Utah and Wyoming. For all other states, please visit the Where to Buy page of NEFT's website.