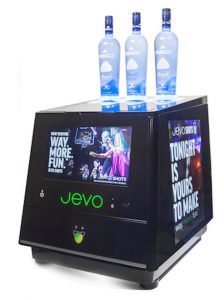 Food+Beverage Innovations, creators of Jevo, the world's first fully-automated gelatin shot prep machine, announces that Six Flags properties Hurricane Harbor and Six Flags Over Texas have added Jevo to their beverage programs.
Said Food+Beverage Innovations CEO and co-founder Jeff Jetton, "We're excited about this opportunity to partner with a brand that is on the forefront of innovation and advancing their beverage programs to enhance their customer experience."
Called the "Keurig for jello shots," Jevo allows venues to easily prep hundreds of "Jevo shots" in minutes and deliver digital promotions at the point of decision, all from a single machine behind the bar. It's an innovative profit center uniquely positioned to drive on-premise sales, control pour costs, and make inventory easy with technology that tracks supply of proprietary flavor pods and can automatically reorder when a flavor is running low.
With Jevo, bars, nightclubs, restaurants, and more can create delicious and high profit margin gelatin shots in a fraction of the time and with minimal effort. Simply insert a Jevo flavor pod, select a spirit and Jevo does all the work. From traditional gelatin shots to edible cocktails, the flavor possibilities are virtually endless.
"The Jevo team has been great to work with, in addition to making our life easier in making the shots, their service and support after the sale has been a 10!" said Hurricane Harbor Manager Steven McCurdy. "After a successful test, we have expanded the program and Jevo is now a part of our beverage program for our Texas locations."
Jevo Features:
Preps hundreds of Jevo shots in minutes with minimal cleanup
Choose your favorite spirit(s) to create custom edible cocktails
Measures spirits precisely, controlling liquor costs and maximizing profit margin on every Jevo shot, with a value-based price point that ensures volume sales
Jevo employs smart technology to monitor sales and usage and can automatically ship inventory to ensure you never run out.
Dimensions: 19" W x 20" D x 20" H footprint sits on a countertop and takes up no more room than a chilled shot dispenser or frozen drink maker
Weight: 80 lbs