On Monday June 21st, 2021, Intrepid Spirits will once again be bringing together bartenders from around the world for their second annual virtual cocktail marathon.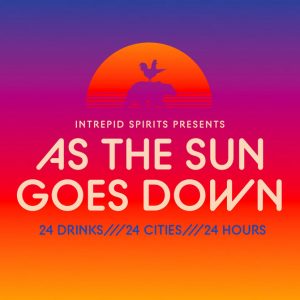 As the Sun Goes Down is an innovative celebration of the longest day of the year, an opportunity to share a glass with spirits tastemakers across numerous cultures and time zones. Beginning at 3 AM EDT (7AM GMT) Intrepid's Instagram account will turn into an all-day cocktail party featuring a different bartender in a different city, every hour on the hour.
"Our goal in hosting the first As the Sun Goes Down was to reinforce our global connection, creating a space where we could laud hospitality workers during such an exceptional time," remarked John Ralph, CEO of Intrepid Spirits. "This year, we continue to celebrate the diversity of our worldwide industry, with cocktails and ingredients equally diverse, all while keeping an eye to the lifting of restrictions, whetting the palate for travel and the forging of new relationships and experiences."
The Intrepid Spirits team will be hosting the celebration from Dublin via Instagram, looping in a new guest from a new city every hour. For the next 24 hours, the event will continue across the globe through major cities such as Tokyo, Milan, Lisbon, Paris, Dublin, London, La Paz, Washington, D.C. and Vancouver.
Each participant will prepare a specialty cocktail of their own design, using one of Intrepid's award-winning brands—Egan's Irish Whiskey, Mad March Hare Irish Poitín, Regal Rogue, Cocalero, Fubá Cachaça—or one of their partner brands—Michter's Whiskey, Plantation Rum, Merlet Cognac, Los Javis Mezcal, Kyro Gin, Pusser's Rum, D1 Spirits and La República Gin.
Viewers can recreate the cocktails from the comfort of their own home while interacting with industry professionals and cocktail enthusiasts across the globe. For more details on the day's schedule of events, simply follow Intrepid on Instagram.