Scott and Becky Harris, husband-and-wife co-owners of Catoctin Creek Distilling Co., The Virginia Rye Whisky ℠, were honored to accept the Dave Pickerell Memorial Craft Member of the Year Award at DISCUS' annual conference at the Hyatt Regency in New Orleans on Thursday, June 9.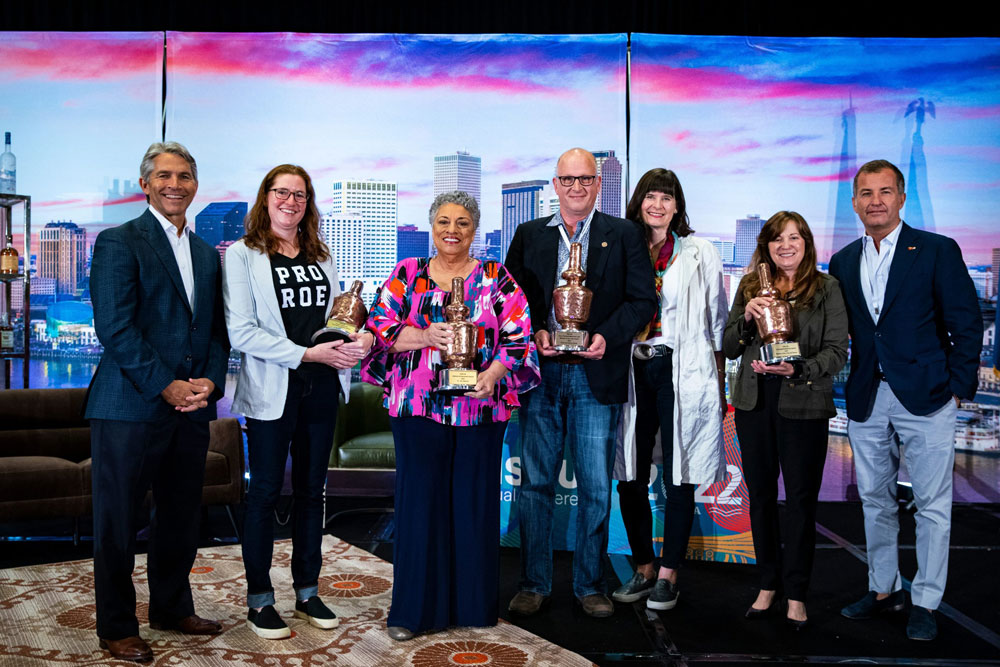 "We are so humbled by this award," said Scott, Founder and General Manager of Catoctin Creek. "Dave Pickerell was a mentor and a friend to us, and to receive an award in his honor is something we will cherish for the rest of our lives."
In memory of Dave Pickerell, the 'Johnny Appleseed of craft distilling,' the DISCUS Dave Pickerell Memorial Craft Member of the Year Award is presented to a DISCUS Craft Council Member who has been a leader in supporting the association and the needs of the craft distillery community.
As tireless advocates for the craft spirits industry both in the Commonwealth of Virginia and internationally, the Harris' were honored for their outstanding service. Scott has been a long-time member of the DISCUS Craft Distiller Advisory Council and currently sits on the Virginia Distillers Association's Board of Directors. Becky is a fierce supporter of the industry's growth as President of the American Craft Spirits Association's Board of Directors and Secretary of the ACSA's STEPUP Foundation, a program aimed to help combat the lack of diversity in the alcoholic beverage industry.
"Honestly, I'm speechless," remarked Becky, Founder and Chief Distiller of Catoctin Creek. "The fact that this award was voted on by our peers in the Craft Advisory Council at DISCUS makes this even more special. To be recognized by them is indeed quite an honor."
Together, Scott and Becky have been strong and effective advocates of top legislative and policy issues impacting the spirits sector ranging from passage of the Craft Beverage Modernization and Tax Reform Act and the lifting of tariffs to state issues including direct-to-consumer shipping of spirits.
More than 550 spirit industry professionals and media joined DISCUS in honoring select industry leaders at their awards luncheon last Thursday. In addition to the Dave Pickerell Memorial Craft Member of the Year Award, DISCUS presented the Lifetime Achievement Award to Dr. Joy Spence, Master Blender of Appleton Estate Jamaica; Humanitarian/Service Award to Women of the Vine & Spirits (Deborah Brenner, President); and Impact Award for Emerging Leaders to Nicole Austin, General Manager and Distiller of Cascade Hollow Distilling Co. Each recipient received a trophy created by Vendome Cooper and Brass Works.