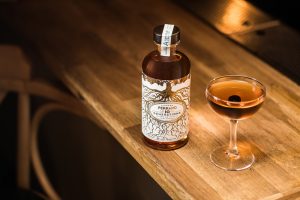 Alexandre Gabriel and Maison Ferrand, proprietors of a historic estate and spiritual heirs of a Cognac legacy of 10 generations, introduces Ferrand 10 Generations Cognac. This Premier Cru de Cognac is a tribute to 10 generations of men for whom a great cognac was above all the fruit of patient work on a great terroir. Alexandre has used his ceaseless quest for perfection through continuous research to produce cognacs that embody the excellence of Grande Champagne. Ferrand 10 Generations will be available nationwide in the U.S. as of November 2019 for a suggested retail price of $60.00.
10 Generations is a Grande Champagne Cognac made from a single variety of grape, the Ugni Blanc. It is a fresh and opulent cognac, with delicate notes of white flowers. This distinctive cognac is distilled slowly on fine lees in 25 hectoliter pot stills. The presence of lees enables the production of a richer aromatic palette and adds complexity to the floral and fruity base of the Ugni Blanc grape. It is then aged in French oak casks, of which 20% are Sauternes barrels, in humid cellars that enhance roundness. The latter contributes complementary honeyed and vinous notes.
Rooted in the Vineyards of Cognac for 10 Generations
The Ferrands have been present in Segonzac, in Charente, since the 15th century. They belong to one of the oldest families of this area called Campania by the Romans and, later, Champagne and more precisely, Grande Champagne, to designate the vineyards around Segonzac.
The first of the main branch of Ferrands was named Elie. All his male descendants were named Elie, followed by a middle name, through 10 generations. The first Elie was born in the village of Chez Barraud, in Segonzac, which was to become the family stronghold. This was the era of the invention of double distillation, which enabled the production of a better quality of brandy: cognac. All the Ferrands were farmers, wine growers, men of character, Protestants, connected to the earth and lived in the heart of Grande Champagne. From generation to generation, they passed on their knowledge to produce high-quality cognacs.
During the prosperous years of the 1860s, Elie Ferrand the 7th, born in 1816, built a sumptuous manor house on the family land at Chez Barraud and made it his residence. Elie the 8th (1839-1927) also lived in this house, dedicating his life, among other pursuits, to producing the best cognac in Grande Champagne. His cognacs won numerous medals in regional competitions and international exhibitions in France and abroad, including the Gold Medal at the 1900 International Exhibition in Paris.
Recognized by his peers, Elie attained a level of quality close to perfection, thanks to his knowledge of the soil, his in-depth study of the techniques of distillation and numerous experiments with cognac ageing in various wood species, such as chestnut. Luckily, several centuries of archives and detailed documents remained in the family manor, owned today by the Maison Ferrand.
Mademoiselle Henriette, great-granddaughter of Elie the 8th, and the last descendant of this prestigious line, spent her life in this same manor house built by her ancestor. She became the guardian of the family history. Mademoiselle Henriette chose to entrust these memories to Alexandre Gabriel, and she is the inspiration for this new Ferrand blend that Alexandre Gabriel named Ferrand 10 Generations.
TASTING NOTES:
Bottled at 46% ABV to honor its origins as a Premier Cru de Cognac
Color: Gold
Nose: in the nose it is reminiscent of a fruity gingerbread, raisin, apricot, coconut and caramel. It then develops notes of rose, orange blossom, nutmeg and ginger.
Palate: round and full in the mouth with a profile that at first is a bit oaky and peppery, as it unfolds you have notes of baked pear, honey, muscat grape, pineapple and cloves.
Finish: long and fresh with minty notes but also has fruity notes of prune, mango, orange, licorice, vanilla and fresh tobacco.