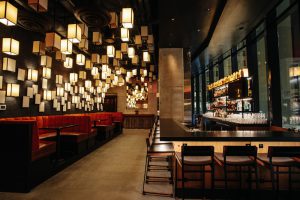 Back Bar USA, a full-service marketing and consulting firm that works with some of the top beverage and hospitality brands in the world, has announced a partnership with award-winning chef Michael Mina's restaurant company, Mina Group. Back Bar USA will work with Mina Group's eclectic portfolio of more than 30 restaurants, including Bourbon Steak and PABU Boston, to identify partnership opportunities with upscale beverage and spirits brands.
"There is a tremendous opportunity with Mina Group's innovative, contemporary concepts to implement strategic partnerships with sought-after brands, from boutique labels to some of the biggest names in beverage, wine and spirits," said Tim Haughinberry, Founder of Back Bar USA.
"We look forward to integrating Back Bar USA's expertise into our varied beverage programs," said Benito Martinez, Director of Beverage at Mina Group. "Working together, we look to introduce new events and beverage offerings that will add to the overall guest experience at all of our restaurants."
Back Bar USA will work with each of Mina Group's diverse concepts in cities throughout the United States and in Dubai to tailor specific programs to each restaurant, while working with the strength of the company as a whole through purchasing and marketing initiatives.
Back Bar USA brings more than 25 years of experience in the beer, wine, and spirits industries to its clients.