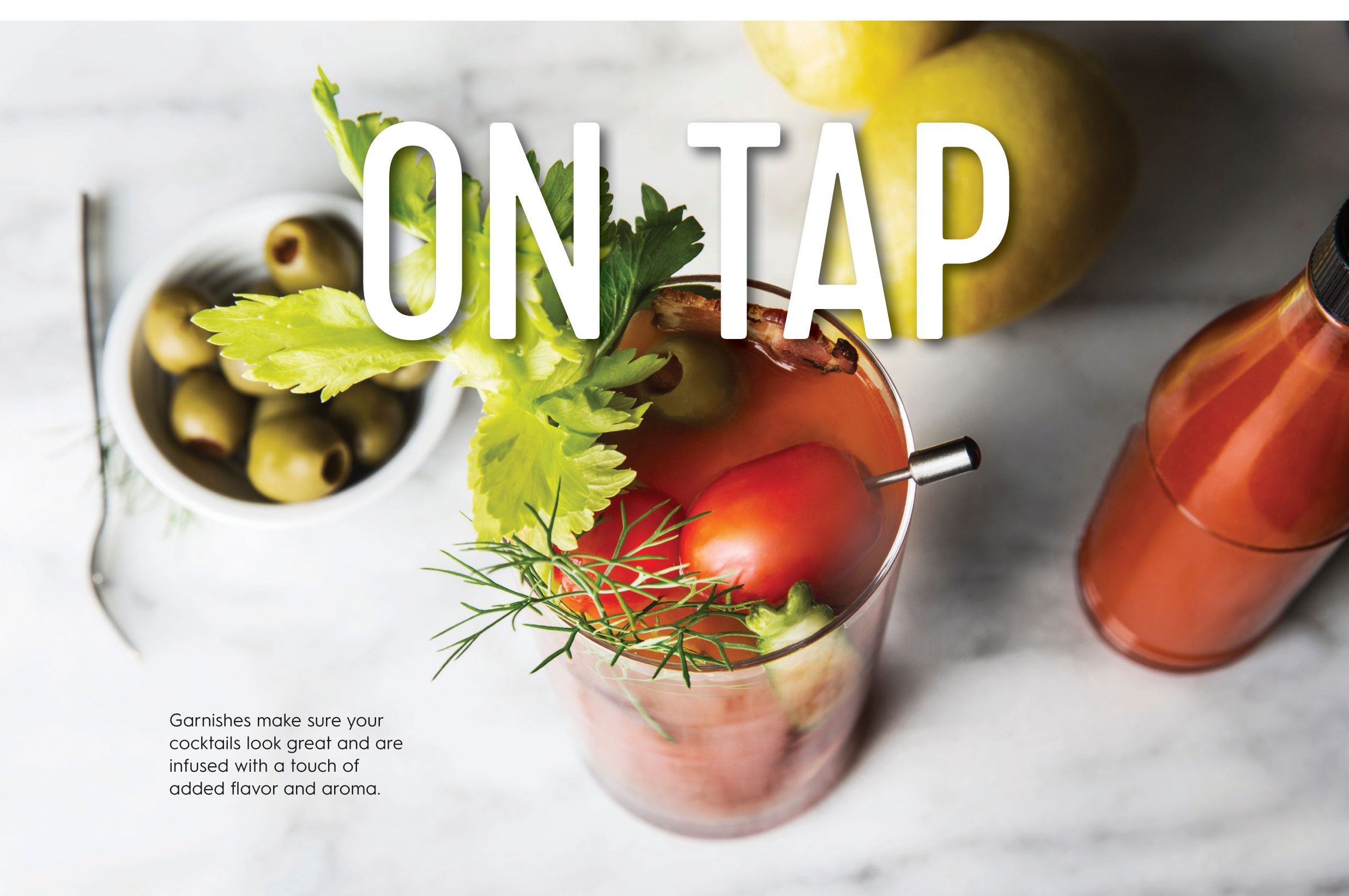 The Goods on Garnishes
Looking for a way to make your cocktails stand apart in this outdoor entertainment season? The Van Gogh Vodka team suggests perfecting a simple drink garnish to ensure your cocktails not only look great but are infused with a touch of added flavor and scent for the ultimate drink.
Lime/Lemon Wedge
Start by cutting off both ends of the lemon or lime. Then sit the fruit the long way so the cut portion sits on the cutting board before slicing down the middle. This will leave you with two equal halves.
Next, use your paring knife to cut into the fruit the short way to create a small slit that will allow the garnish to sit on the rim of a glass. Finally, cut the fruit into three wedges going the long way.
Orange/Grapefruit Half Moon
Cut off both ends of the fruit, a little more than with a lemon or lime. Next, lay the fruit the long way before cutting it in half. Lay one half on the cutting board exposed side down so you can easily slice thin half-moon slices that are equal in size and shape.
Orange/Lemon "Peel" or "Twist"
You can create the peel using either a knife or a "Y" peeler. Using the "Y" peeler, take the fruit in one hand and carefully run the peeler from the top of the fruit to the bottom until you have a nice long peel. The larger the surface area of the peel, the more prominent the flavor and scent will be.
Using a knife, cut off one end of the fruit and lay it on the cutting board. Then use the knife to cut out a peel from the top of the fruit to the bottom, being careful to cut just the skin of the fruit. You should also try to avoid cutting into the white pith, as that part is bitter.
Don't Forget!
Pre-screening garnishes is essential to creating a successful drink. Citrus fruits should be stored at room temperature and checked for any discoloration. Mint leaves should be examined for spots as well and stored in ice water with the leaf side down. For the best results, garnishes should be cut daily.
Want to try some garnishing of your own? Mix up this recipe from Van Gogh Vodka, the Van Gogh Masterpiece:
    1½ oz. Van Gogh Vodka
    ¾ oz. Bianco Vermouth
    ½ oz. orange liqueur
    ½ lemon, squeezed
Stir ingredients well with ice and strain into a martini glass. Garnish with an orange peel expressed over the top of the drink, around the rim, and dropped in.
—Erin Spicer
---
The "Star of the Bar" is Crowned at the NRA Show
This year's "Star of the Bar" Award, presented by the National Restaurant Association, went to Kristo Tomingas, a New York resident mixologist from Mayahuel Mariposa. He and nine other bartenders competed at four live, semifinal competitions with one winner from each semifinal advancing to the finals at the National Restaurant Association Show in Chicago this past May.    
The competition was open to all bartenders across the United States with the semifinal rounds held earlier this year in Las Vegas, Philadelphia, Orlando, and Chicago. The other Star of the Bar finalists included Niall McCourt of St. Petersburg, Florida's Mandarin Hide; Derrick Li of San Francisco's Vintage Courts; Adam Rains of Las Vegas' Flock & Fowl; Morgan Zuch of Tampa, Florida's Datz; and Luke Nevin-Gattle of Chicago's Room 13.
The contestants were judged on creativity; appearance, aroma, and taste of drink; and overall impression. The panel of judges at the finals included Tony Abou-Ganim, Elayne Duff, Dale DeGroff, and Agostino Perrone. 
Tomingas' winning cocktail was "Pine and Passion," a combination of Riazuleño Classico Mezcal with passion liqueur, chickpea water, fresh pineapple, and lemon. Riazuleño Classico Mezcal, a family-owned brand that has only recently been introduced in the United States, is the house pour at Mayahuel Mariposa, which is widely considered to be the premier mezcal bar in Manhattan. Riazuleño Classico Mezcal is crafted from 100% Espadin agave harvested in the foothills region of Oaxaca. The piñas are cooked for up to three days in conic pits with hot volcanic rocks and covered with a hay-like fabric to hold in the smoke. This results in an intensely flavorful spirit that offers notes of ripe tropical fruit, sweet agave, and smoke.
Along with the bragging rights and satisfaction of beating out nine other finalists, Tomingas took home a grand prize of $5,000. This was Tomingas' 65th cocktail competition award, but he stated it was "my biggest win in the United States – and I'm very happy and excited to have achieved that."
—Erin Spicer
---
An Appetizing AV Makeover
When you operate more than 380 restaurants and serve more than 40 million guests, you know what your customers want and you provide it to them perfectly.
In addition to the gourmet pizzas and pastas, juicy burgers, and famous wings, customers frequent Boston Pizza to enjoy high-definition sports viewing in both the sports bar section and the family-friendly restaurant. No matter which side you select, Boston Pizza makes sure you're not sitting in the bleachers. Instead, with an average of 25 big-screen HD displays and a nine-display video wall per restaurant, you feel like you're in the front row for all the action.
Christian Tellier's company, Câblage Expert, implemented comprehensive AV over IP systems at five Boston Pizza restaurants to make sports viewing from any seat a reality. Designed with the User Experience in mind, Tellier installed MuxLab's IP-based extenders with its ProDigital Network Controller for anytime control via two mini iPads. Each restaurant averages four AV sources that feed content to a nine-display video wall above the bar, plus 16 HD displays mounted along every corner and wall to ensure viewing from any table.
Each of the five restaurants was equipped with MuxLab's HDMI/RS232 over IP Extender Kit with PoE, which delivers AV content to one or more displays through an Ethernet switch. MuxLab's Video Wall over IP Extender Kit with PoE created the video wall using one receiver for each display. The MuxLab ProDigital Network Controller simplified the connecting and control of all sources and displays with a personalized, graphical floor plan that is exceedingly user friendly. Two mini iPads control everything. One is wall mounted and one is mobile to handle customer requests from anywhere in the bar or restaurant.
"Each implementation from start to finish took less than five days," explained Tellier. "There were actually no significant challenges at all. MuxLab was ideal for this scenario. We presented the right solution at the right price and the customer went for it."
MuxLab's IP-based Extender Kits enable point-to-multipoint and multipoint-to-multipoint configurations transmitting through an Ethernet switch. All equipment can be connected to the Switch from up to 100m away using CAT-X cable.
"We championed AV over IP because it gives mobility combined with the stability of cable. We never recommend going totally wireless in commercial environments," added Tellier. "Fixed cables win every time. For a bar/restaurant selling entertainment, you need reliable, dependable infrastructures because they are quite frankly superior. In this case, they can control the complete AV system using one Digital Controller; that's a couple transmitters and multiple receivers for the displays using two iPads. It's completely compact, still mobile friendly, and totally reliable."