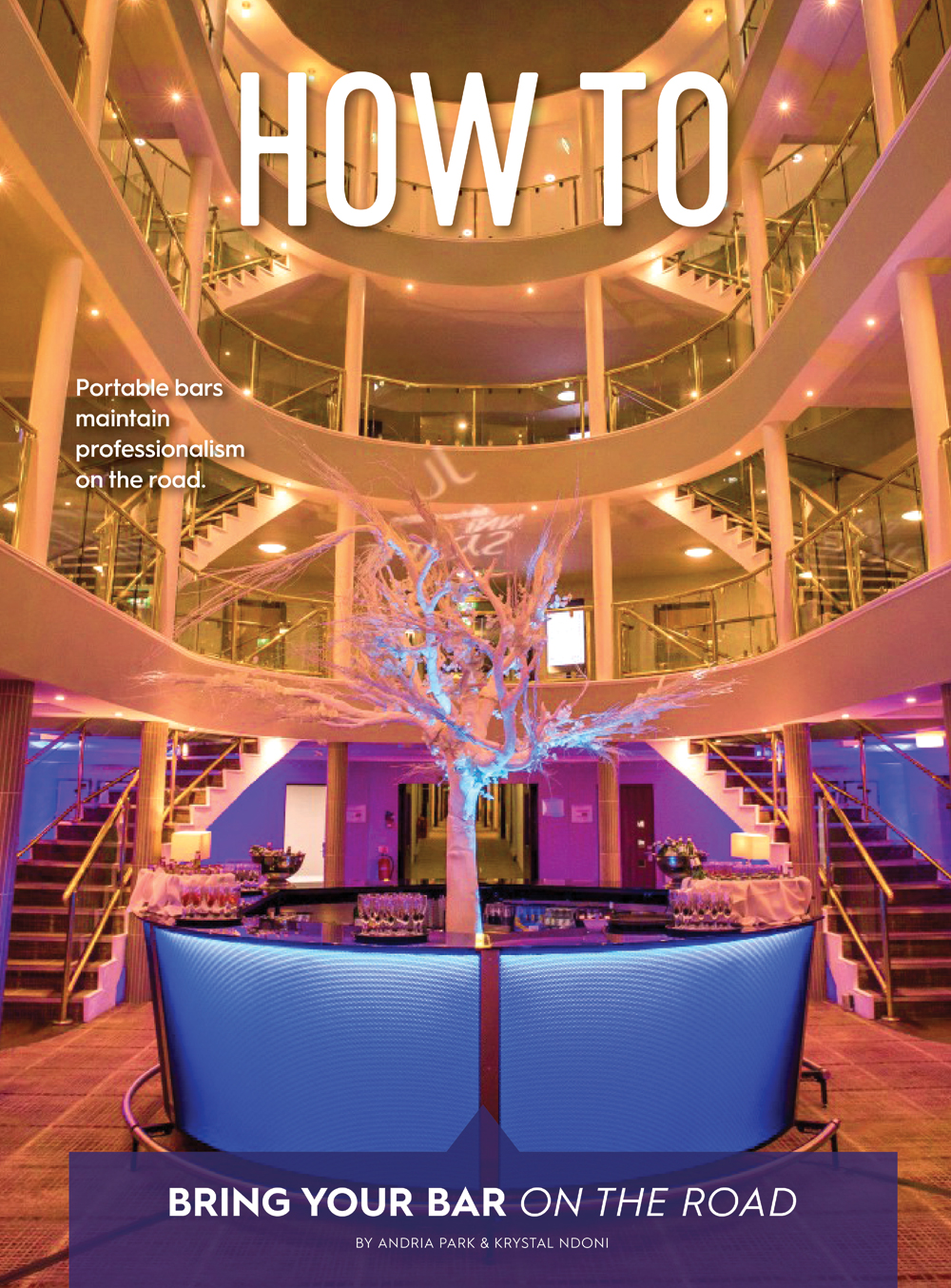 Whether you're an event company that rents out bars, a bar owner looking to promote your brand on the go, or a restaurant owner that needs a patio expansion, look no further than portable bars for your ideal solution.
For banquet halls, weddings, meetings, conventions, and galas, portable bars offer a flexible and professional looking setup for cash or ticket-stub bars. And not just for alcohol—these products can be used for other beverage or food service needs (it's been said that chefs have even used them to serve sushi on movie sets!).
After all, bringing loose liquor and setting up shop on a folding table is the last thing you want to do if you're trying to drive your brand.
Ultimate Bars
Based out of Orange County, California, Ultimate Bars has been in business since 2005, though their concept started in the late 1990s.
"Back in the day, there were no real portable bars out there," says Travis Crivaro, Co-Founder of Ultimate Bars with Guy Scharff. So, Crivaro built one out of necessity. "They're built by bartenders for bartenders."
Ultimate Bars brought its prototypes to catering events, and people noticed. Their portfolio includes clients from Disneyland, the Hilton, Princess Cruise Lines, and the White House. Even Oprah bought several for a speaking tour to use as VIP registration booths. Due to their ease of use and multi-functionality, they're also popular on TV and movie sets.
Lightweight, durable, no/low assembly, and versatile, Ultimate Bars' portable units are American made. They are also easy to set up. "You can set up the bar literally in less than a minute—just roll it up," explains Crivaro. "There's no additional tooling necessary."The bars come in a variety of models, including The Ultimate Bar for high-volume situations that features folding upper and middle shelves, a detachable 15-bottle speed rack, two removable bottom rails for additional storage, and more. Optional accessories, like a rechargeable battery operated LED lighting system that runs off a remote control, are also available. Another popular model is The Convention Bar, which is a slimmed down version of the Ultimate model with one folding shelf.
Both The Ultimate Bar and The Convention Bar are made of aircraft aluminum—an extremely lightweight material that doesn't rust, is ideal for the outdoors, and light enough that a single person can move the bar around. Both models also fold into a five-inch-thick table that can be wheeled over
to a transport van or truck.
Ultimate Bars also offers additional models like back bar units and event cubes and tables.
Each bar can be customized in a number of ways. Interchangeable bar tops allow for easy swap outs (for example, there's a circular bar top that flips on one side into an S-shaped bar top). There are also a variety of finishes to choose from, including high-end options like full-grain leather trim and lights. Currently, the "rustic" or wood-paneled look is popular.
And thanks to easy, interchangeable graphics, bar owners can slide in new graphics to correspond to any event—featured liquors, a company's name, an image of a client for a birthday celebration, etc.
"They're very customizable," says Crivaro. "They can be DJ booths, cocktail tables—there's a lot of working space."
Barlok
Based out of Hodgkins, Illinois,
Barlok is another portable bar company and manufacturer that's lighting up
the scene. Specifically designed to fit
the needs of a changing market, Barlok's portable bars combine the versatility of form and function with hassle-free installation.
Barlok offers a variety of products that can be customized to fit the needs of your bar, for rent or for purchase and available for shipment coast to coast. Their models include the Straight Shooter Kit, High Ball Kit, Happy Hour Kit, Double Shot Kit, Lucky Draw Kit, Jack Pot Kit, High Roller Kit, VIP Kit, and the Side Car Kit.
Standard features of their portable bars include a programmable LED screen, tap attachments, tap hoses, and condiment and ice bins. Best of all, their design has the ability to add modular sections to achieve the size needed for a specific event or create different shapes for different bar configurations.
"At one location, a bar may be best configured in the 'L' shape, whereas another location may require an octagon or circular shape," explains Douglas Crowe, Chief Operating Officer of Barlok. "Barlok provides this flexibility while creating a dynamic focal point for an event."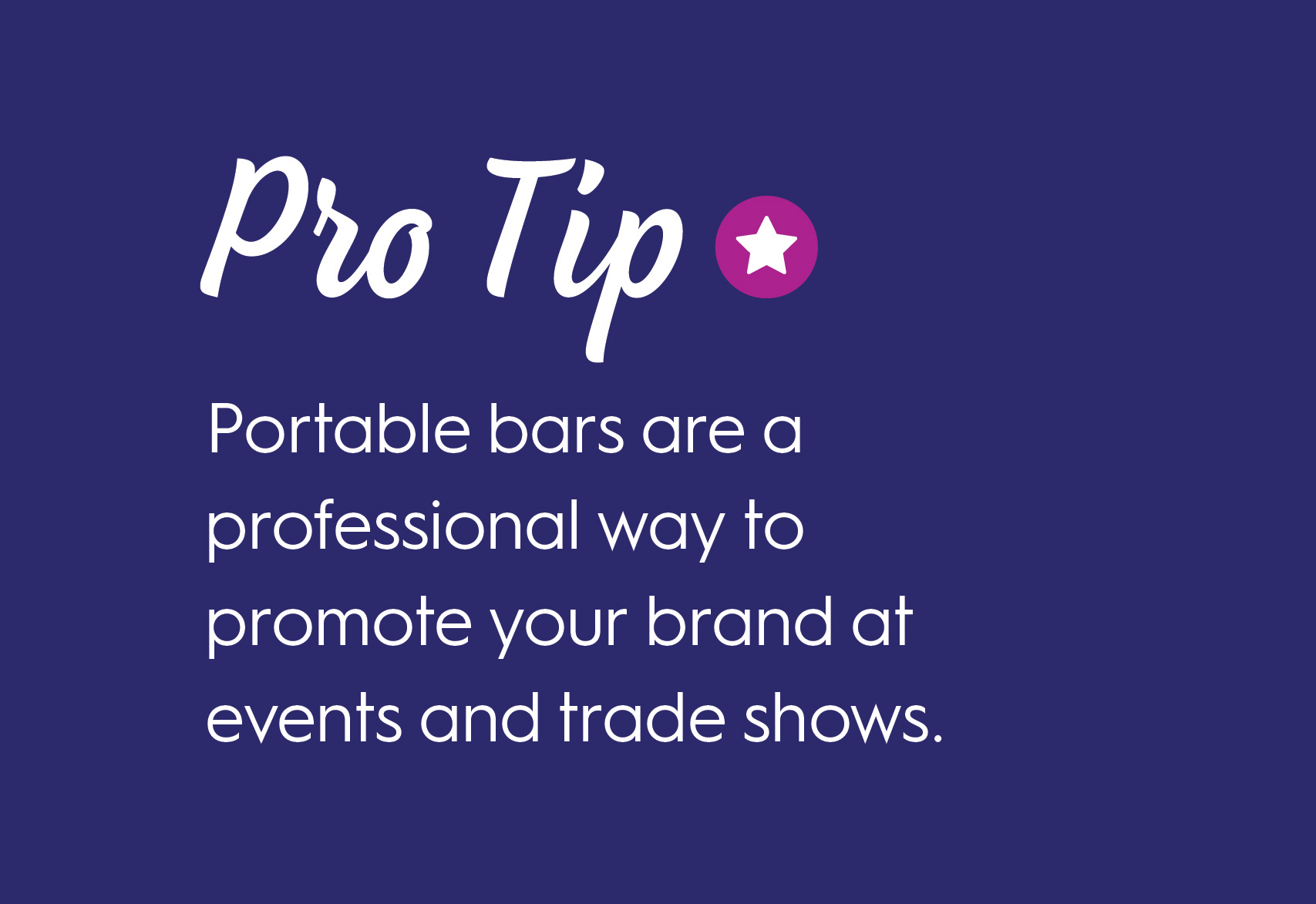 No matter the size or shape, Barlok also builds customized flight cases to ensure for safe transportation.
In addition to being able to customize the overall setup of your bar, custom branding your business' name and logo to Barlok's portable bar is also a popular option. The benefit of this goes without saying.
"Most recently, we designed a bar for a prominent vodka company who now travels nationwide promoting the vodka with the custom graphics on the front of the bar and setting the RGB LED panel to the specific brand color as well," says Crowe.
The RGB color model is an additive color model in which red, green, and blue lights are added together in various ways to reproduce a broad array of colors.
"The feedback we received from them is that the bar does not look or feel portable," says Crowe. "It functions and looks like a permanent bar."
If the bar is going to be outdoors, Barlok's portable bars have got it covered—literally.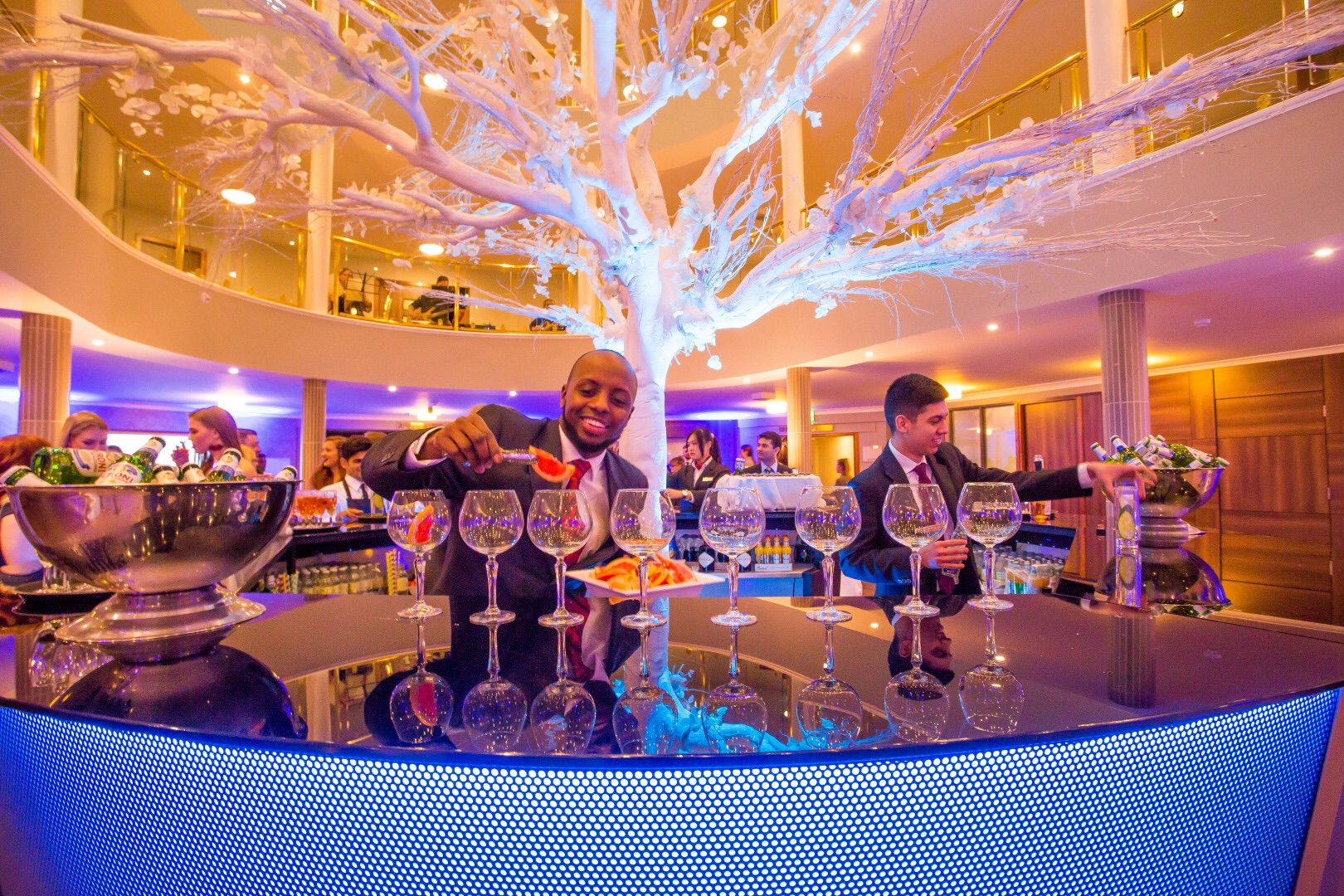 "Barlok is customizable to meet any environmental requirements as well," adds Crowe. "If the bar is going to be outdoors, it can be built to look elegant without any electronics. Additionally,
a canopy can be added."
The Portable Bar Company
Sinks, ice bins, and large portable bars that break out into smaller bars are all a part of The Portable Bar Company's lineup. All of the products can be assembled without tools, but they still carry heavier duty components.
Standard features also include cutting boards and speed rails—all foldable and made with built-in wheels for easy transport.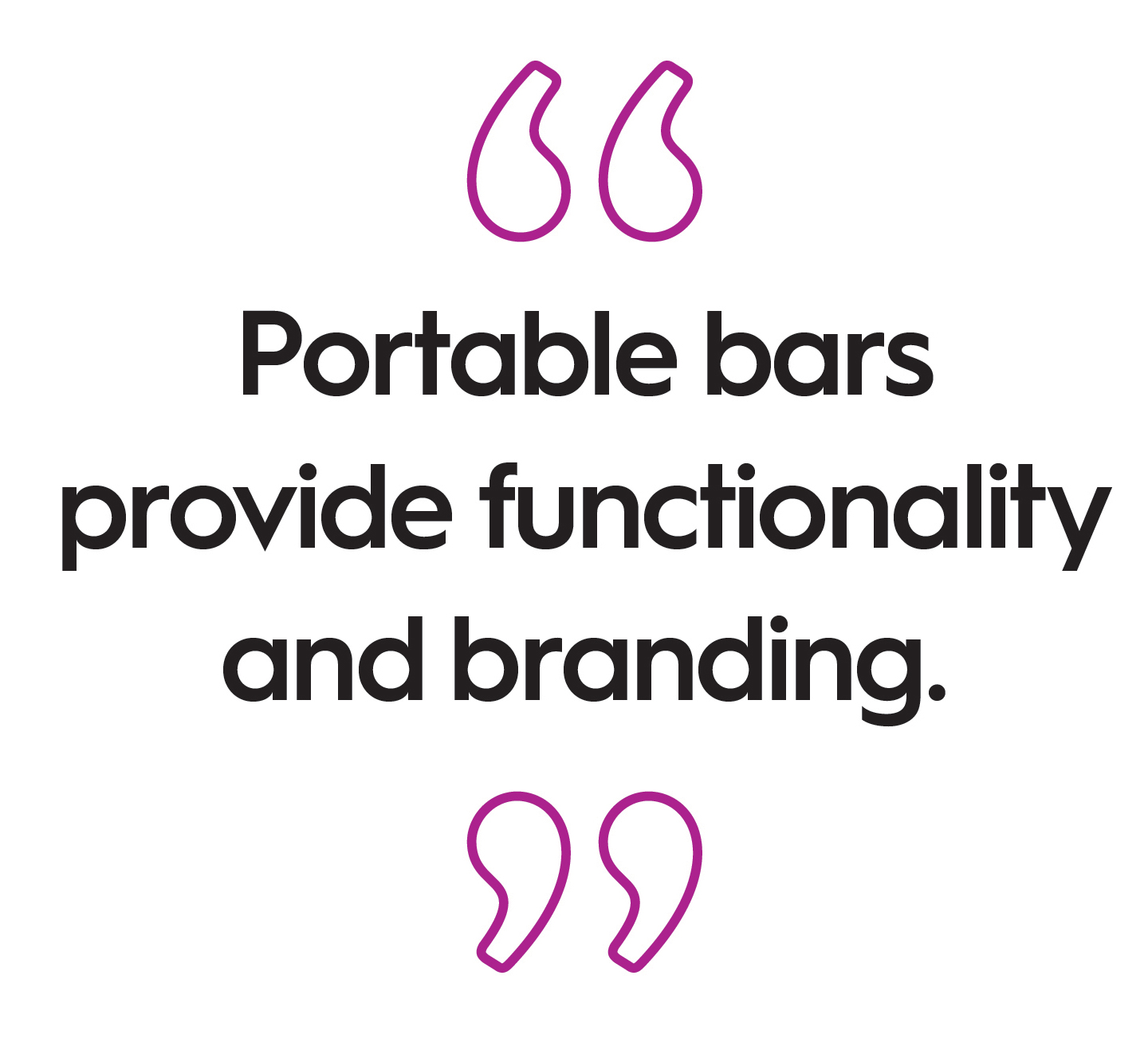 The Portable Bar Company offers two lines of portable bars: foldable and modular.
"Each line has unique features to meet the needs of almost any business," says Derek Bullard, Marketing Director.
The foldable models are "collapsible" or folded out on hinges, then set into place with locking pins on spring latches.
"Every bar in our foldable bar line can be assembled by one person in five minutes or less and no tools are required," added Bullard.
The modular bar line includes the Flash Bar and the Back Bar. If you want to switch up the shape and size, just switch up the interlockable components. Some of these models can even stretch as wide as 15 feet with "the look and feel of a custom permanent bar."
Similar to Ultimate Bars, the Rustic Folding line has proven to be a trending bestseller for The Portable Bar Company. "We just came out with these bars, and they are already a huge hit," shared Bullard. "These bars have all the traditional features of our folding line. What makes them unique is the steel frame is clear-coated raw metal so each bar's frame has unique distress marks— giving them a truly custom look."
If you want a bar that looks like a permanent built-in at a venue, the Flash Bar, another bestseller, is available at competitively low prices. These models can actually be set up as one or multiple stations, and they come in hundreds of styles of laminate.
Did we mention it's portable?
Whatever your bar's needs, these companies have something for everyone. Planning an event or trade show no longer has to be taxing.
The convenience of a portable bar should not be underestimated—it provides the necessary functionality bartenders require to perform their craft while still providing your business and brand with a polished and signature appeal.
So, cheers to the endless amount
of portable possibilities!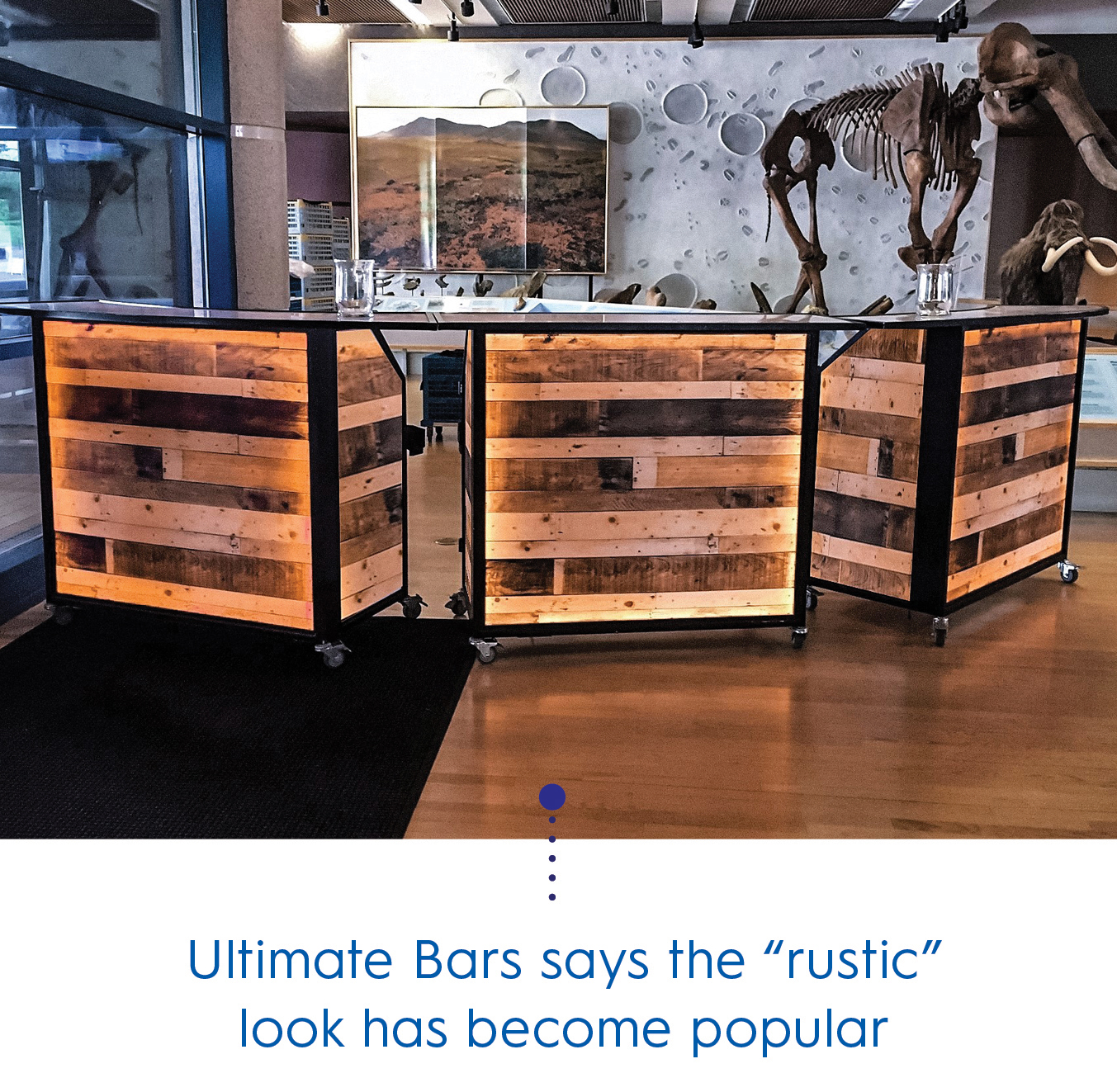 Want to stay up to date between issues? Click here to subscribe to our newsletter.