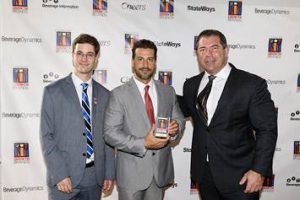 Devotion Vodka received the 2017 Rising Star Growth Brand Award in the spirits category.
This was the 4th consecutive year that Devotion has been recognized with this coveted award. This recognition comes on the heels of Devotion implementing a widespread nutritional labeling program across its entire line of products, including all bottle sizes, marketing materials and in-store point-of-sale displays.
Presented by the Beverage Information Group, the Rising Star Growth Brand Awards are based on industry standard consumption data gathered every year for publication in leading handbooks and directories. To be considered for the honor, Rising Star Brands must have demonstrated significant growth over a short period of time, while making a notable impression in the spirits marketplace. Devotion Vodka CEO Drew Adelman and Partner/COO Mike Calleja accepted the prestigious award in front of thousands of industry executives at The Ritz-Carlton Orlando, Grande Lakes.
"Our brand concept and 'Go To Market' strategy has cut through the clutter and generated strong consistent sales growth in a highly competitive category," said Michael Calleja, Partner/COO, Devotion Vodka. "It's nice to be recognized for our efforts, and as we continue to grow, we will remain committed to transparency, especially as consumers today are more aware of what they are putting in their body."
Whether scanning for ingredients due to dietary restrictions, or checking the origin of the product, consumers are more committed to reading labels today. In addition to highlighting the gluten-free & sugar-free attributes, all Devotion bottles include the Circle K for Kosher, as well as standard drink size, alcohol by volume, and calorie counts for all six refreshing fruit flavors — Wild Cherry, Coconut, Blood Orange, Black and Blue, Tiki Tea, "The Perfect Cosmo," and the original Devotion Vodka.
Devotion Vodka maintains an impressive list of leading distributors including Fedway Associates, MS Walker, Young's Markets, Charmer Sunbelt Group and Southern Wine & Spirits, among others, as the brand continues to expand its national distribution network.
Devotion Vodka, which has an SRP of $19.99 is currently available at prominent National grocery retailers, major restaurant chains and retail stores, bars and nightclubs across the U.S.