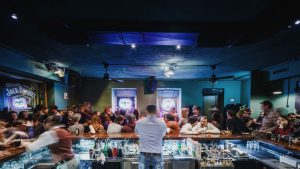 Streamlined efficiencies. Cost-effective measures. New revenue streams.
In today's bar industry, owners and operators are pulling out all the stops when it comes to equipment—eager to find ways to stay ahead of the game and make their job easier.
We took a look at three different types of equipment aimed at doing just that—enhancing efficiencies and increasing revenue.
Improved Efficiencies
Here's one thing we know: Soda guns within the bar environment are consistently problematic when it comes to cleaning and maintenance. Luckily, Gary Smith, Co-Founder of Soda Gun Jetter, has developed a solution that is making bar owners' jobs a whole lot easier.
Soda Gun Jetter's story began in New Jersey in 2016 when Gary Smith, an electrician and business owner, and Joseph Nicholson, Process Control Engineer, were approached by industry professionals in the bar business about the problem of bar soda gun cleaning.
"Initially, I rejected the idea, but Joe thought it might be a fun side project," says Smith.
After developing initial prototypes and partnering with industry giants Dave & Buster's, MGM, and other companies, the Soda Gun Jetter was finalized and has become the most reliable bar soda gun cleaning system on the market.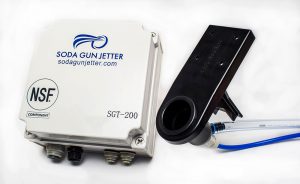 In fact, in February 2018, the Soda Gun Jetter was recognized by a panel of third-party experts from across the foodservice industry as one of the most innovative products of 2018 and awarded the Kitchen Innovations 2018 Award presented by the National Restaurant Association Restaurant, Hotel-Motel Show.
"From our short time in this industry, we are seeing equipment that is technology driven to improve quality and reduce labor and waste," says Smith. "The thought behind the Soda Gun Jetter was to keep the bartender doing their core task of customer service and let the Soda Gun Jetter maintain the cleanliness and quality of their beverages."
Here's how it works: The Soda Gun Jetter is a fully automatic pressure washing system that uses only water to clean bar soda guns during a bar's off or slow hours. It is easily programmed with the Soda Gun Jetter App. The Soda Gun Jetter company supplies the system from the cold-water supply of the soda gun with a 3/8-inch water input and reduces the tubing size to 1/8-inch on the output side. This builds the speed of the fluid without the need for a pump.
"Not only does it clean your soda gun nozzles, it also cleans the drip cups and flushes the drain lines daily," explains Smith. "It flushes the drain lines with approximately one gallon of water—significantly reducing fruit flies and eliminating major breeding areas."
As Smith explains, the current recommended method of cleaning bar soda guns is a 13-step procedure that involves chlorine-based sanitizer and is not practical for any bartender to do on a daily basis. "Our system reduces that cleaning procedure to a simple exterior cleaning and once a week to remove the cap and wipe around the O-ring," says Smith. "The amazing spray action of the Soda Gun Jetter cleans out the nozzle better and more consistently than manual cleaning."
Soda Gun Jetter's recent advances include a black anti-microbial drain tubing and improved splash guard material to prevent the water from spraying out of the holder in the event the soda gun is left out of the holder.
Enhanced Foodservice
As more and more bars enhance their food service offerings, they are looking for equipment that offers streamlined efficiencies while maintaining the quality of the food being prepared. As such, Broaster offers several pieces of equipment that are ideal for bars and taverns.
According to Gregory West, Senior Vice President of Marketing and Food Innovation for Broaster, the company has a long history of supporting foodservice in this segment, especially in the Midwest U.S. with its Genuine Broaster Chicken.
"Overall, our equipment and branded programs are positioned to grow sales and increase traffic," says West. "Additionally, we have food and equipment solutions to meet tight kitchen space requirements and simplicity of execution."
Equipment solutions might include the Broaster 1600 and 1800 pressure fryers, designed to fit in limited hood space situations. Broaster pressure fryers come in a variety of sizes—the Broaster 1600 unit only needs 16 inches of hood space. Frying under pressure, up to 14 psi, will yield a tender and moist product, which means hand-breaded, pressure-fried chicken tenders are now within reach for a bar owner.
The Broaster VF-2 and VF-3 Ventless Countertop Fryers provide a cooking solution for limited spaces and require no hoods. A three-stage air filtration system is a key component.
The Instant Burger cooking platform offers an innovative solution that utilizes direct energy transfer in a clamshell format to cook burgers in less than a minute.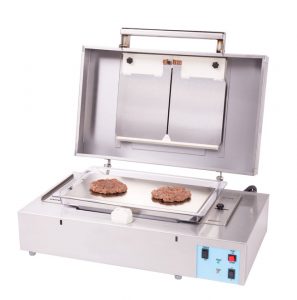 Broaster's newly marketed Smokaroma Pressure Smoker brings the possibility of executing real wood-smoked barbeque for the bar and tavern segment. Occupying a footprint of only 23 inches-by-29 inches, this equipment allows bar owners to smoke meats in just a fraction of the time as compared to traditional "slow and low" smokehouses. Designed
to work in tight kitchen spaces, the Smokarama can provide great tasting smoked chicken wings or even baby back ribs in less than 45 minutes.
"Generally our equipment and food choices provide bar operators solutions to take advantage of food sales growth," says West. "The key is how this all fits within the operation—specifically kitchen space and labor. There is no doubt great food will drive sales and traffic; even elevating more high-margin beverage incidence.
"Generally speaking for any foodservice channel, an operator should ask themselves how committed they are to driving food sales," continues West. "Is there adequate kitchen or food preparation space, and just as important, is there labor to execute flawlessly?"
Superior Refrigeration and Bar Setup
At the forefront of any successful bar are proper refrigeration units. For more than 100 years, Perlick has offered unrivaled quality and attention to detail, boasting refrigeration products that have earned a reputation for being best of class in construction and performance.
"Consumers' tastes and preferences have evolved and continue to evolve," says Dave Kearns, Product Marketing Manager of Commercial Products at Perlick. "This is creating new challenges for beverage equipment manufactures to provide practical and cost-effective beverage dispensing solutions for a broader range of beverages than ever before.
"Also, new energy standards have dictated that manufacturers transition to hydrocarbon refrigerants in their refrigeration."
The launch of Perlick's Tobin Ellis Signature Series Cocktail Station also took superior refrigeration into consideration. The station includes NSF-approved refrigerated drawers designed specifically to keep drink garnishes fresh and close at hand as well as to provide storage for fresh juices and other cocktail ingredients that require chilling.
Perlick will be expanding the Tobin Ellis Signature Series Cocktail Station product offering this year with the addition of the "Ice Vault," which is a compact freezer designed specifically for storing specialty ice, such as large format cubes within the cockpit for easy access. It also provides a space for tempering ice or chilling vermouth and other cocktail ingredients.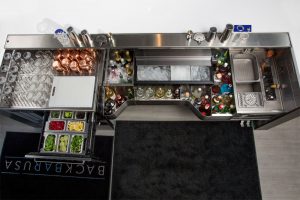 The Tobin Ellis Signature Series Cocktail Station has also revolutionized bar design with the concept of zero-step bartending. The equipment included in the station is arranged
to keep everything a bartender needs within easy reach.
For example, the ice chest is shallower than a typical ice chest, which allows the specially designed curved speed rail to be moved closer to the bar.
"This reduces the amount of bending and reaching the bartender is subjected to, which reduces repetitive motion injuries and missed days of work," explains Kearns. "The speed rail was designed to create a functional cockpit for the bartender and to eliminate the discomfort of banging into hard edges, which are typical of conventional speed rails."
As Kearns explains, the Tobin Ellis Signature Series Cocktail Station was engineered for speed and built for comfort. "Zero-step bartending improves efficiency, productivity, and return on investment," he says. "The equipment places the bartender closer to the bar in an OSHA-neutral position, which reduces muscle fatigue that may result in injury and missed work."
By Maura Keller
Photos (top to bottom): Shutterstock.com, Soda Gun Jetter, Broaster, Perlick