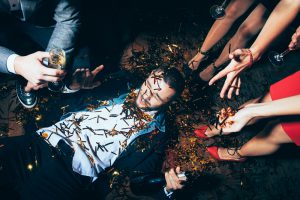 Bars face a lot of risk. Those risks might come in the form of a customer getting behind the wheel after having too much to drink, getting enough customers in the door to make payroll each month, or even a person slipping and falling in the bathroom after an employee mops the floors.
No matter the specific hazards that may threaten your business, it is important to have an open conversation with your insurance agent to properly protect your business from the risks you face on a daily basis. Here are five insurance policies that every bar owner should strongly consider.
General Liability Insurance
General Liability is required by law in most states for most businesses. For this reason, it is commonly the first coverage a business owner purchases. This insurance policy will protect your business from bearing the full cost of damage to property and bodily injuries that occur on your property as a part of normal business operations. Things like people slipping and falling on their way to the bathroom are covered under this policy.
Depending upon the specific policy you have, it may also cover something like a waiter dropping a hot plate in
the lap of a customer dining at your establishment.
Workers Comp
Workers' Compensation is the second policy that is also required by law for most businesses in most states. Because of this requirement, it is typically the second policy a business purchases. A Workers' Comp Insurance Policy covers your bar for injuries to your employees that may occur as part of normal business operations.
With this coverage, employers can feel confident they will not be sued for most injuries that occur to their employees. This is unless the employer meant to cause harm or was willfully negligent. Employees benefit from this coverage by having some lost wages replaced and medical costs covered for injuries that occur while on the job.
Because of the mutual benefits workers' compensation coverage provides, it is frequently referred to as the "exclusive remedy."
Liquor Liability Insurance
Liquor Liability is essential to protecting any bar or restaurant. This coverage will protect your business from bodily injury or property damage caused by an intoxicated person who was served liquor by the policyholder. Depending upon the laws within the state in which you operate, your business could be liable in a lawsuit if an intoxicated person causes bodily injury to a third party after consuming alcohol at your establishment.
It is important to be honest with your insurance agent about the type of food and alcohol you serve and the amount of each.
Failure to disclose what your business actually serves can cause a claim to not be covered, or it can cause your carrier to drop you from coverage mid-term. When this happens, you and your insurance agent may be scrambling to find a new carrier in a pinch. If you do not get coverage in place quickly, it can cause you to have a lapse in coverage, which will make it much more difficult to find a carrier willing to insure your business and will result in a higher premium if you can find coverage.
Commercial Property
Commercial Property Insurance is another coverage that every bar needs
in some form or fashion. This is true whether you own or rent the property where your business operates.
Unfortunately, this is one type of coverage that far too many business owners misunderstand.
Many business owners incorrectly think about Commercial Property Coverage like they think about their homeowner's policy.
A homeowner's policy is typically a common policy that most business owners have purchased before becoming a business owner. Unfortunately, Commercial Property Insurance Policies are sold on either a replacement cost valuation or on an agreed upon value.
In most cases, replacement cost is better because it covers the total cost to tear down the property, remove all necessary debris, and cover construction costs to replace the building.
If you buy this policy on an agreed upon value, the premium is typically cheaper. Even though it is cheaper, it does come at a price. That price is that the policy will more than likely not cover all costs to replace the building should something catastrophic happen to the property.
No matter which type of policy you go with, one of the first steps a business owner should take is to get an accurate valuation of the property.
For more information on property valuation, visit http://bit.ly/2o1xDVa.
Business Income and Extra Expense Coverage
Business Loss of Income Coverage is the final type of insurance property  owners should strongly consider.
This type of coverage will compensate your business for lost income during the period of time you have to be closed as the result of a covered loss. The key to this policy being triggered is that the underlying reason your business is closed has to be a covered loss.
If you fail to purchase coverage for the main cause of the business being closed, then this policy will not kick in.
A primary example of this would be flood insurance. If the facility that you operate your bar in is damaged by a tornado and causes you to be closed for an extended period of time, but you do not have proper insurance in place to protect against the loss, this policy will not kick in.
If you live in an area where natural disasters are likely, it is important to discuss these types of situations with your insurance agent to ensure you are covered in the event of a loss.
By Walt Capell, President/Owner of The Insurance Shop LLC. Capell founded The Insurance Shop in 2005. It has been a rapidly growing national insurance agency with a strong reputation for forward-thinking, out-of-the-box products and solutions for business owners. Capell would like to use his experiences in the insurance industry and as a small business owner to inspire the next generation of leaders.