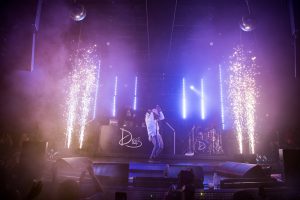 So much about our industry is based around presentation and performance—the perfectly plated meal, an Instagram-worthy venue, the performance bartenders put on as they shake and stir their way to presenting a cocktail.
Patrons no longer simply expect good food and drink, they expect an experience, and Sparktacular Distribution Inc. is aimed at making that experience unforgettable with its Sparkular Cold Spark Machine.
Sparktacular is run by people with multiple years of experience in the fireworks entertainment industry, but the Sparkular Machine is not a traditional pyrotechnic.
A gerb, or pyrotechnic device, has a source of ignition and burns at a very high temperature of up to 1100 degrees Fahrenheit. Once ignited, the pyrotechnic can't be stopped, and it will burn until finished. Gerbs also produce a large amount of smoke and a strong, foul odor. Depending on the intricacy of the show, they can take hours to set up and break down and require a pyrotechnician to operate.
Sparktacular has developed an alternative, safer product that produces the desired fountain of sparks, without the risk of burns, smoke, smell, and misuse. Sparkular is the first indoor machine in the world, and it contains no hazardous materials or ignition source. The machine is reusable, and it works by heating up proprietary metal granules, which are sold in boxes with 12 pouches each or in a case of 12 boxes. One pouch of granules provides up to 10 minutes of shooting effects. Once heated up, the granules are shot out of the machine into the atmosphere, which instantly cools the heated grains into true cold sparks that are nonflammable.
"Our machine runs so cool it will not even burn a piece of paper," says Steve Freedman, President of Sparktacular. "This has changed the market and is the beginning of a new technology in the world of stage effects."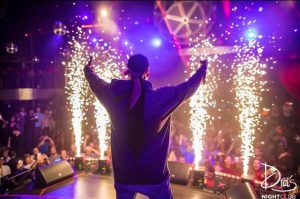 The Sparkular machines produce no smell and virtually no smoke when compared to a traditional gerb. In fact, to back up these statements, Freedman cited the example of a demo Sparktacular performed for a popular band in a small venue. "We set off the Sparkular machine 800 times in the venue and there was no smoke, no smell whatsoever," he says.
The Sparkular machine can be started and stopped at any time, and the time, height, volume of the sparks sequence, and duration (up to 90-second intervals) of the effects can be controlled via a DMX controller, which is available in standard or pro models. The standard controller can shoot up to 18 machines at a time, while the pro option can control up to 54 machines. Setup is also easy—a single machine can be set up in minutes, and a line of machines can be set up in under an hour.
If a bar or nightclub is interested in purchasing the products, they first have to go through a screening process for approval. "It's at this point that people with serious inquiries ask what their local Fire Marshal says about the products in their area," says Freedman.
Sparktacular then sends out a price quote and information about securing a permit in the venue's area. Permit requirements vary on a state-by-state basis. Some states already have rules on the books for these machines. In Las Vegas—where Sparktacular has permanent installations at Hakkasan Nightclub and Drai's Beachclub and Nightclub—users are required to have a hot works permit and an onsite inspection. Other states are currently working on permits for this special technology or reviewing it.
In states with no permits, Sparktacular works with the state and the Fire Marshal to do demos and educate them on the cold spark technology in an effort to get a permit drawn up. "We're responsible sellers who want to make sure people are trained and using the machines safely," says Freedman.
As part of receiving a permit, users must go through Sparktacular's online training program, which certifies them to use the machine and purchase the products online. Because the Sparkular machine contains no hazardous materials, the machines can be shipped through the mail via the United States Postal Service, FedEx, or UPS, without having to pay extra "hazardous shipping" costs.
With the purchase of a machine, users receive a $5 million product liability policy and an extended warranty. Technicians with over 40 years of combined experience work on the machines, and all repair work is completed in the US. Service parts are always conveniently stored in the United States as well.
Sparktacular has been to 100 cities.
The company also offers bottle and food service fountains as well.
Freedman says that depending on the venue, bars and nightclubs use the products for everything from birthday cakes to bottle service. "It's all about creating a presentation or putting on a production," he says. "These effects turn everything into a show."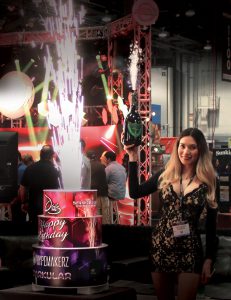 Despite the many drawbacks, fountains (sparklers) have become extremely popular in nightclubs and bars and have flooded the market. This has resulted in a dangerous situation where venues are storing thousands of Sparklers at a time, and people aren't trained to handle the fountains (sparklers) safely in clubs and bars around an audience. Not to mention the biggest problem of all—the fountains (sparklers) aren't rated for indoor use, so they are technically illegal. Plus they have to be shipped as a hazmat product.
"Most places don't know that what they're using is illegal," says Freedman. "Our goal is to bring safety to the use of these products with proper ratings and training programs for proper use."
By Ashley Bray
Photos (top to bottom): Drai's Beachclub and Nightclub, Drai's Beachclub and Nightclub, Sparktacular.