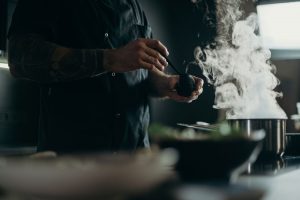 ChefReady will open the first "virtual" kitchen of its kind in the Platt Park neighborhood of Denver this summer, offering ten rentable, high-tech commercial kitchen stations under one roof for delivery-only concepts. ChefReady will provide solutions to problems that
have plagued the restaurant industry for years, by offering lower rent, lower overhead and reduced equipment costs, personalized customer service, and more efficient and affordable labor services to its restaurateur partners, something that is urgently needed during these times.
Even before COVID-19, the food delivery industry was expected to grow from $43 billion in 2017 to $467 billion in 2025, according to Morgan Stanley. The recent pandemic has seen unprecedented restaurant delivery sales, creating new habits that will likely continue. ChefReady offers a way for restaurants to maximize their delivery footprint. This delivery-only style of kitchen also decreases risk to restaurants during financial crises. Following COVID-19, many restaurants won't be able to open or reopen as brick-and-mortar restaurants or be unable to succeed at limited occupancy. Virtual kitchens can provide an affordable, stable avenue for restaurants to (re)establish themselves.
ChefReady is the brainchild of Nili Malach Poynter and her husband Robert Poynter, founders and owners of Vinyl Interactive, a performance-based data science and marketing firm that has generated hundreds of millions of dollars in sales. Nili grew up in Denver with her brother Steven Malach, who is ChefReady's Director of Sales.
"For years, Robert and I watched restaurant-owner friends close their brick-and-mortar restaurants, due to declining profit margins and rising rent, so we were excited to hear about the ghost kitchen concept," said Nili. "But while looking into those further, we
realized that many operate with a "churn and burn" mentality, resulting in an unprofitably high tenant turnover. We decided to create a company that offers the convenience of a ghost kitchen, but with more of a 'mom and pop' personalized level of customer service, as well as greater efficiency, and a 'greener' footprint."

ChefReady provides a team of experts to help the restaurants succeed, including marketing, architectural and permitting guidance. Their kitchens are "plug and play", equipped with commercial hoods, sinks, back-up generators, AC, heat, electric and gas hook ups, and pest control. ChefReady also gives tenants the ability to customize their kitchen's layout with extra refrigeration, extra storage space, and deep-cleaning services, and can have customized kitchens built out and ready to go in as little as 2-4 weeks. They
also provide delivery assistance, including software that aggregates third-party delivery programs and employs food runners to bring the food from stations to delivery drivers.
ChefReady will be located in the Platt Park neighborhood, an area that is close to many of Denver metro's neighborhoods, including downtown Denver and Cherry Creek.
"Restaurant startup costs can range from $175,00 to well over $1 million, and that just isn't feasible for a lot of chefs and restaurateurs," said Nili. "We want to provide a more affordable avenue for restaurateurs to open their second "restaurant," experiment with a
new concept with a low cost to entry, or give them extra space to fulfill delivery orders."
ChefReady will be accepting applications for new tenants until all 10 stations are filled.