There's some good news for bars and nightclubs in 2021, according to the data scientists at marketing platform Zenreach.
From the beginning of January 2021, there has been an increase in visits and foot traffic of 33% in the bar & nightclub industries.

This marks a 10% increase from visits in June 2020. However, there is still a ways to go as visits compared to January 2020 (pre-COVID-19) are still down 63%.
"The Q1 data leaves us very optimistic about consumer foot traffic throughout spring and leading into summer," said Megan Wintersteen, vice president of Marketing at Zenreach. "We believe that a lot of this increase is being driven from restrictions lifting across the country and the increase in vaccinations. It's also a reflection of the consumer optimism as we start to return to some sense of normalcy coming out of 2020."
Certain metropolitan areas have seen more growth than others. Below, is a chart outlining the overall foot traffic growth for bar & nightclub visits since January 1st, 2021 in five metropolitan statistical areas (MSAs).

There are also trends to be found when looking at the data for bar and nightclub visits in 10 major metro areas across the US. The chart below shows the total percentage breakdown of visits in these 10 cities when compared to each other (this is not a percent increase in visits; it's a comparison of current bar and nightclub visits across the US).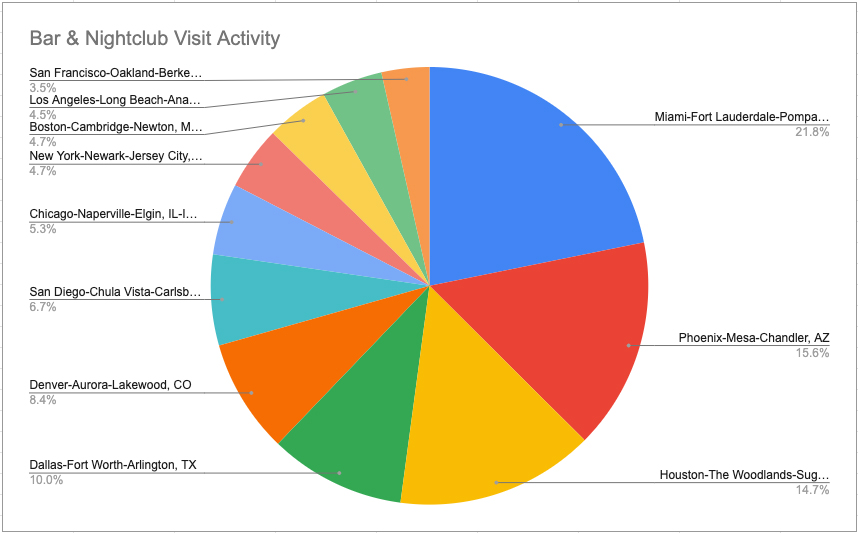 This data shows that Miami currently has the most visits to bars and nightclubs at 21.8% of the total traffic across these 10 metro areas, followed by Phoenix at 15.6% and Houston
at 14.7%.
"We specifically see higher increases in these areas compared to the beginning of the year because these states tended to have less restrictions and/or lift restrictions earlier than some of the other states in the data set," explains Wintersteen.
As for the areas with lower traffic numbers, such as Boston, Los Angeles, San Francisco, and New York, Zenreach expects these numbers to gain more momentum as restrictions lift. "I think most consumers are waiting for the bar experience to feel like they're going to a bar again," says Wintersteen. "When you consider restrictions like capacity limits, mask usage, no bar seating, etc., which have all been present in those metros longer than others, that really stifles the social experience we typically associate with a bar or nightclub."
Above all, the data makes it clear that bars need to ready their ramp-up strategies. "Barring any unforeseen setbacks, we anticipate that these trends will continue to gain momentum moving forward," says Wintersteen. "Listening to the data and seeing trends like this means that bars/nightclubs should start considering ways to expand their operation: re-hiring, expanding hours, evolving health & safety measures for larger crowds, and ramping up marketing. Letting consumers know that they're open and the measures in place to ensure their safety is going to be crucial to making consumers feel comfortable to return to these settings."