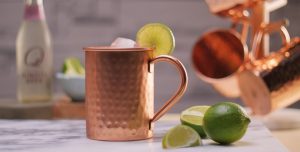 Moscow Mule – two words that in any language mean a great time. If you've gone out to any bar with a cocktail menu worth its salt, bitters, and sour mix, you've run into the Moscow Mule. And not without reason – the head-on collision of vodka and ginger beer is a magic akin to alchemy. No doubt the drink and its associated cup seem ubiquitous, but there are so many ways you can spice up this combo.
The basic Moscow Mule can seem simple or timeworn, but this drink is anything but boring. There are dozens of easy variations that will make this drink seem brand-new in just a few seconds. And none of them are much harder than the original recipe itself. Vodka, ginger beer, lime, enjoy!
To learn more about the Moscow Mule's origins and to get a look at 15 unique twists on this classic recipe – including the Kicking Mule, Straw-scow Mule, and Moscow Blue – check out the full article on Advanced Mixology.