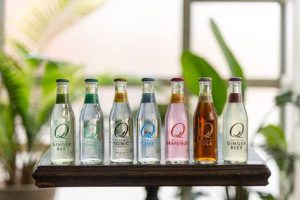 Q Drinks, a line of spectacular carbonated mixers founded by entrepreneur and gin and tonic enthusiast, Jordan Silbert, has just announced that the full range has been certified non-GMO by the Non-GMO Project, meaning there are no genetically modified organisms used in the production of Q Drinks. This certification reflects Jordan's goal to create the world's best carbonated mixers using only the finest ingredients.
Founded in 2005, the Non-GMO Project is a 501(c)(3) non-profit organization that aims to provide non-GMO labeling for products produced in compliance with their Non-GMO Project Standard. They also work with food manufacturers, distributors, growers, and seed suppliers to develop standards for detection of GMOs and for the reduction of contamination risk of the non-GMO food supply with GMOs.
A GMO, or Genetically Modified Organism, is a plant, animal, microorganism, or other organism whose genetic makeup has been modified using gene splicing technology, and use of these ingredients has become increasingly common over the years in many products, especially those designed to be as inexpensive to produce as possible. A non-GMO product must be evaluated for compliance before receiving the non-GMO verification. Q Drinks now proudly has all flavors in its portfolio certified as non-GMO including Q Tonic Water, Q Indian Tonic Water, Q Club Soda, Q Ginger Ale, Q Ginger Beer, Q Kola and Q Grapefruit Soda.
"When I started Q Drinks, my goal was to make the world's best carbonated mixers. And it was obvious that if I wanted my mixers to complement the finest spirits, I needed to source the finest ingredients." said Jordan Silbert, CEO and Founder of Q Drinks. "So, we use only real ingredients from real trees and plants, including real quinine from real trees, real ginger from real ginger root, and organic agave instead of high fructose corn syrup or sugar. This non-GMO certification was the natural progression for Q Drinks. We're thrilled that we were able to do it and our fans and the retailers, bars and restaurants that serve them have been incredibly enthusiastic as well."
A huge fan of gin and tonics, Jordan Silbert, was inspired to create Q Drinks when enjoying cocktails with his friends in his Brooklyn backyard. Once he realized the tonic he was using contained many of the same artificial ingredients as a sugary soda, he knew he had to take matters in his own hands and create his own tonic water, one that would complement his favorite gins, not cover up their subtleties with loads of sugar or artificial ingredients.
Created in Jordan's kitchen using real quinine and organic agave nectar, Q Tonic Water was the first mixer in the Q Drinks' portfolio. After great demand, Q Ginger Beer, Q Ginger Ale, Q Club Soda, Q Kola and Q Grapefruit Soda followed. Earlier this year, Q Drinks launched Q Indian Tonic – a tonic water purpose-built to mix with bigger, bolder and more juniper-forward gins.