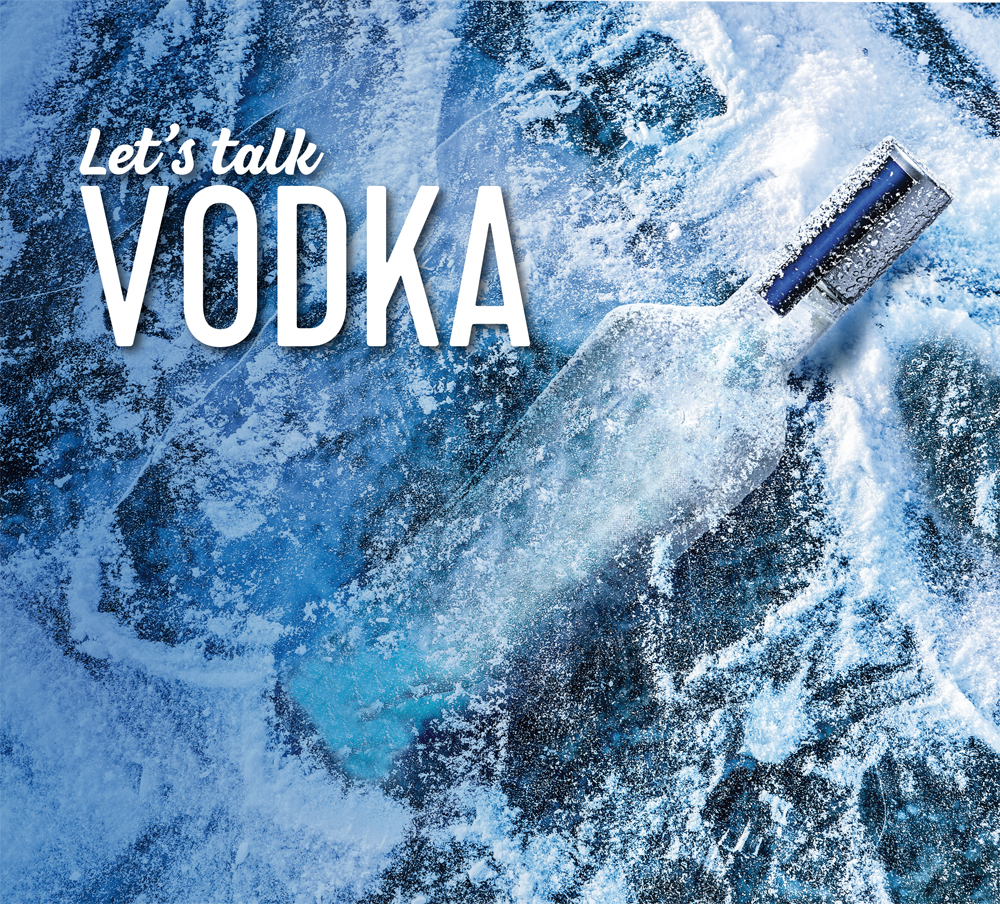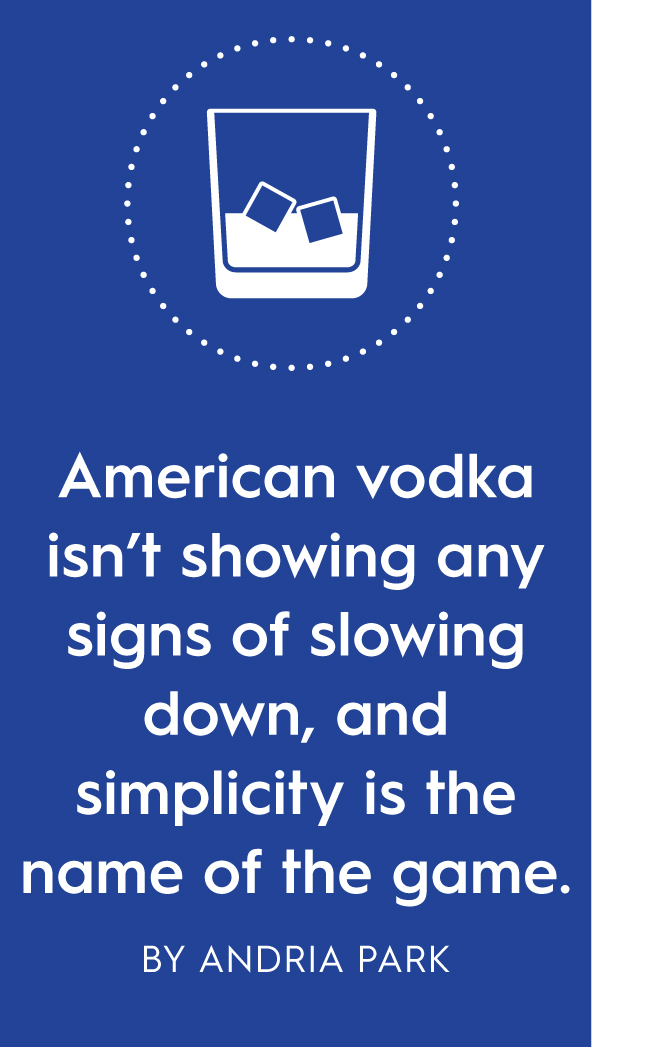 You may recall that about a decade ago, vodka took
a backseat as bartenders began favoring more complex spirits and whiskies for crafty, on-premise cocktails. Now, with steady consumer demand and shifting cocktail trends, vodka has reclaimed its throne in bars and pubs, and domestic vodka in particular is having a moment.
According to the Distilled Spirits Council (DISCUS), with volumes up 2.2% and revenues up 3% to 6.2 billion dollars, the vodka category enjoyed a year of solid growth in 2017.
What's interesting to note, however, is that the vodka brands currently experiencing the biggest growth aren't the ones that drove the spirit to its previous status years back. In fact, Tito's Handmade Vodka, which has been paying homage to the same process for over 20 years, has only really taken off in the past five or six years. Today, it is the leading certified gluten-free spirit in the U.S.
With health-conscious attitudes only growing stronger among millennials and aging baby boomers, cocktails with only two or three ingredients are now replacing more complex, layered drinks, which is where vodka (the "healthier" spirit) fits into the mix. In its purest form, vodka is made most commonly from fermented grains such as sorghum, corn, rice, rye, or wheat.
"Within the industry, we continue to see a shift away from flavored vodkas and more emphasis on base vodka using fresh ingredients to create cocktails," explains Frank Polley, Vice President of Trade Marketing at Tito's.
According to a recent survey by Label Insight, a strategic Nielsen partner that specializes in ingredient and attribute data analysis, 67% of Americans said they would be prioritizing healthy or socially conscious food purchases in 2018.
"Whether it's cocktails containing less sugar or gluten-free options, consumers are looking for options that reflect who they are," says Polley.
Other domestic brands have followed suit and capitalized on this shift.
"Tito's has brought it back to where people said, 'you know what, I'm proud to drink American vodka,'" notes Chuck Trout, CEO of the Beach Whiskey Company. "Even if you're not the biggest patriot, you still realize it's a good product—and that's what we're piggybacking on."

Last January, Beach Whiskey Company acquired the American Harvest Organic Vodka brand, first launched by the Sidney Frank Importing Company in 2011 and shipped from Idaho. Since then, American Harvest has flourished.
"For our sales specifically, this last quarter was double what our first quarter was," confirms Trout. "For organic products, it's dominated mostly on the coast, but we've seen a big growth in Chicago as well, which tells us maybe not the whole country is interested in organic, sustainable products, but it's getting there."
The process American Harvest uses incorporates not just a conscious focus on the consumer's health but also on the planet.
"It's made with the highest quality winter wheat we can find. Then everything we do after that, the energy itself, [one-third] derives from wind power," says Trout. "In addition, the materials that we use and the part of the stock and the wheat that we don't use feed cattle. And that's where it becomes a more sustainable product. It's kind of a win-win for both sides."
With a humble team of seven and only about two years under its belt, Trout admits that they're "the small guys fighting." Even so, the brand has already piqued some major interest. In fact, Nobu selected American Harvest as its vodka of choice in their drink special this year.
So what's their secret? "In our vodka, there's 1% agave nectar," reveals Trout. "Having said that, we win so many taste tests because it's such a clean finish. Drinking this product just over rocks with
a splash of lime—nothing else in there—is a way to really enhance how clean this product is."
Tito's echoes the same "less is more" sentiment.
"I'd have to say our fan favorite is the Tito's All Time Favorite. It's a classic twist on the vodka soda that's simple, easy to make, and tastes fresh and clean," says Polley. "All you do is add Tito's Handmade Vodka and sparkling mineral water to a rocks glass with ice. Then garnish with a slice of orange and lime."
In the likes of Tito's and American Harvest, Lewis & Clark, a mid-premium tier vodka under Hood River Distillers, launched December 1 in the on-premise market.
As you'll remember, the Lewis & Clark expedition was the first to cross the western portion of the U.S. This is Hood River's backyard, and the new family of brands pays tribute to this journey.
Founded in 1934 and headquartered in Hood River, Oregon, Hood River Distillers is the Northwest's largest and oldest importer, distiller, producer, bottler, and marketer of distilled spirits.
Following the sale of Pendleton Whiskey earlier this year, Hood River made a conscious decision to return to its roots and focus on brands that celebrate their heritage in the Pacific Northwest. Enter Lewis & Clark—a new vodka that is heavily focusing on price point.
From a financial standpoint, it will provide bar owners a great pour cost (at $16.95 a liter) and can easily lend itself to create a solid, margin-producing $6 cocktail but also an exquisite-tasting $11 cocktail.
"I think that's what we see here in the vodka category currently," notes Casey Armstrong, Senior Brand Manager of Hood River Distillers. "The price point is what's driving the majority of the growth—actually almost all of the growth. So we wanted to make sure we were playing in that price point. Rather than just create a product that is a one-off product, we decided to hopefully meet the needs of consumers across the plethora of spirit categories."
Though when examining all spirit categories through a wider lens, domestic is the driving factor primarily for vodka alone.
"When you look at the vodka category, imports are declining and domestic is increasing," says Armstrong. "[So we're] really focusing on what's important to us at Hood River Distillers, which is local—using the resources as we're in this beautiful state of Oregon and really focusing on the domestic abilities too."
When incorporating any of these vodkas onto your bar's menu, the simpler the recipes, the better (think tried-and-true classics like vodka sodas or cranberry vodkas). Though if you'd like to kick things up a notch, check out some of the recipes featured on the left for professed favorites just in time for those holiday get-togethers.
---
Toasted Pecan




Infusion
Tito's Handmade Vodka
Simply roast pecans in the oven for five minutes, let cool, add to a bottle of Tito's Handmade Vodka, and store for a few weeks before enjoying in a cocktail.
---
Cranberry Mule
Tito's Handmade Vodka
Just add cranberry juice to a traditional American Mule. It's refreshing and perfect for any holiday gathering!
---
Spirited




Harvest Punch
American Harvest Organic Vodka
1½ oz American Harvest
Organic Vodka
¾ oz Velvet Falernum
¾ oz Cranberry juice
2 dashes Orange bitters
Stir and strain over fresh ice into a rocks glass. Garnish with an orange peel.
---
Spiced Harvest
American Harvest Organic Vodka
1½ oz American Harvest
Organic Vodka
½ oz Agave nectar
2 oz Cranberry juice
Stir and strain into a coupe glass. Garnish with an orange peel and grated cinnamon.
---
Cinnamon




Apple Harvest
American Harvest Organic Vodka
2 oz American Harvest Organic Vodka
1½ oz Unfiltered organic apple juice
¾ oz Fresh lemon juice
¾ oz Honey syrup
Shake and strain over ice into a rocks glass. Garnish with a cinnamon stick.
---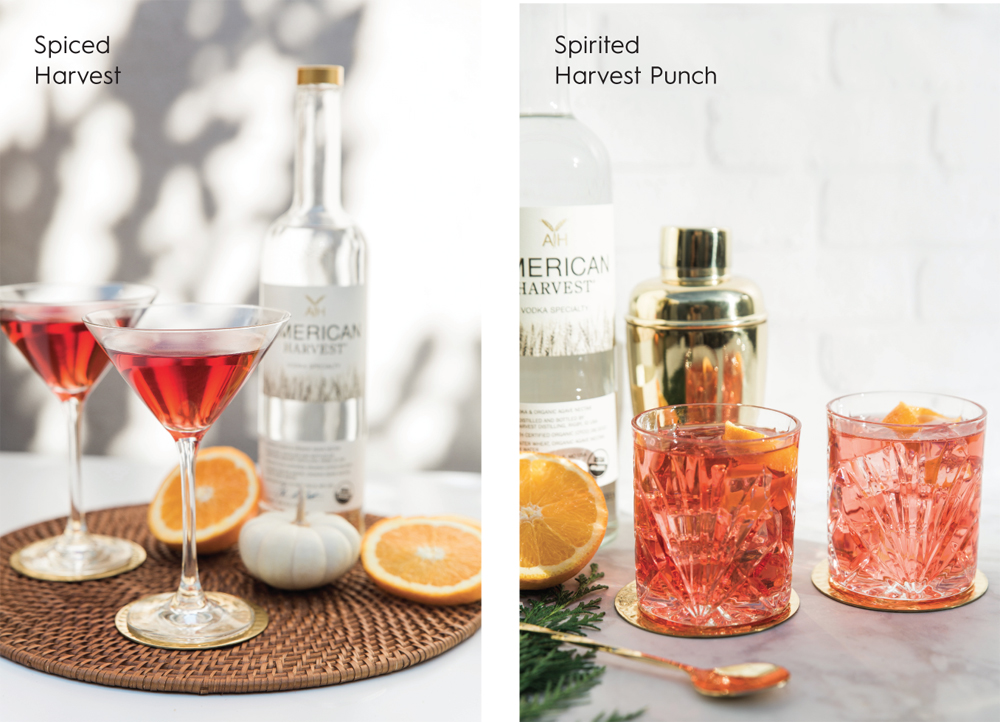 ---
Interested in more content like this? Subscribe to our monthly magazine.