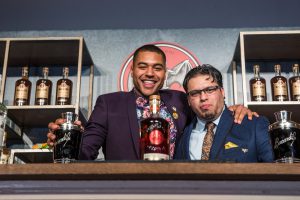 The United States Bartenders' Guild (USBG) and BACARDĺ rum crowned French Scotty Marshall of Washington DC and Moe Isaza from Boston, MA as the U.S. national finalists of the seventh annual USBG Legacy Cocktail Competition held in Miami, FL.
Marshall, who is based in Washington DC, won with Coki Beach, a cocktail made with BACARDĺ Ocho, toasted coconut syrup, lime juice, and allspice dram. Born in the Caribbean during a category 5 hurricane, his recipe was named after and inspired by his local beach.
"The Legacy Competition was something I heard about and the magnitude was expressed to me, but nothing compares to what you feel when you're creating your cocktail and pouring your heart and soul into your story and then manifesting that on stage," said Marshall. "Everyone that was in Puerto Rico, whether you were American or Canadian, an ambassador or a competitor, all shared this bond, that now I consider them family."
The second U.S. winner, Moe Isaza, took home the award with his cocktail Poderoso, which mixes BACARDĺ Ocho, Bitter Orange Amaro Montenegro, pineapple juice, coffee liqueur, and a muddled lemon wedge. The bold and original libation is a tribute to the strong people in the Cambridge bartender's family.
"This competition means a lot to me. Personally, it has been very fulfilling. This was a moment where I could tie my family and career together. Where that is the end goal, a bar that I can call my own," said Isaza. "Most importantly, this means that I now have the opportunity to elevate the industry. Where we can break the mold, we will."
About: The USBG Legacy Cocktail Competition presented by BACARDĺ showcases the best in the cocktail trade. Participants are challenged to create the next generation of classic rum cocktails that will stand the test of time, using BACARDĺ Superior, BACARDĺ Ocho, or BACARDĺ Gold rum. Classic cocktails are defined by their balance, flavor, quality of ingredients and aesthetic appeal, as well as their enduring popularity and the story behind them.
The winners will go on to represent the U.S. and compete at the BACARDÍ Legacy Global Cocktail Competition in May, hosted this year in Mexico City, MX. The BACARDÍ Legacy Global Cocktail Competition recognizes and nurtures the talent of passionate, innovative bar professionals. BACARDÍ will offer year-long support to further their career by creating experiences tailored to meet their goals – providing them with opportunities to travel, work with the industry's best and serve their original 'Legacy' cocktail at some of the finest bars in the world.