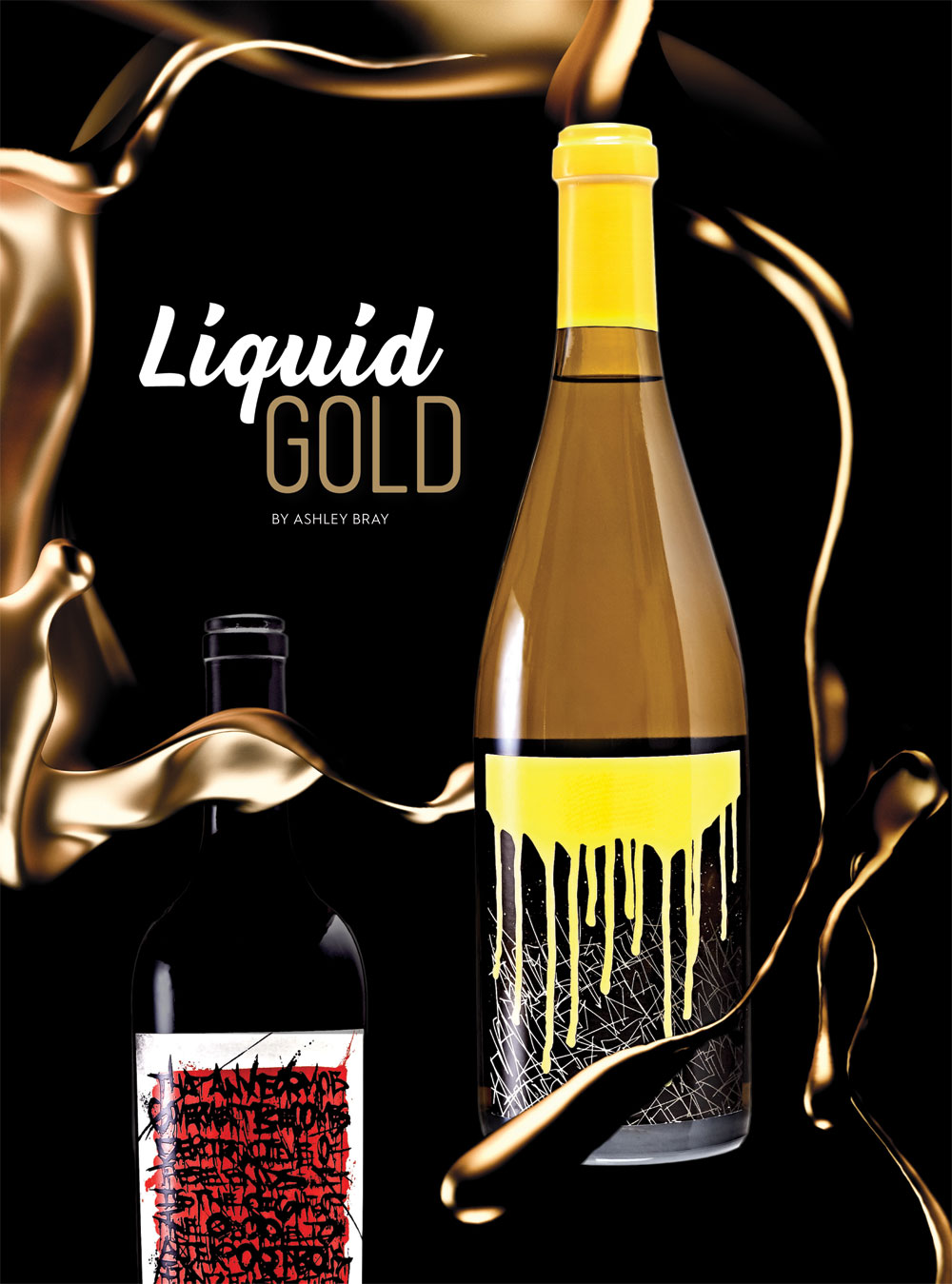 W
ine comes in a number of variants and vintages,
but for such a varied beverage, it also
has plenty of preconceived viewpoints.
1849 Wine Company looks to change all that with its "Contemporary Art Collection of California Wines," which gets its label inspiration from the urban art movement of the 21st century. As 1849 Wine sees it, artists and their work have the power to disrupt norms, transcend taboos, and change perspectives, and their goal is to do all three with every handcrafted bottle of their wine.
Let's Start at the Beginning
Every story worth telling has a beginning, and 1849 Wine's journey began about four years ago.
"Before you get into the wine business, you have to be methodical, calculating, and do all your due diligence," explains Zack Levenson, Chief Operating Officer, Stratus Wine & Spirits LLC., the parent company of the 1849 Wine Company portfolio of California wines.
The company spent a few years researching the market and the competition as well as finding their sourcing and supply chains, including #1 grade natural Portuguese corks, 100-micron tin capsules, heavy Italian glass with deep punts, and the most important element—the juice.
With their partners locked in, the company turned to branding. "One common theme kept coming up—a deep connection to California," says Levenson.
Part of that connection included California's rich history and the Gold Rush of 1849 and the following years. Many of the people that flocked to California during that time hit it rich, but many more did not. These people had to find alternative ways to earn a living and they pivoted from treasure hunters to suppliers by opening banks, hardware stores, and tailor shops. Others saw opportunity in the land itself, which was mineral rich and perfect for growing grapes, and they are the reason why Napa Valley came to be defined as the wine country it is known as today.
1849 Wine found its name and set out to produce a liquid gold of its own.
Presentation is Everything
As part of its preliminary research, 1849 Wine looked at how to differentiate themselves on the shelf. "We noticed most companies were using a heavy-gauge paper in eggshell or white, and branding was pretty simple but sophisticated," says Seth Hersh, Vice President Marketing and Development. "We wanted to be different. We started to play with contemporary art labels and mocked them up to see how they looked on the bottles."
1849 Wine liked the colorful look and knew they had found a way to stand out. The next step was to find an artist to create labels for their five varietals: Iris, Sonoma Coast pinot noir; Au Jus, Monterey County chardonnay; Triumph, Sonoma County red blend; Anonymous, Napa Valley red blend; and Declaration, Napa Valley cabernet sauvignon.
"We were looking for labels that told a story—it couldn't just be anything. It was important for these wines to have distinct personalities," says Hersh. "Color is what's missing on store shelves, and we weren't afraid of it."
In order to stay true to the brand's California connection, the company sought an authentic Los Angeles artist.
There's no shortage of Los Angeles artists to choose from, but 1849 Wine chose SABER, a pioneer in contemporary street art. "SABER is authentic to his core, talented beyond measure, and his artwork highly expressive," says Hersh.
Born in Los Angeles, SABER has been creating art since he was a teenager. He is most famous for creating the world's largest public work of street art on the concrete bank of the Los Angeles River, which was almost the size of a professional football field and took over 35 nights to complete.
1849 Wine commissioned SABER to create labels that were reflective of the juice inside the wine bottles. They gave SABER, who doesn't drink, tasting notes for each varietal, and he created labels based on the descriptions.
Some of the wine labels came from pieces of artwork SABER had already created, and in those cases, 1849 Wine asked the artist if he felt the artwork fit with the particular wine. "We wanted SABER to reinforce our label choice and validate the decision," explains Hersh, who also notes that some of the original pieces hang in the 1849 Wine offices.
For Au Jus, SABER created a yellow, drippy, unctuous looking label to reflect the creamy, buttery texture of the chardonnay. "You take a look at it, and you know what the wine inside is going to taste like," says Hersh.
The label for 1849 Wine's Napa Valley red blend, a multifaceted cabernet sauvignon-based blend, inspired the final name for the wine. "We only named it Anonymous after we saw the artwork of an artist painting facing a wall," says Hersh. "The work has vibrant color, it's bold, a little bit erratic—almost like a poetic chaos. There's harmony and beauty to it."
The label for Iris features SABER's "Tool of Dissent," an interlocked rainbow-colored script, which reflects the cornucopia of flavors in this pinot noir. Declaration is decked out in black script from the Declaration of Independence on a red and white background to represent this commanding and assertive cabernet. Triumph's label reflects the wine's melting pot of flavors and its embodiment of the American philosophy that the whole is greater than the sum of its parts with SABER's artwork on an American flag.
The labels also turn the bottle itself into a work of art. "The wine inside the bottle is the work of art that steals the show," says Hersh. "But if commissioning an original SABER piece is out of your budget, then our collection turns any bar into a masterpiece."
The contemporary art labels certainly stand out, but 1849 Wine was careful to ensure that this distinct branding spoke for the higher-end wine the company produces. 1849 Wine's focus on providing a luxurious experience through its heavier bottle, tin capsules, and #1 grade natural Portuguese corks also contributes to the higher-end branding. "When you hold the bottle you can already feel the difference, the wine tastes better before you've even had a sip," says Hersh. "It's all about the experience."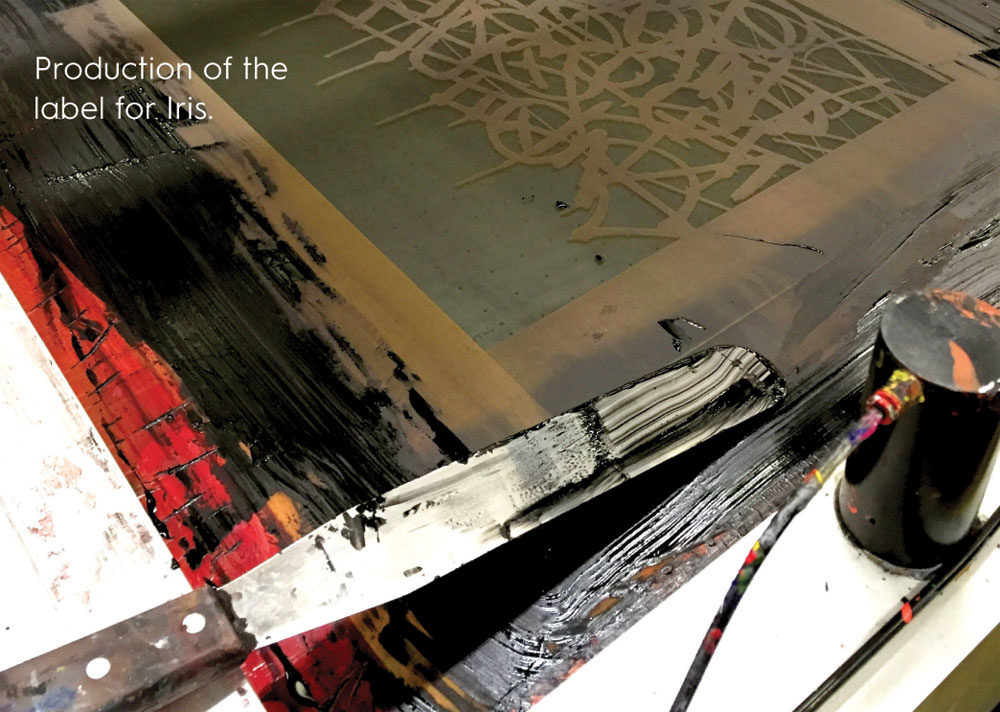 That experience translates into the on-premise world as well, where the bottles make a bold statement on the back bar. "Bar and restaurant owners put our wines out on their bar. These are bottles you want your patrons to see," says Hersh. "They're a beautiful collection."
The labels also help to foster conversation at the bar. "The labels are drawing so much attention on the back bar," says Stuart Gray, Vice President of Sales. "It starts a conversation between the staff and the consumer, and that engagement is leading to more sales and also engagement with the consumer. The owners and the operators are saying we're actually talking a lot more with our customers, and we have a lot of people coming in that we now know on a first-name basis."
1849 Wine is also offering a number of programs for on-premise accounts including waiving the broken case charge on the higher-end bottles (like Triumph and Declaration) so that bars don't have to bring in a large amount of inventory. They're also running staff sales incentive programs, getting involved with events like happy hours, and bringing in brand ambassadors to educate the staff and consumers on 1849 Wine. "We're really trying to be involved and partner with the accounts to come in and tell our story," says Gray. "It's going to help bars and their staff because they're going to sell more wine, and everyone gets to be winners out of the deal."
Take it From the Source
"It always comes back to the quality of the juice inside the bottle," says Gray.
And 1849 Wine was deliberate in choosing the juice they sourced from Monterey County, Sonoma County, and Napa Valley—all from California, of course. "If you're going to do anything, do it the best you can. We started by sourcing the best grapes from the best regions," says Gray. "We started off with a pinot noir, and Sonoma Coast is arguably the best region for pinot. Monterey County is one of the best locations to grow chardonnay. Napa Valley is home to the most premiere grapes in the world, and so we produced a Napa Valley red blend and a Napa Valley cabernet sauvignon."
The wine is not mass-produced, and the limited production adds a bit of exclusivity to the brand as well as control. "It's the winemaker's job to make sure there's consistency across vintages—that there's a consistency in flavor profile," says Gray. "There's lots of ways to make wine. Style is important. But ultimately it has to taste great."
All of 1849 Wine's can be enjoyed immediately, and taking decanting out of the equation makes a bartender or waiter's job easier. Not to mention, pouring straight from the bottle allows the guest to take in the packaging.
1849 Wine is available nationwide. New varietals may be coming, but for now the company offers its collection of five wines for all to admire—both visually and on the palate.
---
Want to stay up to date between issues? Click here to subscribe to our newsletter.