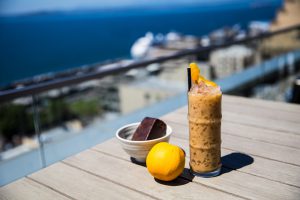 Ingredients:
3 oz Slane Irish Whiskey
1 oz Kahlua
1 oz Ancho Reyes Chili Liqueur
3 oz Cold Brew
2 small slices of banana
1 oz half and half
1 pinch salt
2 droppers full of Bittermen's Mole
Directions
Add all ingredients into a blender and top with ice. Blend on high until everything is smooth and looking like a slushy. Pour into a Collins glass. Grate some dark chocolate over the top and finish with an orange twist.
Courtesy of Joshua Haddock (The Nest at Thompson Seattle)