National Vodka Day is Monday, October 4. We've got you covered with a round-up of vodka cocktail recipes to help you celebrate this versatile distilled spirit.
Broken Cosmopolitan
Ingredients: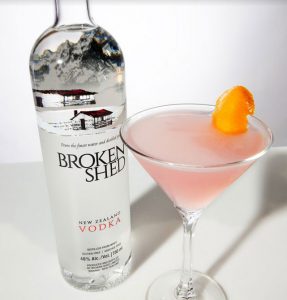 1.5 oz Broken Shed Vodka
1 oz Orange Liqueur
.5 oz Fresh Lime Juice
.25 oz Cranberry Juice
Garnish: Orange Peel
Directions:
Add all ingredients into a cocktail shaker filled
with ice. Shake well and double strain into a martini glass. Garnish with an orange peel.
The Lighthouse
Ingredients: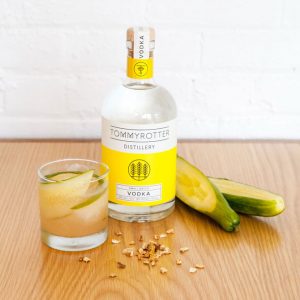 1.5 oz of Tommyrotter Distillery Small Batch Vodka
.75 oz of Fresh Squeezed Grapefruit Juice
.5 oz of Honey Syrup
2 dashes of Orange Bitters
1 Cucumber Slice
Directions:
Shake ingredients with ice. Strain from shaker with Hawthorne strainer over a fine strainer into a rocks glass. Garnish with a cucumber slice.
Turtledove
Ingredients: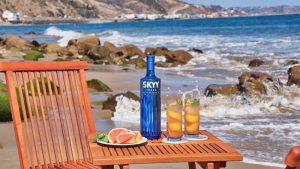 2 parts SKYY® Vodka
1 part Grapefruit juice
½ parts Simple syrup
2 Basil leaves
Pinch of salt
4 parts Soda
Directions:
Add first five ingredients to tin and shake with ice. Strain into Collins glass. Top with soda and garnish with grapefruit peel and basil.
Swedish Riviera
Ingredients: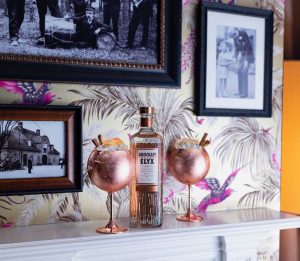 3 parts Absolut Elyx
3 parts Coconut Water
1 part Lemon
1 part Honey
3 parts Prosecco
Directions:
In a Copper Balloon Cup, build the ingredients over cubed ice, top with Prosecco and stir gently to combine. Garnish with cinnamon and orange slices.
Canteen Strawberry-Mint
Ingredients: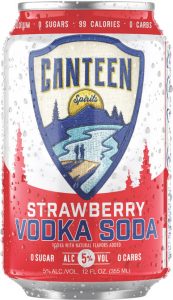 4 oz. CANTEEN Strawberry
Vodka Soda
0.5 oz. Vodka
0.5 oz. Lime Juice
Strawberries
Mint Leaves
Directions:
Softly muddle mint leaves and strawberries without completely crushing the ingredients. Combine all ingredients over ice. Garnish with whole strawberry.
Recipe courtesy of CANTEEN.
Golden Geisha
Ingredients: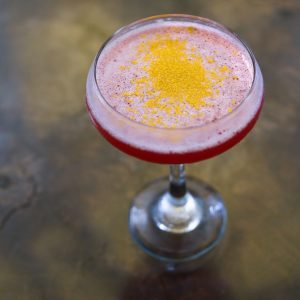 1 1/2 ounce Grey Goose vodka
2/3 ounce aloe vera juice
2/3 ounce apple juice
1/3 ounce lemon juice, freshly squeezed
8 raspberries
Garnish: gold flakes
Directions:
Add the vodka, aloe vera juice, apple juice, lemon juice and raspberries into a shaker with ice and shake until well-chilled. Double-strain into a chilled cocktail glass. Garnish with gold flakes.
Recipe courtesy of Komodo. Photo by Groot Hospitality.
Fifth & Lavender
Ingredients: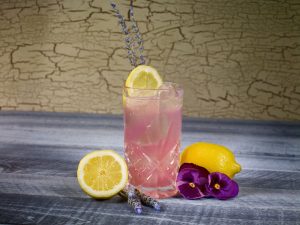 5 oz Tito's Vodka
75 oz lavender syrup
75 oz lychee syrup
5 oz fresh lemon juice
1 oz Q Club Soda
Directions:
Shake & strain all ingredients into a Collins glass. Garnish with lavender sprig & 1 lemon wheel.
Recipe by American Social. Photo Credit: American Social.
Makoto Mule
Ingredients: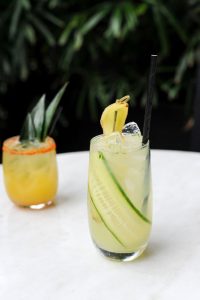 5 oz Reyka Vodka
.5 oz Ginger Syrup
.75 oz lemon juice
.5 oz simple syrup
Mint
Cucumber
Directions:
In a short tin, add the cucumber and mint. Muddle. Combine remaining ingredients and add ice. Shake and strain into a Collins glass. Garnish with cucumber ribbon.
Recipe by Makoto. Photo Credit: Laurie Satran.
Evergreen Royal
Ingredients: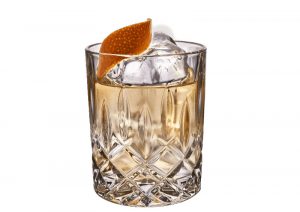 60 ml / 2 oz Belvedere Smogóry Forest
7.5 ml / ¼ oz Chamomile Tea
15 ml / ½ oz Honey
2 Dashes of Angostura Bitters
Grapefruit Peel
Directions:
Add all ingredients to mixing glass over cubed ice and stir. Fine strain into a rocks glass over block ice. Give the fresh grapefruit peel a gentle twist before garnishing.
CÎROC Pomegranate Jewel
Ingredients: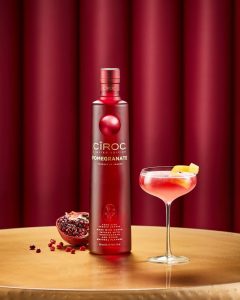 1 oz CÎROC Pomegranate
.5 oz Grenadine
Sparkling Wine
Directions:
Add CÎROC Pomegranate and Grenadine in a mixing glass. Add ice and gently stir. Strain into a coup glass (no ice). Top off with sparkling wine and garnish with a lemon twist.
Recipe courtesy of CÎROC.
Sweet Liberty's Espresso Martini
Ingredients: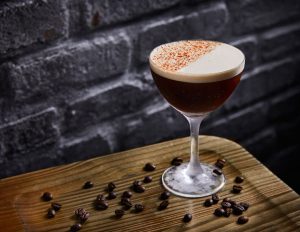 1.5 oz. Grey Goose
½ oz. Aberfeldy Scotch
¼ oz. Amaro
¼ oz. Drambuie
½ oz honey
½ oz espresso coffee
Pinch of cayenne pepper in shaker
Directions:
Combine all ingredients then shake and strain into a coupe glass, finish off with a cayenne pepper garnish across half glass.
Recipe courtesy of Sweet Liberty. Photo by Michael Pisarri.
Pinnacle Cinnamon Peach Bellini
Ingredients: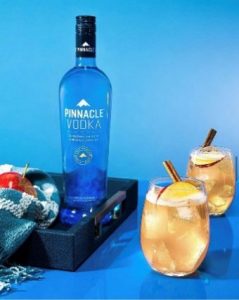 1 part Pinnacle Original Vodka
½ part DeKuyper Peachtree Schnapps
2 parts orange juice
3 parts sparkling wine
Pinch of grated cinnamon
Directions:
Combine all ingredients except sparkling wine into the shaker, give a short shake and strain into ice filled wine glass. Top with sparkling wine. Garnish with orange, peach slice and cinnamon stick.