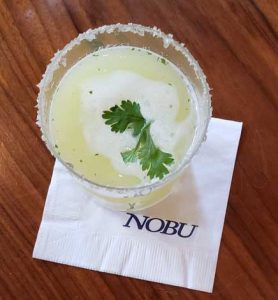 Ingredients:
1.5 oz Jalepeno infused OWL Organic Tequila (let sit for one or two days)
1 oz fresh pineapple juice
.5 oz Yuzu juice
.5 oz Calpico Japanese citrus milk
.5 simple syrup
Directions:
Mix all ingredient together in a shaker with cilantro. Add a smoked sea salt rim to the glass and strain over block ice cube.
Recipe courtesy of Nobu Downtown NYC and One With Life Organic Tequila (OWL).