The first official day of fall is September 22, but we bet your guests are already asking for fall cocktail recipes. Here are a few to add to your seasonal fall cocktail menus.
Palisade Tailgater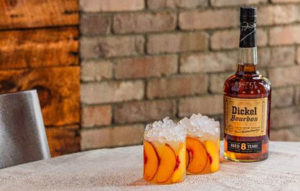 Ingredients:
2 oz Dickel Bourbon
0.5 oz Lager Beer Syrup (2 parts cane sugar: 1 part beer)
0.5 oz Lemon Juice
0.25 oz Rothman & Winter Peach Liqueur
Directions:
Shake all ingredients and fine strain into a rocks glass packed with crushed ice; garnish with several fresh slices of peach.
Pumpkin Patch Punch
Ingredients: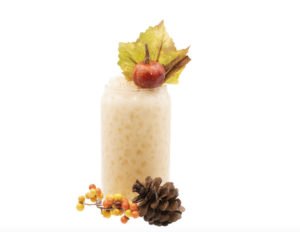 1 oz. Monin Spiced Pumpkin Purée
1 1/2 oz. aged rum
4 oz. oat milk
Glass: Specialty
Glass Size: 16 oz.
Garnish: cinnamon stick, nutmeg
Directions:
Fill serving glass full of ice. Pour ingredients into mixing glass with 2/3 ice in order listed.
Cap, shake and strain into serving glass with ice. Add garnish and serve.
Recipe courtesy of Monin.
Hazelnut Horchata
Ingredients: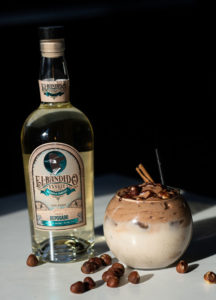 Horchata Base:
1 cup raw rice
1 cup raw hazelnuts
1.5 cups of water
2 cinnamon sticks
Let it sit overnight in fridge
Directions:
Separate liquid from mix and blend solids with equal amounts of that same liquid. Once all is blended strain with cheesecloth. Now with the horchata strained add:
2 table stools of vanilla extract
2 cups almond milk
3/4 cup agave syrup
Stir well and chill in the fridge. Serves six cocktails.
Cocktail:
To make the cocktail, add 2 oz of El Bandido Yankee Reposado Tequila to horchata. Pour over ice garnish with cinnamon stick and hazelnuts and Nutella drizzle.
Apple Cider Martini
Ingredients: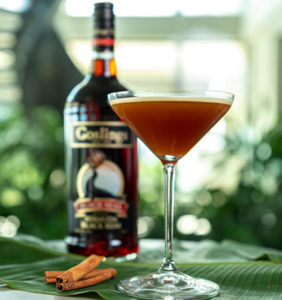 2 oz Goslings Black Seal Rum
3 oz apple cider
½ oz orange juice
½ oz orange liqueur
Cinnamon and sugar mix
Directions:
Into a shaker add the Goslings Black Seal Rum, apple cider, orange juice, orange liqueur and ice. Shake vigorously and strain into a martini glass, garnished with a cinnamon sugar rim.
Broken Pumpkin Cider
Ingredients: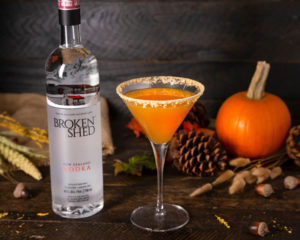 2 oz Broken Shed Vodka
1.5 oz Apple Cider
1 oz Real Pumpkin Puree Infused Syrup
Directions:
Garnish the rim of a martini glass with finely crushed graham crackers. Add all ingredients to a shaker with ice. Shake and strain into the rimmed martini glass.